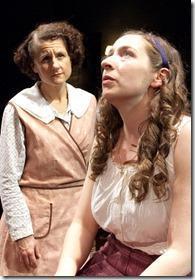 Juno
Music and Lyrics by Marc Blitzstein  
Book by Joseph Stein 
Directed by Nick Bowling
at TimeLine Theatre, 615 W. Wellington (map)
thru July 27  |  tickets: $35-$48   |  more info
  
Check for half-price tickets 
  
  
   Read review
  
---
At long last in Chicago, 'Juno' is a delight too long delayed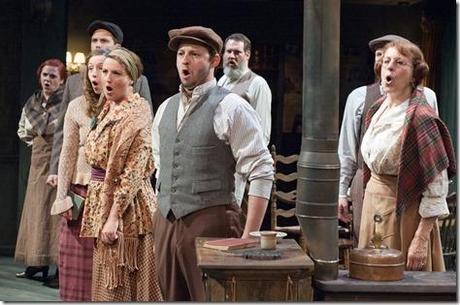 TimeLine Theatre presents
Juno
Review by Clint May 
No matter what the final consensus was going to be on TimeLine's Juno, you have to admire their sheer audacity in bringing this musical to Chicago. Fifty-five years after its debut and a storied history of a mere 16 Broadway performances—and a few revival attempts with reviews that can be generously described as "lukewarm"—it seemed destined for the island of misfit musicals. That this is only TimeLine's second musical in nearly two decades makes the choice even more remarkable.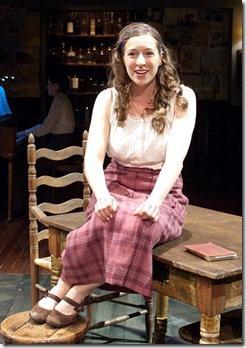 Based on the 1924 play
Juno and the Paycock
—part of
Sean O'Casey
's "Dublin Trilogy" and occasionally seen in Chicago—
Nick Bowling
and team have given it their all to bring a story of an Irish tenement family to (larger than) life. All encompassing staging immerses us in the world of the eponymous Juno, a strong-willed matriarch trying to hold her family together in the face of unrelenting tragedy. The cheerfulness of many numbers only underscores that any moment of happiness is bought on credit with high interest.
Marc Blitzstein
's and
Joseph Stein
's interpretation was ahead of its time, and though still not perfect, this appears to be the production that will break the streak of disappointments.
A young man is shot trying to escape the police and a mother is left to mourn before an ironically happy opening number affirms that "We're Alive." (that man is not, but we are, at least). A first act keeps things mostly light with airs of hope as Juno Boyle (Marya Grandy) welcomes a solicitor (Peter Oyloe) with news of a windfall inheritance from her husband's forgotten family. Her daughter Mary (Emily Glick) is taken with this dashing anglophile and all his promise of a world of romance straight from her books. He's everything her would-be suitor Jerry Devine (Jordan Brown) isn't. Captain Jack (Rob Rains) sees his ship finally coming in—a chance to give up avoiding work and just not work at all, free to carouse with his ne'er do well best friend Joxer (James Houton). Assured of their future success, they cast caution aside to begin their nouveau riche life and in doing so bring out the best and worst of themselves and their neighbors (mostly worst). Sullen and resigned, they don't seem to notice the darkness that haunts their son Johnny (Jonny Stein), literally deformed by the explosions of political strife common during the War for Independence.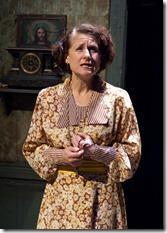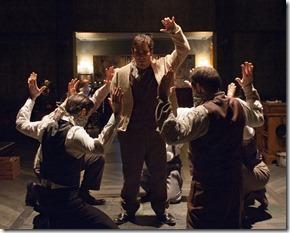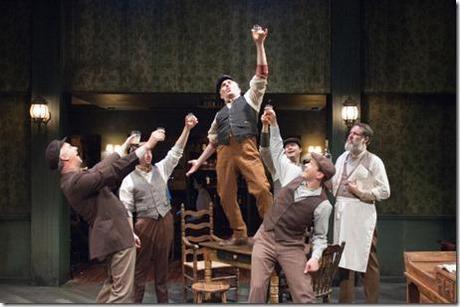 Juno is essentially a tragedy of operatic proportions, though you could be forgiven for believing that it forgets that to become a family sitcom. A bickering wife and husband, a wayward daughter and disaffected son have become archetypes over the past half century. Levity frequently threatens to overtake the undertones of anxiety, particularly in Rains' outsized performance that invariably overshadows the stage. He's the one questionable element in Bowling's otherwise beautiful direction. Grandy is quite simply brilliant with her vocal and emotional range as a portrait of a stalwart anchor intent on survival. Glick gets the best numbers and brings a winsome, winning resolve to every note. Surrounded by John Culbert's awe-inspiring scenic design of dauntingly drab green floral wallpaper, realistic appointments and a pub encompassing the five-person band – its immersive realism is the perfect marriage to the material.
Blitzstein's Irish spin on songbook numbers is intermittently successful ("Hymn"), often clever ("Old Sayin's") and sometimes delightful ("Poor Thing"), all buoyed beautifully by Doug Peck and Elizabeth Doran authentic orchestrations. Where Juno stumbles is in the development of the core plot pacing. By the time the coda begins the bracingly lightspeed collapse of the Boyle's best laid plans, it appears too late to earn the emotions it needs to sell the gravitas of the ensuing decisions.
Filled with good humor set at odds to aching portrayals of doomed desire, Juno is a worthy adventure and thoroughly transportive. Bowling's gamble pays off thanks in no small part to the verve of the cast that play their hands with such thorough commitment. That it took so long in coming is the real surprise, but we can be grateful that when it did, it arrived in just the right place.
Rating: ★★★½
Juno continues through July 27th at TimeLine Theatre, 615 W. Wellington (map), with performances Wednesdays and Thursdays at 7:30pm, Fridays 8pm, Saturdays 4pm and 8pm, Sundays 2pm.  Tickets are $35-$48, and are available by phone (773-281-8463 x6) or online through OvationTix.com (check for half-price tickets at Goldstar.com). More information at TimeLineTheatre.com/Juno.  (Running time: 2 hours 15 minutes, includes intermission)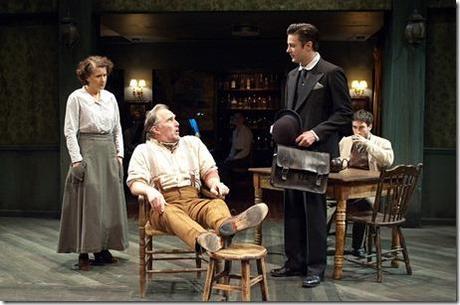 Photos by Lara Goetsch
---
artists
cast
Emily Glick (Mary Boyle), Marya Grandy (Juno Boyle), Rob Rains (Captain Jack Boyle), Jordan Brown (Jerry Devine, through 5/20), Caron Buinis (Mrs. Brady), Jim Deselm (Jerry Devine, starting 5/21), Kathleen Gibson (Miss Quinn), Kelli Harrington (Mrs. Tancred, Mrs. Coyne), James Houton ("Joxer" Daly), Matthew Keffer (Policeman, IRA Man 2), Peter Oyloe (Charlie Bentham), Michael Reckling (IRA Singer, Furniture), Andy Robinson (Foley, Furniture Mover), Peter Sipla (Policeman, IRA Man 1), Anne Sheridan Smith (Mrs. Madigan), Jonny Stein (Johnny Boyle, Dance Captain), Paddy Homan (Recorded Irish Tenor)
band
Elizabeth Doran (conductor, piano), Michael Buckwalter (horn), Andrew Coil (strings), Adam DeGroot (reeds), Suzanne Gillen (flute)
behind the scenes
Nick Bowling (director), Doug Peck, Elizabeth Doran (co-music directors), Katie Spelman (choreographer), John Culbert (scenic design), Alex Wren Meadows (costume design), Keith Parham (lighting design), Palmer Jankens (sound design), Emily Guthrie (properties design), Maren Robinson (dramaturg), Eva Breneman (dialect coach), Katrina Herrmann (stage manager), Nora Mally (assistant stage manager), Cassie Slater (assistant director), Lara Goetsch (photos)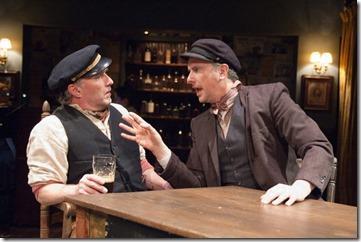 15-0504