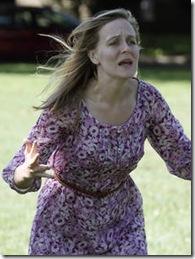 Julius Caesar 
Written by William Shakespeare  
Directed by Jemma Alix Levy
at Ingraham Park, Evanston (map)
thru Sept 9  |  tickets: free   |  more info
  
Check for half-price tickets 
  
  
   Read entire review
  
---
Muse of Fire's presents a thought-provoking, empathetic Caesar

Muse of Fire Theatre Company presents
Julius Caesar
Review by Katy Walsh 
"Romans, countrymen, and lovers! hear me for my
cause, and be silent, that you may hear: believe me
for mine honour, and have respect to mine honour, that
you may believe: censure me in your wisdom, and
awake your senses, that you may the better judge."
   -Brutus
Political rhetoric isn't new to this era. There have always been charismatic speakers that can sway the masses. Some are motivated by greed, ambition, corruption or a combination of these. And others struggle to be honorable. They want to do the right thing for the greater good.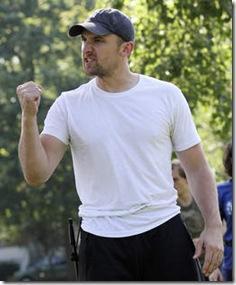 Muse of Fire Theatre presents
Julius Caesar
. Rome's favorite hero is beloved. Julius Caesar is the celebrated conqueror. He rules…literally! Through his conquests, Caesar has gradually shifted the Roman Republic to the Roman Empire. And he has assumed the role of dictator. The Roman Senate believes Caesar must be stopped…permanently. Although the Senators have different reasons to attack the tyranny, they fall in line behind the honorable Brutus. The play's title is
Julius Caesar
but this is really Brutus' story. He is a pensive man trying to lead with integrity… even if he has to kill a friend to do it. So Friends, Romans, countrymen, lend me your ears; I've come to praise
Caesar
, not bury it.
JOSH: How did I do?
ME: You are Brutus and Brutus is you.
JOSH: How about for the people that don't know me?
ME: You are Brutus!
I know Joshua J. Volkers (Brutus) onstage and offstage. This role is HIS! Volkers commands the stage with authority and humanity. His performance transfixes the audience as we see Brutus' real anguish to choose honor over everything else. Volkers shares a tender and vulnerable moment with the tormented Megan Pickrell (Portia). A pleading Pickrell spirals helplessly as Volkers tries to maintain his control. Heart-wrenching! In my favorite scene, Volkers and Jon Beal (Cassius) fight with the intensity of two dudes in a dramatic disagreement. Volkers and Beal make the Shakespearean prose sound more like a contemporary bromantic brawl. Their chemistry is 'I-love-you- bro'-tastic. Throughout the show, Beal plays it perfectly hot-headed, revolutionary. But it's the quieter moments with a steadfast Volkers that allow Beal to be poignantly unguarded. Powerful! Another standout is Chris Lysy (Julius Caesar) going full-on cocky as the ambitious ruler.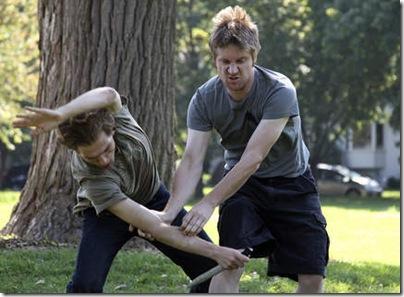 Director Jemma Alix Levy stages this Shakespeare-in-the-Park show with high energy. Scenes transition from one to the next with a quick pace. The hard-working cast continually runs back and forth from the staging area to the stage with efficiency. Backstage is really back-back-park, making their efforts impressive. Levy utilizes the cast in engaging ways. She places actors within the audience for crowd scenes. She also has Brutus' post-kill speech repeated in amplification by Cassius. These decisions reinforce the historical significance of the oration and connect the audience more personally to it. The only speed bump is some of the blocking. At times, the actors have their backs to the audience. Some of the cast already struggle to be heard over planes, cicadas, lawn mowers, thunder and other park-oriented special effects. So, when they are actually speaking away from the audience, their words are lost in the tree rustling.
'Et tu, Brute' is the play's well-known line still uttered in contemporary times to reinforce friendship betrayal. But Shakespeare's other line about Brutus: "This was a man", more describes the assassin adored by his friends and enemies. Muse of Fire's Julius Caesar effectively portrays the man behind the execution with thought-provoking and empathetic honesty.
Rating: ★★★½
Julius Caesar continues through September 9th at Evanston's Ingraham Park, 2100 Ridge (map), with performances Saturdays and Sundays at 3pm (no performance August 25 and 26).  This is a free outdoor production, so don't forget to take along a picnic basket (and wine!) More information at MuseOfFire.org.  (Running time: 2 hours 15 minutes, no intermission)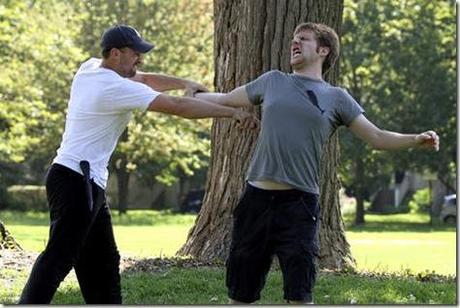 ---
artists
cast
Jon Beal (Cassius); David Cady, Jr. (Caius Ligarius, Soothsayer); Emily Finck (Cinna, Popilius Lena, Flavius, Volumnius); Brianne Duncan Fiore (Calphurnia, Metellus Cimber); Gary Henderson (Octavius Caesar, Caska); Chris Lysy (Julius Caesar, Pindarus, Lepidus, Strato); Michael Medford (Decius Brutus, Lucillius); Megan Pickrell (Portia, Titinius); Alexandra Ranieri (Lucius); Ryan Swikle (Mark Antony); Joshua J. Volkers (Brutus); Geoffrey Zimmerman (Messala, Murellus, Publius)
behind the scenes
Jemma Alix Levy (director); Lisa Uhlig (stage manager); Gretchen Anderson (costumes, prop design); R & D Choreography – Rick Gilbert and Victor Bayona (violence design); Mo Ulicny (graphics); John Lerner (photos)
12-0808