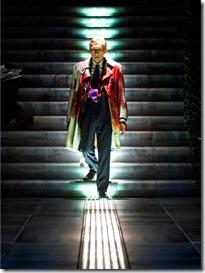 Julius Caesar 
Written by William Shakespeare  
Directed by Jonathan Munby  
at Chicago Shakespeare, Navy Pier (map)
thru March 24  |  tickets: $58-$78   |  more info
  
Check for half-price tickets 
  
  
   Read entire review
  
---
The Ides of March was a good way to die hard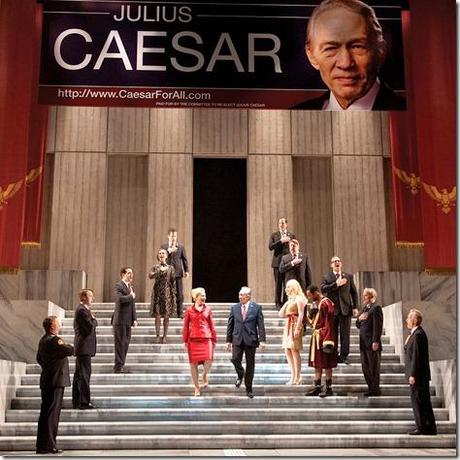 Chicago Shakespeare presents
Julius Caesar
Review by John Olson
For so many of us, this play was our introduction to Shakespeare back in our high school days. If it seems archaic and dull to the average high school reading the text, a production like this one directed by Jonathan Munby might have convinced them otherwise. The British director has set it in modern dress and conceived it as if it might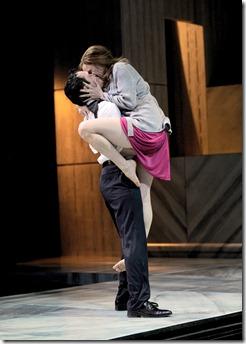 be a nightmare coup of an American president. He's staged it with as much firepower and muscle as an action flick like the new "Die Hard" film, which opened in theaters the same week as this play, and accompanied it with an edgily contemporary original musical score by
Lindsay Jones
that adds to the tension.
A crowd of proletarians is onstage as the house opens, in a variety of contemporary costumes that suggests they might be outside a sporting event. In fact they're awaiting an appearance by Julius Caesar, returning from a military victory and soon to be appointed emperor of Rome. A banner above Alexander Dodge's set of white marble and columns – equally suggestive of ancient Rome and present day Washington DC – resembles a contemporary political campaign ad for candidate Caesar. Ilona Somogyi's costumes cloak the Roman senators in expensive-looking business suits, as they begin to plot against Caesar, in order to prevent his assumption of absolute power in ruling Rome. When civil war breaks out after the senators' very bloody assassination of Caesar, the soldiers are shown in army fatigues battling with the aid of spectacular lighting effects by Philip S. Rosenberg, fight choreography by Matt Hawkins and realistic sound effects by Jones. We even see paratroopers dropping down onto the Courtyard Theater stage. There's a palpable feeling of danger throughout, with the first half having the mood of a political thriller and the second half a war classic. This stuff of assassination and civil war was no child's play as written by Shakespeare nor as directed here by Munby. There's enough action, blood and guts to satisfy the most testosterone-filled teenage boy and young adult male.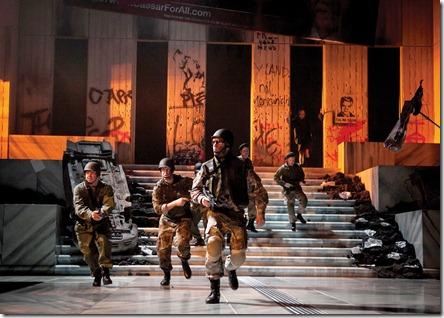 Munby's cast, which includes new faces from outside the Chicago market as well as a huge number of Chicago's best local talents, is superb from top to bottom. Dion Johnstone gives a natural performance as Marc Antony that manages to make the familiar "Friends, Romans, Countrymen" speech sound fresh and as contemporary as any we heard in last fall's political campaigns. British actor John Light is a tortured Brutus, deftly manipulated by the Cassius of the New York based Jason Kolotouros. Chicago's David Darlow is an icily arrogant Caesar, evoking the persona of a Dick Cheney. Larry Yando, in a brief role as Casca, is a standout as he dryly and delightfully delivers the cynicism of his lines such as the famous, "it was Greek to me." Samuel Taylor is a steely and violent Octavius, heir to Julius Caesar. There's also strong support in smaller roles by local leading actors Barbara Robertson, Brenda Barrie, Terry Hamilton and Alex Weisman.
Purists can enjoy this Julius Caesar for the acting of this outstanding cast. Those open to modern-dress interpretations will get an eyeful from this big and spectacular production that makes ancient history resonant even today. Either way, this is Julius Caesar that shouldn't be missed. This is one of those productions that lets Chicago theater fans see how lucky we are to have such a talent pool that we can populate a huge production like this and work side by side with top talents from the other world theater capitals of London and New York. Yes, we do deserve to be mentioned in the same breath as London and New York and here's hoping that the first-ever Chicago Theatre Week, held from February 12-17th, the week of Julius Caesar's opening, has brought theater lovers to town who can see this production and become as convinced of our status as we are.
Rating: ★★★★½
Julius Caesar continues through March 24th at Chicago Shakespeare Theater, Navy Pier, 600 E. Grand (map), with performances Tuesdays at 7:30pm, Wednesdays 1pm and 7:30pm, Thursdays/Fridays at 7:30pm, Saturdays 3pm and 8pm, Sundays 2pm and 6pm.  Tickets are $58-$78, and are available by phone (312-595-5600) or online through their website (check for half-price tickets at Goldstar.com). More information at CaesarForAll.com.  (Running time: 2 hours 30 minutes, includes an intermission)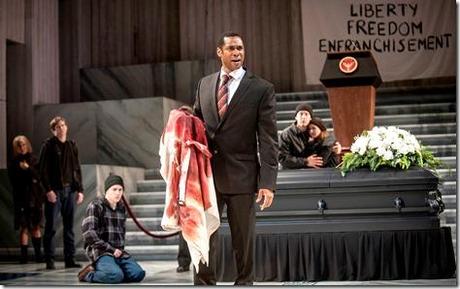 Photos by Liz Lauren
---
artists
cast 
David Darlow (Julius Caesar), Barbara E. Robertson (Calphurnia, Ensemble), John Light (Marcus Brutus), Jason Kolotouros (Caius Cassius), Larry Yando (Casca), Demetrios Troy (Decius Brutus, Titinius, Ensemble), Dennis Grimes (Cinna, Lucilius, Ensemble), Matt Mueller (Metellus Cimber, Messala, Ensemble), Terry Hamilton (Trebonius, Ensemble), David Lively (Ligarius, Ensemble), Torrey Hanson (Cicero, Cinna the Poet), Samuel Taylor (Popilius Lena, Octavius, Flavius, Ensemble), Dion Johnstone (Marc Antony), David Lively (Lepidus), Brenda Barrie (Portia, Ensemble), Alex Weisman (Lucius, Ensemble), McKinley Carter (Soothsayer), Bret Tuomi (Murellus, Artemidorus, Varro), Austin Talley (Servant, Clitus, Ensemble), Adam Brown (Servant, Cato, Ensemble), Chris Rickett (Servant, Pindarus, Ensemble); with Olivia Crary, Javier Ferreira, Andrew Hubbard, Dan Lin, Ryan McBride, Brendan Meyer, Savannah Rae, P. Tucker Worley (Ensemble).
behind the scenes
Jonathan Munby (director), Alexander Dodge (scenic designer), Ilona Somogyi (costume design), Philip S. Rosenberg (lighting design), Lindsay Jones (original music and sound design), Melissa Veal (wig and make-up design), Matt Hawkins (fight choreography), Larry Yando (verse coach), Harrison McEldowney (movement direction), Bob Mason (casting), Deborah Acker (production stage manager), Liz Lauren (photos).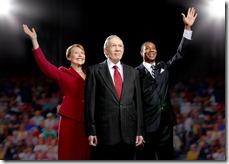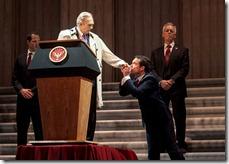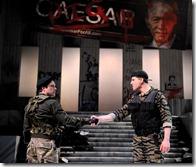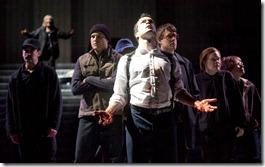 13-0220