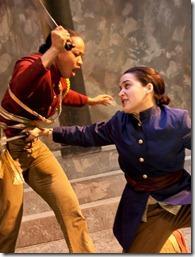 Julius Caesar  
Written by William Shakespeare  
Directed by Wyatt Kent
at Raven Theatre, 6157 N. Clark (map)
thru April 20  |  tickets: $12-$20   |  more info
  
Check for half-price tickets 
  
  
   Read entire review
  
---
A gender-bender tribute to sword-carrying Romans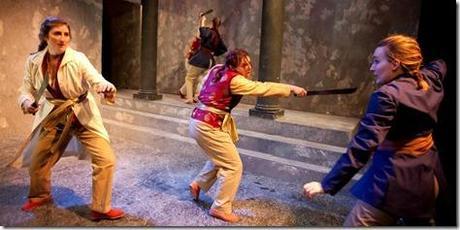 Babes With Blades presents
Julius Caesar
Review by Katy Walsh 
Babes with Blades Theatre Company presents Julius Caesar. Rome welcomes back its hometown hero, Julius Caesar. The city's vocal and visible adoration add to JC's healthy self-esteem. They want him to be their King. JC's growing popularity and arrogance gives the Senate pause. A group of rebels fear Caesar will turn the democracy to dictatorship. They decide Julius Caesar must be stopped permanently, recruiting the honorable Brutus to lead the assignation. Are these men patriots or criminals? And more importantly, are they even men? Well, in the Babe's version, they aren't. This Julius Caesar is a gender bender tribute to honorable men. O' Conspiracy!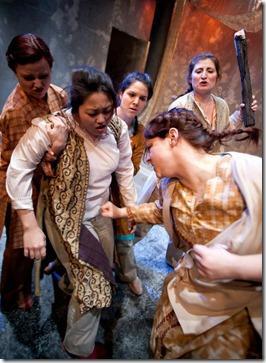 In less than a year, I've seen
Julius Caesar
4½ times. I almost decided to skip the Babes' production but I'm so glad I didn't! Every rendition had its own unique approach to Shakespeare's play, and the Babes had their own creative stab at it. First, BWB is known for staging violence. (*Blades* is in their name.)  So, when it comes to orchestrating battle scenes, go with the pros, go with the Babes. With violence designed by
Libby Beyreis
, swords, daggers and bodies flail.
Raven Theatre West Stage
is a small space, so the fighting is inches away from the front row. I was delighted to be in this frontline of defense. And luckily, there is always a warning before an attack. The ladies start the war cry off stage. This gave us time to un-stretch legs and tuck purses.
Though the show is enjoyable overall, there are a few reservations.  First, considering all of the spirited violence, it's surprising that Caesar's murder scene isn't more physical. The conspirators more or less circle and crouch over him. The audience doesn't see the actual dagger-imposed-blood-splurting. (I imagine the costumes are the reason.) Kimberly G. Morris has created exquisite tunic ensembles in various light shades of earth tones. The shoes are all muted polished gold. To honor these beautiful Roman nobility fashions, Caesar's clothes are untouched, and a blood stained cloth is laid tastefully on top of his finery. Ah, a female's touch for sure.
Second, the Babes went with an all-female cast, which on its own isn't surprising move as *Babes* is in their name. Still, it is an engaging angle until it isn't. Initially, the ladies address each other as "sir" which, at first, is a bit disconcerting.  Under the direction of Wyatt Kent, over time these actors eventually lose their gender and become their masculine characters…mostly.  Sara Gorsky (Cassius) plays it less of a hothead and more emotionally overwrought. And the hilarious Alison Dornheggen (Casca) goes gossip girl. These choices seem to be stereotyped gender specific.
Although some of the feeling is missing in a few of the Shakespearean orations, two performances are noteworthy. The imposing Maureen Yasko (Caesar) balances conceit with amicability. And a bemused Diana Coates (Antony) delivers the famous oration in believable innocence. O' Conspiracy!
This Julius Caesar, true to form, is chock full of babes with blades. What else do you need? Chicago Shakespeare Theater is also doing Julius Caesar through this weekend. For the thrifty and homegirl appeal, however, you can't beat the Babes with Blades' production of Julius Caesar.
Rating: ★★★
Julius Caesar continues through April 20th at Raven Theatre West Stage, 6157 N. Clark (map), with performances Thursdays-Saturdays at 8pm, Sundays 3:30pm.  Tickets are $12-$20, and are available by phone (773-904-0391) or online through BrownPaperTickets.com (check for half-price tickets at Goldstar.com). More information at BabesWithBlades.org.  (Running time: 2 hours 35 minutes, includes an intermission)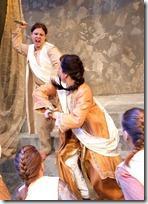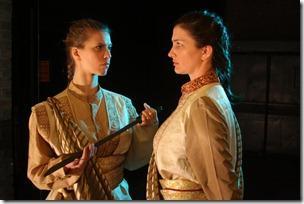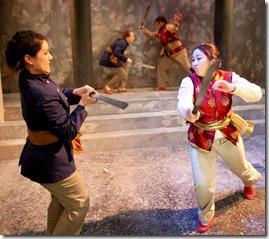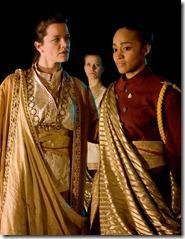 Photos by Steven Townshend
---
artists
cast
Diana Coates (Antony), Alison Dornheggen* (Casca), Catherine Dvorak (Trebonius), Ashley Fox (Lucius), Kim Fukawa* (Portia), Sara Gorsky (Cassius), Kimberly Logan* (Brutus), Kalina "Kitten" McCreery (Metellus), Jennifer L. Mickelson* (Cinna), Aila Peck (Calphurnia), Maureen Yasko (Caesar)
behind the scenes
Wyatt Kent (director), Libby Beyreis* (violence design), Leigh Barrett* (lighting, co-production manager), Amy E. Harmon* (co-production manager), David Blixt (dramaturgy), Kjerstine Humiston* (stage manager), Kimberly G. Morris (costumes), Grant Sabin (set design), Melissa Schlesinger (sound design), Steven Townshend (photos)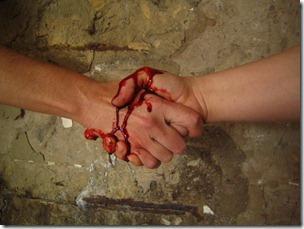 * denotes Babes With Blades company member
13-0344