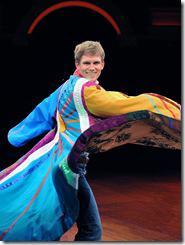 Joseph and the Amazing
   Technicolor Dreamcoat  
By Andrew Lloyd Webber and Tim Rice 
Directed and Choreographed by Matt Raftery
at Marriott Theatre, Lincolnshire (map)
thru May 12  |  tickets: $15   |  more info
  
Check for half-price tickets  
  
   Read entire review
  
---
Descriptive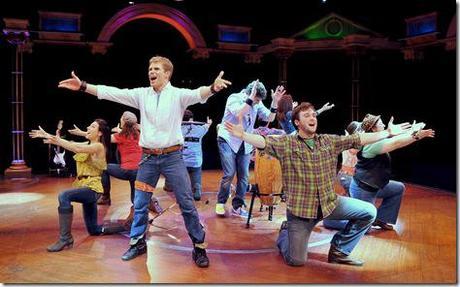 Marriott Theatre for Young Audiences presents
Joseph and the Amazing Technicolor Dreamcoat
Review by Melody Udell
I once thought that when you've seen one staged version of Joseph and the Amazing Technicolor Dreamcoat, you've seen them all. But the Marriott Theater's version of Joseph has proven me wrong. Despite the fact that this iteration is billed as family-friendly, the adults in the crowd were having just as much fun as the kids, especially since this new version has put several clever, updated spins on Andrew Lloyd Weber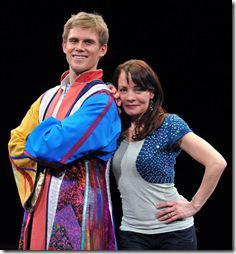 and Tim Rice's original material. Not to mention they've managed to pare it down to 60 minutes without losing its appeal and delightful plot.
The core of the story remains the same: Jacob's 11 sons are driven by jealousy to sell Joseph, their father's favorite, and he winds up enslaved in Egypt. After a brief stint in jail, Joseph's uses his talent for interpreting dreams to help the Pharaoh prepare for the famine ahead. In most productions, a sizeable cast is used to tell the story, including a children's chorus and a slew of actors playing the brothers. But this version of Joseph is refreshingly small. Eight actors of both genders play the brothers, along with several other roles. In fact, only Joseph (Brian Bohr) and the Narrator (Susan Moniz) have only one character. Instead of elaborate, Biblical costumes, Nancy Missimi dresses the actors in everyday clothes: Jacob in a Bears hoodie, Joseph in jeans, and the ensemble in clothes that probably came from their own closets. Their get-ups were relaxed and modern, and it gave Joseph's coat a little more room to shine (quite literally, since the coat was adorned with colorful lights that blinked on and off).
Just like the costumes, Mollie Slattery's set was simple. Actors moved pillars around to simulate different scenes, including the jail where Bohr delivered a haunting version of "Close Every Door." Many of Weber's original songs were given updated arrangements, and every single actor on stage was a talent to be reckoned with. Many of them incorporated musical instruments — including a flute, ukulele, guitar, saxophone, the bongos and more — all while dancing and singing to the beloved tunes that made this show a hit in the 1970s. Bohr makes a charming Joseph, and his energy and enthusiasm in the role is infectious. (He played a more striking, enigmatic version of the role in the Paramount Theater's production of Joseph last November.)
More for the adults than anything else, Donald Trump and Justin Bieber each make appearances in Director Matt Raftery's reimagined storyline — to hysterical effect. The show is fun, upbeat and enjoyable for any age group. In fact, toting along a few kids to this show certainly isn't necessary, although you should bring someone — no one should miss this version of Joseph.
Rating: ★★★½
Joseph and the Amazing Technicolor Dreamcoat continues through May 12th at Marriott Theatre, 10 Marriott Drive, Lincolnshire (map), with performances Tuesdays-Saturdays at 10am.  Tickets are $15, and are available by phone (847-634-0200) or online here (check for half-price tickets at Goldstar.com). More information at MarriottTheatre.com.  (Running time: 60 minutes with no intermission)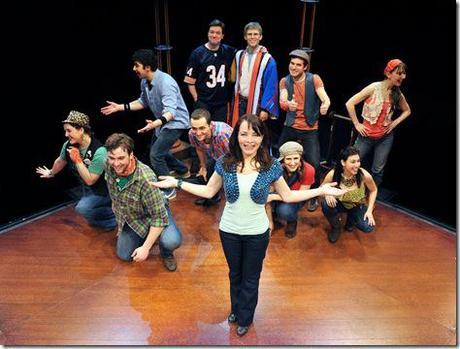 All photos by Peter Coombs 
---