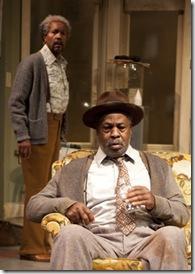 Jitney 
Written by August Wilson 
Directed by Ron OJ Parson 
at Court Theatre, 5535 S. Ellis (map)
thru Oct 14  |  tickets: $45-$65   |  more info
  
Check for half-price tickets 
  
  
   Read entire review
  
---
Court revels in Wilson's earthy, rhythmically poetic masterpiece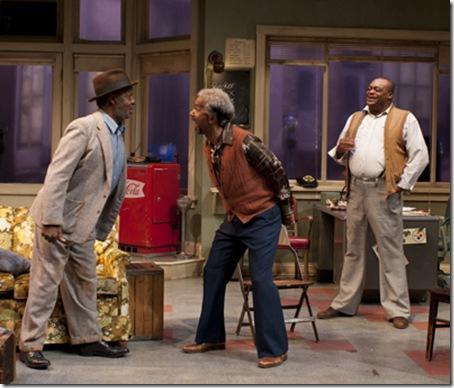 Court Theatre presents
Jitney
Review by Catey Sullivan 
The dialogue of August Wilson is at once orchestral and earthy, a form of poetry that surrounds you in the rich, intricate rhythms of everyday folk. This isn't the lofty language of kings and gods, but a common, no less distinctive vernacular that resonates with gorgeous impact. As Wilson's masterful drama Jitney unspools, it becomes clear that there's not a word in it that doesn't add to the inexorable, detailed development of the characters. It's as if the playwright was etching a painterly masterpiece on glass, every syllable filling in a new, minute, enthralling detail.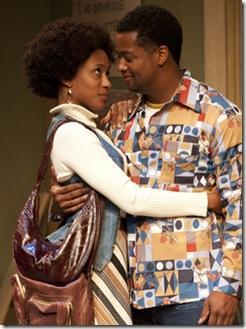 In Court Theatre's virtually flawless production of
Jitney
, Wilson's characters are embedded in a saga that elevates the unremarkable but nonetheless riveting trials of working class people into something almost mythic. Directed by
Ron OJ Parson
,
Jitney
is a rich, engrossing world indeed. Within the confines of a single room, with a plot that puts the emphasis on words rather than action, Parson crafts a production that immerses you utterly, leaving you leaning into every last syllable of Wilson's nearly three hours worth of words.
The piece is set entirely within the run-down office of a gypsy cab service run by Becker (A.C. Smith), in Pittsburgh's Hill Neighborhood. The time is 1977 and the jitney drivers provide rides to those who couldn't get service from properly licensed cabbies. The plot, which unfolds in the gradual, natural cadences of bantering and bickering, nominally centers on two events: The release of Becker's son Booster (Anthony Fleming III) from prison and the pending demolition of the building that houses the jitney office. Long before Booster actually makes an appearance in the first act's climactic final scene, we get the details behind imprisonment for murder, a tragedy that (rightfully) elicited gasps from the opening night audience as it unfolded. The illumination of Booster's background is emblematic of all that is wonderful about Jitney: It's explanation as mesmerizing storytelling; a monologue so vivid it will take your breath away.
The first act build is deceptively non-eventful, as the crew of drivers play checkers, get on each others' nerves and irresistibly draw you into their intensely specific worlds. Kamal Angelo Bolden gives the aptly named Youngblod an angry, hotheaded edge that skirts the border of dangerousness (and calls to mind the Shakespearean character of Hotspur.) As the busybody Turnbo, Allen Gilmore's meddlesome gossip provides comic relief and a character as infuriating as he is endearing. Alfred H. Wilson is both tragic and comic as the alcoholic Fielding, while Cedric Young 's Doub delivers a treatise on love and marriage that's equal parts laugh-out-loud funny and touchingly endearing.
The non-drivers who hang out in the office include Shealy (Brian Weddington), a flashy-dressing suavster who lights up the stage with both his style and his personality. Finally, there's Caren Blackmore as Youngblood's wife Rena, ably radiating a vibrant mix of love and frustration with her weill-intentioned, troublesome husband.
Then there's Smith and Fleming, whose pre-intermission first-act finale is as incendiary as it is gut-wrenching. There are deep, seemingly unbreachable rifts between father and son, and Wilson captures the damage in a riveting two-person conversation that pulses with rage, loss and longing. The scene – both as played and as written – is a compact, substantial masterpiece of contemporary theater.
Longing and connection form a nexus that underpins the whole of Jitney, which at heart is the story of a tight-knit community struggling to maintain and make ends meet without getting obliterated by forces beyond its control. In the end, that community remains a bedrock, despite devastating, irreclaimable loss. I suppose you could argue that Wilson ends on a note that's overly sentimental, but it's sentiment that rings with absolute truth.
Rating: ★★★★
Jitney continues through October 14th at Court Theatre, 5535 S. Ellis (map), with performances Wednesdays and Thursdays at 7:30pm, Fridays at 8pm, Saturdays 3pm and 8pm, Sundays 2:30pm and 7:30pm.  Tickets are $45-$65, and are available by phone (773-753-4472) or online through UChicago.org (check for half-price tickets at Goldstar.com). More information at CourtTheatre.org.  (Running time: 2 hours 45 minutes, includes an intermission)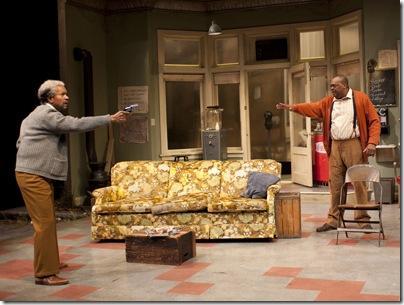 Photos by Michael Brosilow 
---
artists
cast
Caren Blackmore (Rena); Kamal Angelo Bolden (Youngblood); Anthony Fleming, III (Booster); Allen Gilmore (Tumbo); A.C. Smith (Becker); André Teamer (Philmore); Brian Weddington (Shealy); Alfred H. Wilson (Fielding); Cedric Young (Doub)
behind the scene
Ron OJ Parson (director); Jack Magaw (set); Melissa Torchia (costumes); Marc Stubblefield (lighting); Joshua Horvath (sound); Drew Dir (dramaturg); Sara Gammage (production stage manager); Amber Johnson (stage manager); Myra Su (asst. director); Michael Brosilow (photos)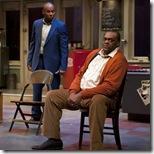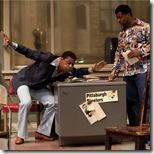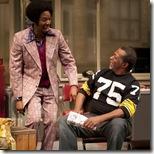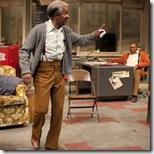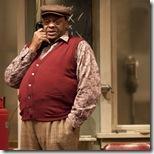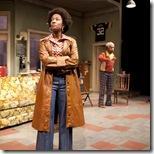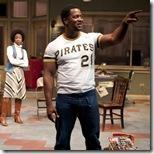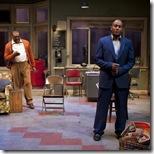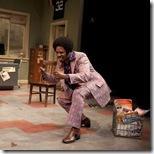 12-0933