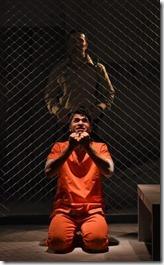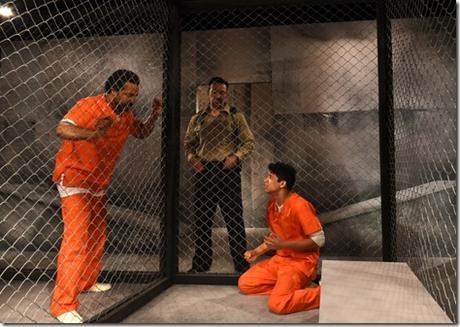 Eclipse Theatre Company has the unique mission of focusing on one playwright per season. This year belongs to Stephen Adly Guirgis, a playwright and actor whose Motherfucker With the Hat was part of Steppenwolf's 2013 season, and Steppenwolf will stage his Pulitzer Prize-winner Between Riverside and Crazy as its 2016 season closer. He's perhaps best known for the oft-produced The Last Days of Judas Iscariot, a favorite since its off-Broadway debut directed by Philip Seymour Hoffman and starring Sam Rockwell. Guirgis' characters are complex, his dialogue challenging, his stories at once widely universal and intricately intimate. Eclipse's production of Jesus Hopped the 'A' Train starts the Guirgis season off with a bang. This play is explosive. It's terrifying in its intensity. It's like nothing I've ever seen before and will likely ever see again.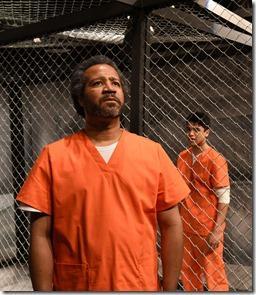 Rikers Island, the year 2000. Two prisoners sit in 23-hour lockdown, the most isolated and dangerous, patrolled by sadistic corrections officer Valdez (
Christian M. Castro
). Lucius (
D'Wayne Taylor
), an older HIV-positive black man, greets every day with an open heart and a new resolve to dedicate his life to God. He recites Bible verses while exercising, soaks in the one hour of permitted sunshine and jokes around with corrections officer D'Amico (
Zach Bloomfield
) until the officer is let go without warning. On the other side of the wall is Angel (
Johnathan Nieves
), a hotheaded Everyman who is behind bars for attempted murder, a failed final effort to save his former best friend from the clutches of a charismatic minister. Lucius knows his days are numbered, but wants to make the most of each one by praising God. Angel just wants out - the very mention of God makes him angry - and reluctantly works with public defender Mary Jane (
Elizabeth Birnkrant
) on preparations for the upcoming trial. The two men are wildly different, yet very similar, and their relationship is rife with common ground, conflict, toughness and vulnerability.
It's difficult to describe how gorgeous Guirgis' writing is. Jesus Hopped the 'A' Train seamlessly integrates hard-hitting, deeply personal issues - religion, politics, mass incarceration - into a unique story of the tenuous connection of two prisoners and its effect on those around them. Each of the five characters has backstory and motivation that informs their every word and action, which any writer knows is far easier said than done. Guirgis' language is distinctive in its subtlety and rhythm, also easier said than done. In fact, I'm hard pressed to recall a more beautifully written play than Jesus Hopped the 'A Train. Director Anish Jethmalani displays a reverence for the text and puts his impressive acting resume to work as well, guiding each player with a sure, intelligent hand.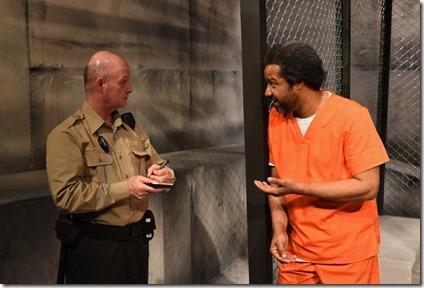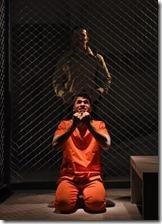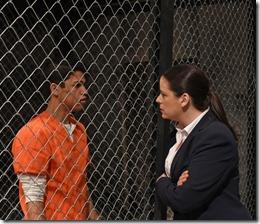 Eclipse ensemble member and casting director JP Pierson deserves kudos for assembling a crack team of a cast, brilliant in every way. Bloomfield displays a heartbreaking empathy as kind prison guard D'Amico, and Birnkrant's Mary Jane makes a remarkable journey from burned-out, borderline apathetic lawyer to Angel's toughest advocate. Castro has quite the challenge, as Valdez is far from likable, but the actor doesn't judge the character - rather, he finds small bits and pieces of the corrections officer's humanity. Nieves' Angel starts out shouting a lot, but as the play progresses it's clear that he's earned each of these moments: his quiet monologue is one of the play's most haunting moments. As the devout Lucius, with faith as confident as his past is sordid, Taylor is a dynamic revelation from beginning to end.
Jesus Hopped the 'A' Train is a treasure in every sense of the word. Dig it up. Dust off all the dirt you can. Then embrace the encrusted grime as part of the tarnished gold. Enter Eclipse Theatre's stunning production, and leave forever changed.
Jesus Hopped the 'A' Train continues through May 22nd at Athenaeum Theatre, 2936 N. Southport (map), with performances Thursdays-Saturdays at 7:30pm, Sundays 2pm. Tickets are $30 (students/seniors: $20), and are available by phone (773-935-6875) or online through OvationTix.com (check for half-price tickets at Goldstar.com ). More info at EclipseTheatre.com. (Running time: 2 hours 15 minutes, includes an intermission)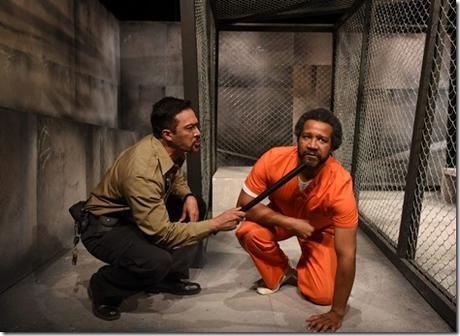 Christian M. Castro (Valdez), D'Wayne Taylor (Lucius), Elizabeth Birnkrant (Mary Jane), Johnathan Nieves (Angel), Zach Bloomfield (D'Amico), Michael Allen Harris (inmate voice), Alejandro Ortiz (inmate voice, u/s Valdez), Anthony Conway (inmate voice, u/s Lucius), Sarah Bright (u/s Mary Jane), Johann George (u/s Angel)
behind the scenes
Anish Jethmalani (director), Kevin Scott (scenic design, co-producer), Nathaniel Swift (co-producer), Kevin Hagan (lighting design), Kathy Logelin (dialect coach), Kathleen Dickinson (production manager), Zack Berinstein (sound design), Kathleen Gullion (assistant stage manager), Chika Ike, Anthony Conway (assistant directors), Rachel Lambert (costume design), Stephen Dale (fight consultant), Emily Ioppolo (stage manager), Vanessa Thomas (properties design), Sarah Moeller (dramaturgy), Aaron Christensen (fitness choreographer and consultant), (casting director), (photos)
Tags: 16-0436, Aaron Christensen, Alejandro Ortiz, Anish Jethmalani, Anthony Conway, Athenaeum Theatre, Chicago Theater, Chika Ike, Christian M. Castro, D'wayne Taylor, Eclipse Theatre, Elizabeth Birnkrant, Emily Ioppolo, Johann George, Johnathan Nieves, JP Pierson, Kathleen Dickinson, Kathleen Gullion, Kathy Logelin, Kevin Hagan, Kevin Scott, Lauren Whalen, Michael Allen Harris, Nathaniel Swift, post, Rachel Lambert, Sarah Bright, Sarah Moeller, Scott Dray, Stephen Adly Guirgis, Stephen Dale, Vanessa Thomas, Zach Bloomfield, Zack Berinstein
Category: 2016 Reviews, Athenauem, Eclipse Theatre Company, Lauren Whalen