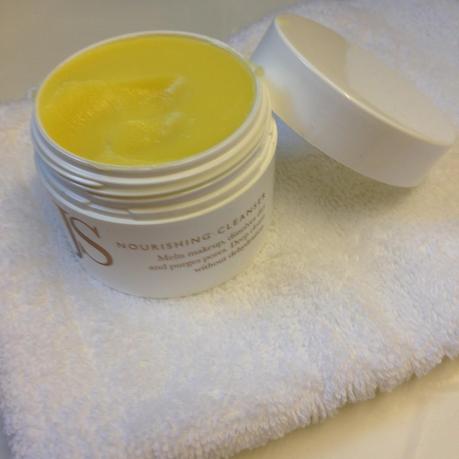 I do love a good cleansing balm, especially to take off my make up and this one from Jane Scrivner is gorgeous.
I have been trying the Nourishing Cleanser from Jane Scrivner out for just over 3 weeks now and I am really impressed. It has a base of Jojoba oil and beeswax and is packed with essential oils.
It is quite a thick balm that melts onto the skin and helps give a great massage. It dissolves away make up even waterproof products which is a tough job. I use this on my eyes too (Not sure if you are supposed too) and it removed all my mascara, though I will say that if you do have very sensitive eyes just be a bit weary and maybe avoid the eye area.
The nourishing cleanser is suitable for all skin types and leaves the skin feeling clean without drying it out. It is a lovely luxurious cleanser and is a real treat for the skin.
To make if feel even more special it comes with a gorgeous face mitt which is like a flannel but shaped like a mitt. Its quite big and super soft. I am a huge flannel fan and this is amazing at removing every last trace of cleanser.
I am really impressed and can see myself repurchasing this once I have used it up, I am also intrigued by the rest of the range Jane Scrivner does now.
You can pick this up for £43 for 100ml here. A little goes a long way and I can see this tub lasting me a while.
Have you tried any Jane Scrivner products before?


*This product was a pr sample.