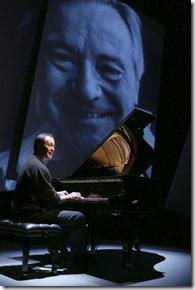 Jack Lemmon Returns
Written and Directed by Hershey Felder 
Royal George Theatre, 1641 N. Halsted (map)
thru July 20  |  tickets: $55   |  more info
  
Check for half-price tickets 
  
  
   Read review
  
---
80 minutes with an old friend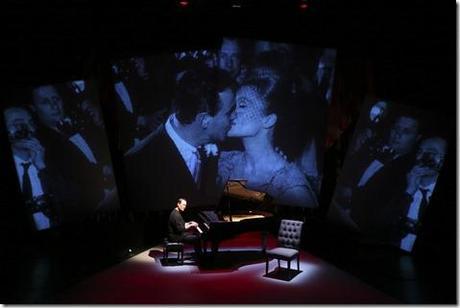 Hershey Felder presents
Jack Lemmon Returns
Review by John Olson
Hershey Felder has made a career, if not an industry, of creating solo shows that meld biography and music. While his earliest shows, the trilogy of George Gershwin Alone, Monsieur Chopin and Beethoven as I Knew Him he calls The Composer Sonata, were focused on music, his more recent efforts have explored new territory. An American Story, about the young doctor who tended to President Lincoln in the hours after his assassination was an historical drama of the decades leading up to the Civil War. Last year's The Pianist of Willesden Lane was an incredibly moving story of Holocaust survivor and concert pianist Lisa Jura, played by Jura's daughter Mona Golubek, who is also a concert pianist. With Jack Lemmon Returns, Felder takes on the show biz biography genre and even transcends it – with a piece that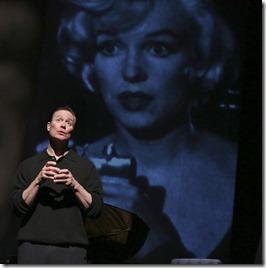 resonates on multiple levels. Like
Willesden Lane
,
Jack Lemmon Returns
enjoys a certain level of credibility that was impossible for Felder's composer biographies to claim as these two recent shows were created with the participation of and performed by, their subjects' children. Here, it's Jack Lemmon's son Chris playing his father, and many of the scenes are recreations of Lemmon's life where Chris was present. Beyond Chris' strong physical and vocal resemblance to his father there's a certain authority that can't be denied.
At its most basic level Jack Lemmon Returns offers the pleasure of spending 80 minutes in the company of that most likeable, seemingly approachable guy that was Jack Lemmon's persona. A good-looking man though not impossibly handsome man, Lemmon played regular guys with whom we could identify. They were men whose whose basic decency won out in the end, usually enabling them to win the girl over slicker, wealthier or more powerful rivals. As Lemmon aged out of romantic comedy roles, he became an everyman thrust into heroic circumstances in films like "The China Syndrome" and "Missing".  Who wouldn't want to spend an hour or so with him? Chris Lemmon, an easygoing and charming performer in his own right, brings Jack's persona to the stage quite appealingly.
At the next level is the show's success in helping us relive the golden Hollywood era of the many great films Jack made. Jack worked with some of the movie industry's biggest talents: directors George Cukor, John Ford, Billy Wilder and Blake Edwards; writer Neil Simon, actors James Cagney, Shirley MacLaine, Marilyn Monroe, Walter Matthau. Jack Lemmon Returns also serves as a journey through the times and the work of these film artists – with insightful anecdotes of these celebrities and key moments from some of the films they made with Jack, all uncannily imitated by Chris as well if not better than he imitates his father. The stories are punctuated by a judicious use of stills in Andrew Wilder's projections shown on the three-screens of the set designed by Felder.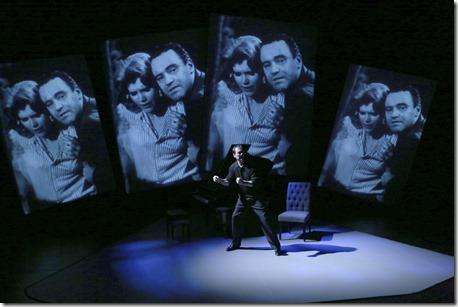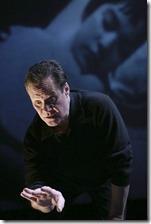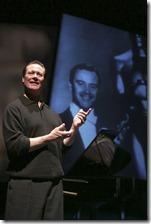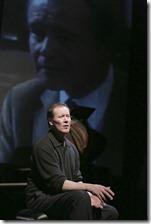 As biography, Felder and Chris Lemmon created a picture of Jack that seems not unlike Jack's screen persona of a flawed, but decent guy. We're shown Jack's strong affection for Chris – spending daily visits together after Jack's divorce from Chris' mother forced them to live in separate homes. We're also told about Jack's bond with his frequent co-star Walter Matthau. There are warts as well, though. There's a particularly sad story about the way Jack Lemmon and Chris' mother, the actress Cynthia Stone, broke up. After winning an Oscar for "Mr. Roberts", Jack not only forgot to thank Cynthia from the podium – he literally forgot her at the ceremony, leaving her to make her way home alone. Chris as Jack also tells us of the intervention Chris and family gave Jack to push him into treatment for his alcoholism.
Finally, Jack Lemmon Returns is – like Felder's composer biographies, which also include his stage bio of Leonard Bernstein – a story of an artist's life. While unquestionably a lucky guy, who discovered quite accidentally at an early age his ability to make people laugh, he worked hard at developing his craft. In one of the show's more touching moments, we hear how Jack studied the work of French film actor Jean-Louis Barrault to learn how to make an audience cry and laugh at the same time. As an artist, Jack Lemmon was a humanist and his basic humanity shines through in this biography. Felder has ingeniously woven these facts into a concise yet multi-layered script that plays out over just 80 minutes on stage. Thanks to digital technology, we can revisit Jack's movies whenever we have the time and a Netflix subscription, but spending these minutes with what appears to be the man himself, just channeled through his son, is a real treat.
Rating: ★★★½
Jack Lemmon Returns continues through July 20th at Royal George Theatre, 1641 N. Halsted  (map), with performances Wednesdays and Thursdays at 7:30pm, Fridays 8pm, Saturdays 2pm and 8pm, Sundays 3pm.  Tickets are $55, and are available by phone (312-988-9000) or online through their website (check for half-price tickets at Goldstar.com). More information at RoyalGeorgeTheatre.com.  (Running time: 80 minutes, no intermission)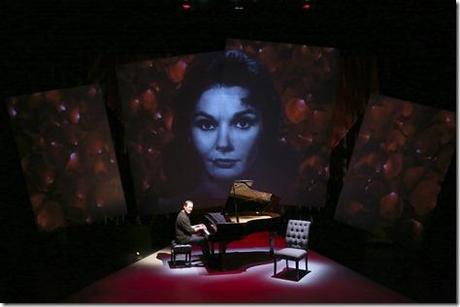 Photos by Charles Osgood 
---
artists
cast
Chris Lemmon (Jack Lemmon)
behind the scenes
Hershey Felder (director, author, scenic design), Trevor Hay (associate director), Jason Bieber (lighting design), Erik Carstensen (sound design, production management), Andrew Wilder (projection design), Emma Marie Hay (scenic decoration) Rebecca Peters (production stage manager), Charles Osgood (photos).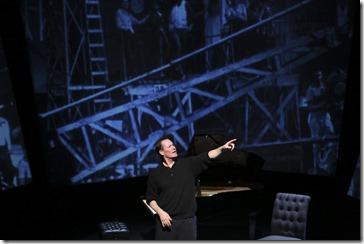 14-0532