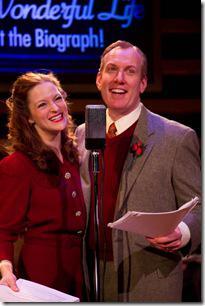 It's a Wonderful Life:
  
   Live at the Biograph!  
  
Adapted by Joe Landry  
Directed by Marty Higgenbotham
VG Biograph Theater, 2433 Lincoln (map)
thru Dec 31  |  tickets: $25-$40   |  more info
  
Check for half-price tickets 
  
  
   Read entire review
  
---
Bellows Falls comes to the Biograph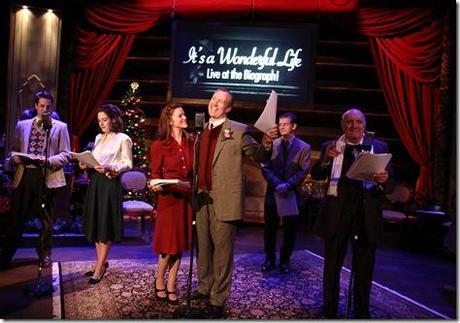 American Blues Theater presents
It's a Wonderful Life: Live at the Biograph
Review by J.H. Palmer
Among the American holiday stories that can be recited from memory, "It's a Wonderful Life" ranks right up there. Few among us haven't seen at least part of the 1946 Frank Capra film starring Jimmy Stewart, Donna Reed, and Lionel Barrymore in roles they would be associated with for the rest of their careers. Since 2004, American Blues Theater has presented a stage adaptation of IAWL, and this holiday season is no exception. The ABT production is staged as a radio-play, complete with period furnishings and "on air" and "applause" signs on stage right. Because virtually everyone who sees the ABT production is familiar with the story, there's a built-in institutional memory that the audience brings with them that creates an affinity between the audience and the performers in a way that could perhaps only be reproduced with "The Wizard of Oz."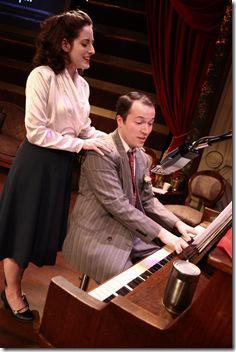 The details in the costumes, props, and staging successfully evoke the 1940's; even Foley artist
Shawn J. Goudie
is dressed in early 1940's attire and uses period props to recreate the sounds of rain, doors opening and closing, and a myriad of other effects.
Kevin R. Kelly
does a tremendous job of interpreting the role of George Bailey in a way that pays homage to Jimmy Stewart without mimicking him, which is no small task.
Gwendolyn Whiteside
plays opposite Kelly as Mary Bailey with an energy that comes across as authentic. Much of the cast does double duty in this piece:
Dara Cameron
takes on the roles of Violet and at least one of the Bailey children;
James Joseph
by turns plays George Bailey's father and the forgetful Uncle Billy; Zachary Kenney plays George's little brother Harry; and
Michael Mahler
doubles as the announcer and stage pianist. The supporting cast is as enjoyable to watch as the principles, with
John Mohrlein
's performance as the affable and naïve Clarence contrasting perfectly with his interpretation of the greedy, money-grubbing Potter. His ability to transform himself is a wonder to behold, and his performance shines.
The wonderful thing about IAWL is that it's a comforting holiday story that's accessible to anyone, regardless of religious affiliation, and has acceptable levels of holiday cheer woven into it. This is a play you can bring grandma to, and you're gothed-out teenage niece too. At this time of year, when holiday cheer is fairly forced into our living rooms, our commutes, and our everyday interactions, it's a welcome change to revisit the story of one man's struggle to do the best he can with what he's got, and that acknowledges the hard times that we all face. This holiday season in particular, that's a refreshing message to see onstage.
Rating: ★★★½
It's a Wonderful Life: Live at the Biograph continues through December 31st at the Victory Gardens Biograph Theater, 2433 N. Lincoln (map), with performances Thursdays and Fridays at 8pm, Saturdays at 5pm and 8pm, and Sundays at 2:30pm (holiday schedule varies, so double-check calendar).  Tickets are $25-$40, and are available by phone (773-871-3000) or online here (check for half-price tickets at Goldstar.com). More information at americanbluestheater.com.  (Running time: 90 minutes with no intermission)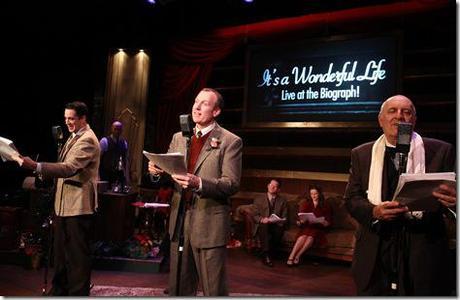 All photos by Johnny Knight 
---
artists