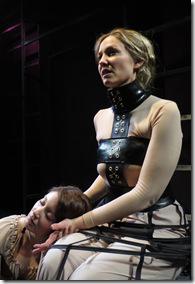 Ironmistress
Written by April De Angelis  
Directed by Karen Yates
Oracle Theatre, 3809 N. Broadway (map)
thru Feb 11  |   free w/ reservation  |  more info
  
Check for half-price tickets 
  
  
   Read entire review
  
---
'Ironmistress' is a machine!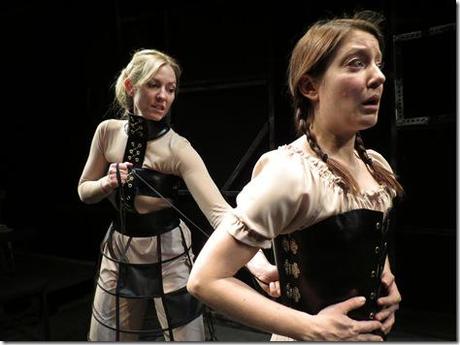 Oracle Theatre presents
Ironmistress
Review by Katy Walsh 
I'm just a love machine
So give me motivation
I'm just a love machine
   -Artic Monkeys
Love machine.  Sex machine.  These are today's positive terms to describe optimal performance.  The *machine* is a person who goes beyond human levels to exceed expectations.  But, machines can also mean a mechanism that operates without feeling.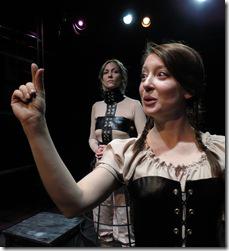 Oracle Productions presents
Ironmistress
.  On the eve of her daughter's wedding, a mother shares her perspective on a woman's role.  It's not the-birds-and-the-bees chat. It's the let-me-help-you-on-with-your-shackles talk.  Mom is a widow in 1840's England.  She has learned how to survive during the industrial revolution. She masks emotion behind an iron constitution.  And she has raised her daughter to know her place as a little cog.  It's the play "Spring Awakenings" taking place in Chaplin's movie "Modern Times" with hints of Madonna's "Express Yourself" music video. 
Ironmistress
welds together a solid encasement to preserve the tender remains of being a woman. 
Playwright April De Angelis has penned the harsh realities of female inequality.  De Angelis fuses together multiple tales of male domination.  To soften the severity of the stories, De Angelis uses verse and dark humor.  Under the masterful direction of Karen Yates, the two member cast is outstanding.  Katherine Keberlein (mom) is the iron lady.  Keberlein addresses her dead husband with bitter sarcasm and her daughter with hard-hearted sensibilities. A cold-blooded Keberlein effectively showcases glimpses of heart-wrenching vulnerability.  Her daughter, Sarah Goeden, is a bouncing bundle of youthful innocence.  Goeden's big eye wonderment is playful then disturbing as she steps into womanhood.  Her 'I must work right' statement haunts me…still. Powerful! Goeden beautifully sings her pretend fantasy.  Together, Keberlein and Goeden bond poignantly like war buddies.  Sometimes, they want to swap stories.  And sometimes, they just want to suppress, drink tea and escape.  
Costume Designer Darcy Elora Hofer adds to the story with her own visual imagery.  Hofer dresses the cast in *contraptions.*  Part Victorian corset and part workhorse harness, these imaginative outfits look uncomfortably constraining.  And Goeden looks realistically unhappy to put it on.  The amusing element for me is there is a third part, dominatrix.  It's the slightest hint that the sexual revolution will free women to be less inhibited.  But for Ironmistress, there is nothing repressed about this play.  De Angelis, Yates, Kaberlein, Goeden and Hofer work as a single-engine, feeling-injected sisterhood.  Ironmistress is a machine! 
Rating: ★★★★
Ironmistress continues through February 11th at 3809 N. Broadway (map), with performances Fridays, Saturdays and Mondays at 8pm, Sundays at 7pm.  Tickets are free, but to assure a seat, reservations can be made at oracletheatre.org. (Running time: 75 minutes with no intermission)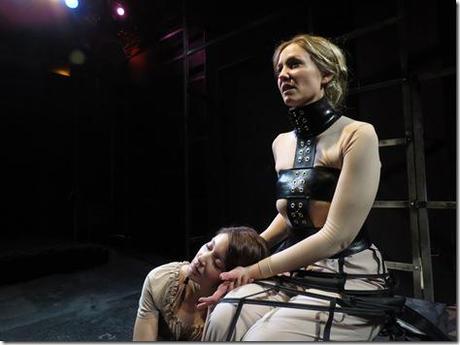 All photos by Ben Fuchsen
---