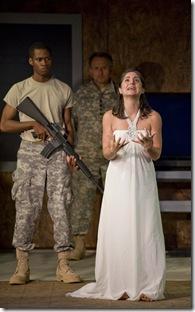 Iphigenia 2.0 
Written by Charles Mee
Directed by David Kersnar
Noyes Cultural Arts Center, Evanston (map)
thru Oct 14  |  tickets: $30-$40   |  more info
  
Check for half-price tickets 
  
  
   Read entire review
  
---
Sacrificing story for spectacle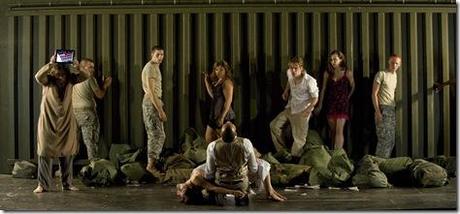 Next Theatre presents
Iphigenia 2.0
Review by Katy Walsh 
War?!  I don't get it.  Video games?!  I don't get those either.  Men focus for hours, days, years on intentional quests for bloodshed.  How can this possibly give any lasting satisfaction? The need to be victorious and superior over others is primarily a guy thing. And it's been a *thing* throughout history.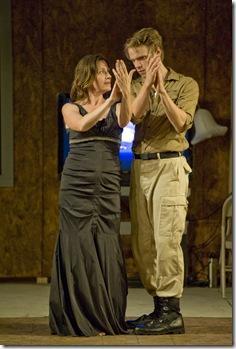 Next Theatre presents
Iphigenia 2.0
.  Agamemnon wants to lead his men into battle.  The purpose for the war has the soldiers skeptical.  To inspire their thirst for blood,  Agamemnon must make a personal sacrifice.  He must kill his daughter, Iphigenia.  He reluctantly agrees and lures his daughter to camp with promises of a wedding to Achilles.  The groom is stunned.  The bride is overjoyed.  And the mother of the bride is pissed.  This Greek classic gets a modern makeover. But does it work?
Iphigenia 2.0
sacrifices story for spectacle.
Playwright Charles Mee adapted this Greek tragedy into a contemporary tale.  The basic premise is a hard conversion.  A father slaughtering a daughter is an absolute *no no* in American culture.  Mee gives it a go anyway.  And for his part, the mindset of the daughter is an interesting angle.  Her earnest and teen-drama soliloquy almost makes me a believer.  But instead of pulling me into emotional turmoil, Director David Kersnar keeps me disengaged with his circus-like theatrics. 
Kersnar stages the show with intermittent dance numbers.  It feels like a cabaret and sometimes almost burlesque.  At different points, the guys and gals take it off in a PG-style striptease.  Although I'm always a fan of hot shirtless men, it feels like a Jason Statham movie ploy.  In a Statham film, there is a direct correlation between the number of times he unnecessarily goes bare chest and the quality of the production.  Sure, Jason keeps the audience transfixed, but it can't save the show.  Choreographer Karen Vance orchestrates some impressive high-energy, back-flipping, shoulder-climbing, march-clapping physicality.  Sure, Wesley Daniel, Max Fabian, Luce Metrius, and Erik Strebig keep the audience transfixed – but it can't save the show.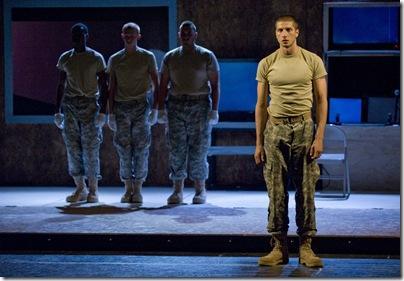 The play is at its best with old school theatrics.  Laura T. Fisher (Clytemnestra) has unforgettable scenes as she threatens her husband and seduces her future son-in-law.  Fisher tries to keep us tethered to the serious plight, but then the music blares, the light flashes, and Daniel disrobes. And I'm dazed and confused.  Iphigenia 2.0 is a modern version but not a classic.
Rating: ★★½
Iphigenia 2.0 continues through October 14th at the Noyes Cultural Arts Center, 927 Noyes, Evanston (map), with performances Thursdays at 7:30pm, Fridays and Saturdays at 8pm, Sundays 2pm.  Tickets are $30-$40, and are available by phone (847-475-1875 x2) or online through PrintTixUSA.com (check for half-price tickets at Goldstar.com). More information at NextTheatre.org.  (Running time: 80 minutes, no intermission)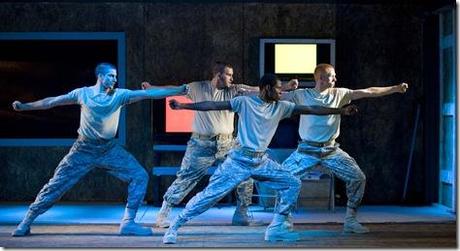 Photos by Michael Brosilow 
---
artists
cast
Rebecca Buller (Iphigenia); Max Fabian, Wesley Daniel, Luce Metrius, Erik Strebig (Soldiers); Aaron Todd Douglas (Agamemnon); Laura T. Fisher (Clytemnestra); Ricardo Gutierrez (Menelaus); Anthony Kayer (Greek Man); Ariella Marchioni, Alexa Ray Meyers (Bridesmaids); Nick Vidal (Achilles);
behind the scenes
David Kersnar (director); Mariana Csaszar (costumes); Heather Gilbert (lighting); Jamie Karas (props); Alexis Links (dramaturg); Adam Liston (production manager); Jessica Pink (stage manager); Jacqueline and Richard Penrod (scenic); Rick Sims (sound design); Michael Brosilow (photos)
12-0924
3words: A peaceful man, Michael describes it with 'odd, awkward, disjointed.'