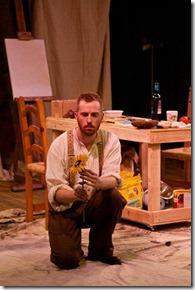 Inventing Van Gogh 
Written by Steven Dietz
Directed by Aaron Henrickson
at City Lit Theater, 1020 W. Bryn Mawr (map)
thru Aug 25   |  tickets: $20   |  more info
  
Check for half-price tickets 
  
  
   Read entire review
  
---
Academia overtakes drama in unconvincing study of the famed artist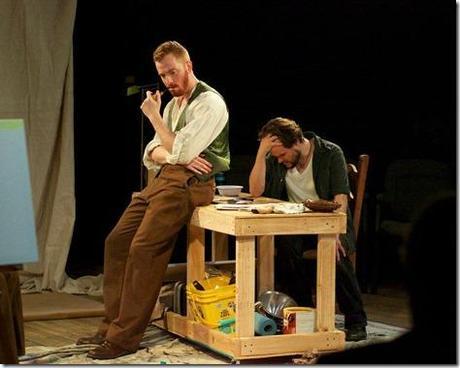 Strange Bedfellows Theatre presents
Inventing Van Gogh
Review by Patrick Dyer
About a year ago, Emma Coats – one of the storyboard artists at Pixar – posted a Tweet called "22 Rules for Storytellers" on what she has learned over the years about, obviously, storytelling. The second rule stuck out most prominently when I first read it: "You gotta keep in mind what's interesting to you as an audience, not what's fun as a writer. They can be very different." It kept running through my head, then, as I watched Strange Bedfellows Theatre's production of Steven Dietz's Inventing Van Gogh, that I wished Geitz had followed that same advice.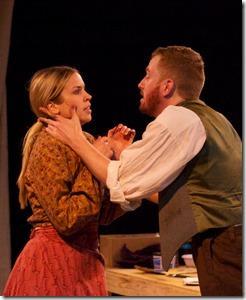 Inventing Van Gogh is about a struggling artist named Patrick Stone (Patrick Cameron), whose beloved teacher, Dr. Jonas Miller (Sean Thomas), has just committed suicide because of his failed search to find the last painting of Vincent Van Gogh – and a desire to reenact Van Gogh's own suicide attempt in the wheat fields of Northern France. One day, an art expert named Renee Bouchard (Adam Schulmerich) appears and commissions Patrick to forge another version of Van Gogh's final painting. What results is Patrick coming to terms with his own artistic struggle as well as confronting the apparition of Van Gogh himself on the meaning of art. We also see snippets of Van Gogh's personal life intended to open Patrick's eyes to true artistic struggle along with Dr. Miller's journey to his tragic (albeit highly questionable) suicide.
At first, this play sounds very fascinating: the idea of having a modern day artist confronting a great master like Van Gogh could be a highly theatrical and dramatically compelling premise. However, Geitz substitutes character with archetype, spontaneous dialog with pretentious academia, and flowing narrative with clichéd contrivances. He doesn't seem interested in the human interactions between the modern artist and Van Gogh so much as in hitting the audience over the head with his own opinions on art. Because of this, what should prompt audiences to ask questions about art, the artistic struggle, society's reaction to art, etc. instead prompts questions like "Why would Dr. Miller kill himself like that?" or "Who is this Renee Bouchard and what's his connection with Patrick?" or "Why does Miller's daughter blame Patrick for her father's death?" On top of that, the play is largely about the artistic struggle of Van Gogh, but this is only explored in obligatory flashback scenes or Patrick interacting with his ghost. The latter would make for an interesting one-act play, but Geitz only allows it to happen two or three times throughout the whole evening – a missed opportunity, to say the least.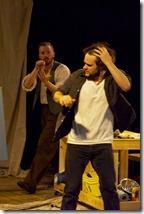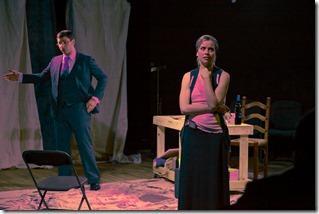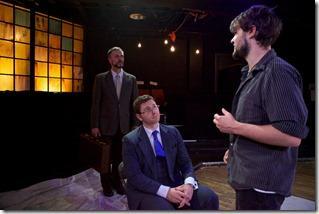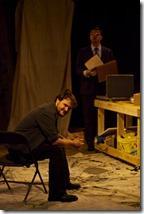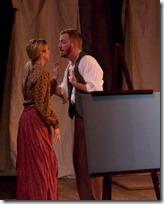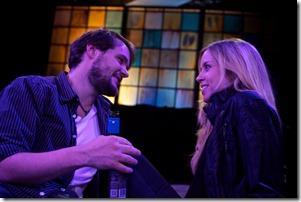 The cast as a whole tries their best to move beyond their archetypal characters, but unfortunately do not. Cameron's Patrick is a "tortured" artist without much humanity, Thomas's Dr. Miller is a pretentious professor without believable motivation, Christine Vrem-Ydstie as Dr. Miller's daughter, Hallie, is just rude and snarky for no reason, and Schulmerich's Bouchard is completely superfluous as a character, whose only purpose is to spout exposition and move the plot forward. Riley Mcilveen's Van Gogh falls into the stereotype of "tortured artist" along with Patrick, which doesn't leave much differentiation between these two. His portrayal is also noticeably flat as he constantly shouts and struggles with his French accent. Though, to be fair, whenever everyone else (minus Cameron) has to portray someone from Van Gogh's lifetime, they all struggle with a foreign accent, causing some of the dialog to be mumbled and lost.
Despite the commitment of the cast and Dustin Pettegrew's inventive set design, Inventing Van Gogh comes across not as a compelling character study but an exercise by Geitz to seemingly announce his viewpoints on Van Gogh and art. While some interesting ideas are discussed between the characters (like how art can be like science), the play nonetheless fails as a dramatic theatrical piece by not allowing room for characters to act and talk spontaneously. (On the plus side, this production allows local Chicago painters the chance to showcase their Van Gogh-style paintings in the main lobby before the show and during intermission, which might be worth the visit in itself.)
Rating: ★★
Inventing Van Gogh continues through August 25th at City Lit Theater, 1020 W. Bryn Mawr (map), with performances August 3, 9-10, 16-17 and 23-24 at 8pm, August 4 and 24 at 2pm.  Tickets are $20, and are available online here (check for half-price tickets at Goldstar.com). More information at StrangeBedfellowsTheatre.com.  (Running time: 2 hours, includes an intermission)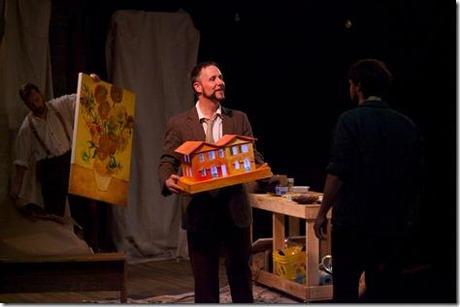 ---
artists
cast
Patrick Cameron (Patrick), Riley Mcilveen (Van Gogh), Sean Thomas (Dr. Jonas Miller, Dr. Gachet), Christine Vrem-Ydstie (Hallie, Margurite), Adam Schulmerich (Renee Bouchard, Paul Gaugin)
behind the scenes
Aaron Henrickson (director), Kristen P Ahern (artistic director, costumes), Alexa Berkowitz (stage manager), Dustin Pettegrew (set design), John Kelly (lighting), Matt Reich (sound), Shelby Brand (assistant costume designer), Amelia Vanderbilt (production manager), Jenny Westervelt (paint captain), Margaret McCall (dramaturg), Kendra Kargenian (dialect coach), Michael Gibson (managing director), Julia Sands (social media director), Rob Hogan, Wanaki, Michael Angelo Gagliardi, Ryan Karey, Lilla Dent, Andy H (live painters)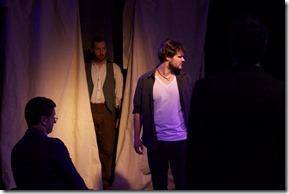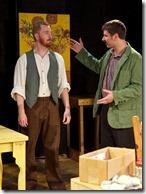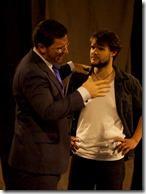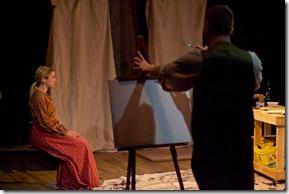 13-0809