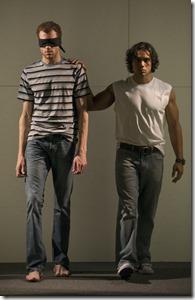 Invasion! 
Written by Jonas Hussan Khemiri 
Translated by Rachel Willson-Broyles
Directed by Anna C. Bahow 
at Silk Road Rising, 77 W. Washington (map)
thru Sept 1  |  tickets: $35   |  more info
  
Check for half-price tickets 
  
  
   Read entire review
  
---
A blistering commentary on the dangerous power of stereotypes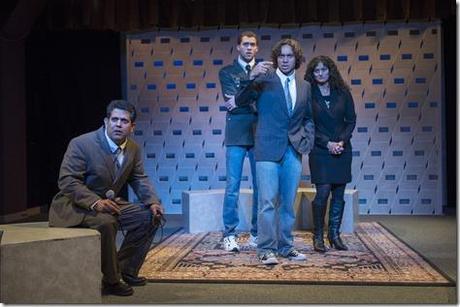 Silk Road Rising presents
Invasion!
Review by Catey Sullivan 
Jonas Hussan Khemiri's Invasion! is a challenging kaleidoscope of a play, a whirling, non-linear mash-up of chameleonic characters, charged situations and provocative ideas. There's a thru-line in this demanding piece, but it's not always obvious as Khemiri's torrent of heightened poetry and charged dialog comes rushing at you.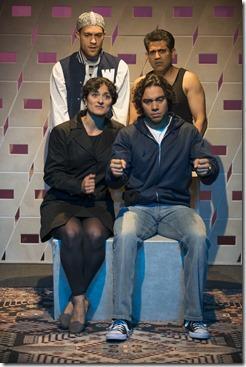 Directed by
Anna C. Bahow
and translated from the original Swedish by Madison linguist
Rachel Willson-Broyle
s
,
Invasion!
can be intensely challenging as it hopscotches through time, place and among characters to form a sort of verbal puzzle. In the end though, the big picture that gradually emerges from at times seemingly disconnected situations is vivid and essential. What Khemiri has crafted with
Invasion!
is a blistering commentary on the dangerous power of stereotypes and ignorance as well as a pointed declaration of the supercharged power of language to become a force of good or destruction.
The linguistic sleight-of-hand begins in the first scene. To describe it would be to indulge in a major spoiler, so I'll merely state that you are mentally knocked off balance to the point that one does not feel physically safe. Putting the audience under a siege of sorts is a fitting entry into the world of Invasion!, which is filled with characters experiencing a similar sense of looming, uncontrollable danger.
An undocumented apple picker, a stuttering would-be pick-up artist, a younger brother recalling a seminal event from a long-ago summer, a Lebanese exterminator dreaming of becoming a disco king, a Middle Eastern man/myth that nobody can quite pin down – through the disparate stories told by and about these men, Khemiri skewers the stereotypes that stick so stubbornly to Muslim men, pointing out the damage they can cause both psychological and physical.
Throughout the piece, Khemiri toys with the audience's perception of what is true and what is perception. Events unfold in a manner that seems clear, only to be upended when they're presented from a different perspective. Perhaps nowhere is this disconnect more glaring than in a scene between a Middle Eastern immigrant and a translator. The words coming from the immigrant's mouth bear no relation to those issuing from the translator. The effect is emotional whiplash – both devastating and comic.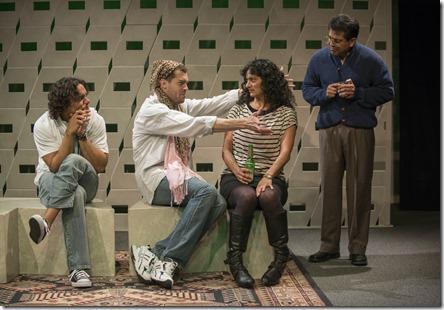 The stories within the stories in Invasion's Chinese-box structure don't line up neatly; Khemiri's tumultuous leaps in time, place and tone can be confusing. But they are also inherently dramatic, often very funny and always thought provoking.
Bahow's ensemble cast the night I attended – Kamal Hans, Omer Abbas Salem, Amira Sabbagh and Glenn Stanton - morphs with a collective ease through the shifting stories that unfold within the production. With minimal costumes on an essentially bare set, they create a crowd of unique voices, all clamoring to be heard.
Invasion! is not an easy play. Indeed, it can seem maddeningly opaque. But it is well worth the frustration, and the ideas it presents will stay with you long after the lights come up. As Khemiri's debut drama, it will also leave you wondering with anticipation what he'll do next.
Rating: ★★★½
Invasion! continues through September 1st at Chicago Temple's Pierce Hall, 77 W. Washington (map), with performances Thursdays at 7:30pm, Fridays 8pm, Saturdays and Sundays at 4pm.  Tickets are $35, and are available by phone (312-857-1234 x201) or online through OvationTix.com (check for half-price tickets at Goldstar.com). More info at SilkRoadRising.org.  (Running time: 80 minutes, NO intermission)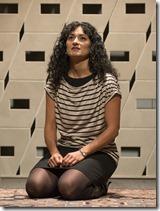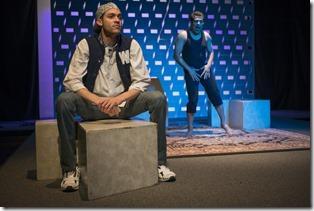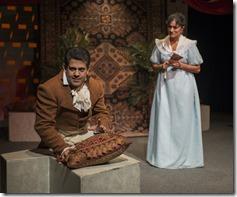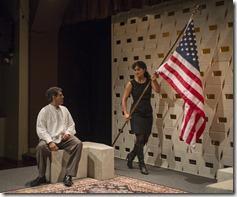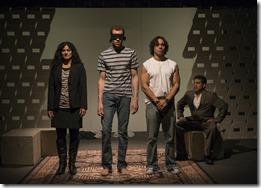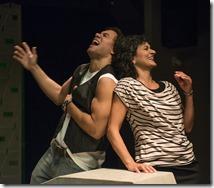 Photos by Michael Brosilow 
---
artists
cast
Kamal Hans, Amira Sabbagh, Glenn Stanton, Dan Johnson
understudies
Owais Ahmed, Anu Bhatt, Omer Abbas Salem
behind the scenes
Anna C. Bahow (director), George Bajalia (asst. director), Corey Pond (production manager), Dan Stratton (set design), Carol J. Blanchard (costume design), Sarah Hughey (lighting design), Peter Storms (sound design), Jesse Gaffney (props design), Neal Ryan Shaw (dramaturg), Ellie Humphrys (master electrician), Alan Ernstein (tech director), Becca McCracken, Claire Simon Casting (casting), John Grant-Phillips (stage manager), Casey L. Peek (asst. stage manager), Sarah Ibis (program book editor), Al Gillani (box office manager), Katie Welch (house manager), Deann Baker (video coordinator, video editor), Brandon Allen (arts management intern), Roxane Assaf (community outreach coordinator), Malik Gillani, Jamil Khoury (producers), Michael Brosilow (photos)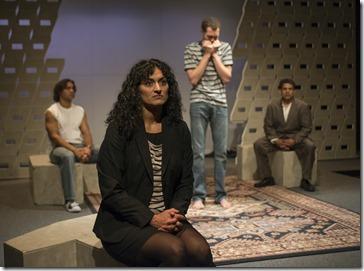 13-0803