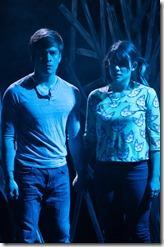 Gratuitous and disappointing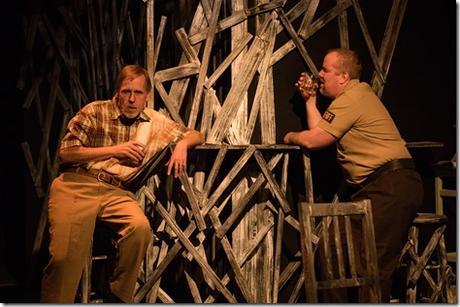 America's fascinated by crime. Enabled by television series like "Making a Murderer" and podcasts such as "Serial," many of us regularly dive into mindsets and actions we'll never intimately, personally know. If done right, Interrogation could have fed right into this fascination, exploring how dysfunctional family dynamics can lead to nefarious acts and subsequent cover-ups. Unfortunately, Interrogation is criminally terrible, resorting to cheap shots, gratuitous violence against a young woman, and an eye-rolling plot twist that's the implausible cherry on the sloppy sundae.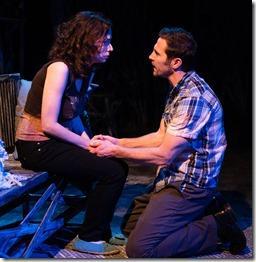 The Harpers are a prominent, permanent fixture in the small town of Rising Sun, Indiana. Some are pillars of the community, others not-so-lovable screw-ups, but matriarch Joanna (
Kathy Scambiatterra
) is determined to make a special day for graduating high school senior Kevin (
Julian Hester
). In attendance at the family gathering is Kevin's girlfriend Ellie (
Kathryn Acosta
), whose sweet nature is marred by her "white trash" reputation and alcoholic mother Vanessa (
Kristin Collins
). But when Ellie disappears from the graduation party, Deputy Griggs (
Eric Leonard
) becomes determined to find out what really happened that day - and just how many of the Harpers were involved.
What's most disappointing about Interrogation is the sheer missed opportunity to create a riveting, realistic crime narrative that explores the inner workings of family loyalty. Playwright Scott Woldman certainly lays the groundwork: it's clear the Harpers love their booze. Both Kevin and father Bill (Chuck Spencer) have mental and emotional issues, and no one in the clan appears to be happily married. But instead of exploring these traits and the family's complex relationships to one another, Woldman resorts to more melodrama than a 1980's nighttime soap opera (think copious amounts of screeching and face-slapping). At times it's clear that Interrogation was meant to be a dark comedy, but the sheer amount of violence directed toward teenage Ellie quickly obliterates any bubbling laughter.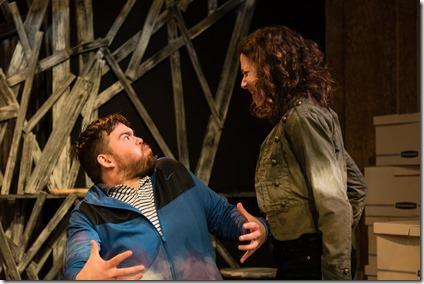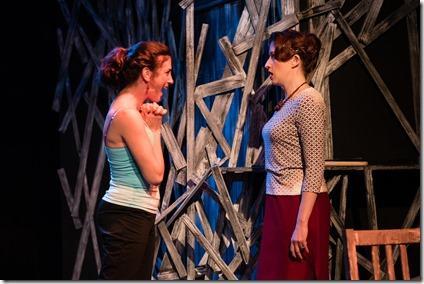 With such a terrible script, there's not much even the best director can do, and it appears Scott Westerman has simply encouraged certain actors to speak louder than is necessary in a small venue. It's a shame, because Interrogation boasts an impressive ensemble with Equity status and credits from film, TV and some of Chicago's best theaters. Because of the shallow writing that throws characterization and relationships to the wind, however, most of the actors are reduced to playing unlikable stereotypes that punch one another. Only Acosta gives Ellie a complex personality that's naïve yet jaded, and Maria Stephensinflicts dry wit upon Maureen, a disillusioned Harper daughter and school superintendent's wife.
Interrogation sets an ominous scene before the lights go down, thanks to Judy Radovsky and Anders Jacobson's haunting set and Thomas Dixon's sound design. If only the ensuing two hours were as compelling. Interrogation is a gratuitous, mean-spirited disappointment, with gaping plot holes, a dull framework and cliché after cliché. Though she's a major character in flashbacks, perhaps Ellie did the right thing by disappearing from the action.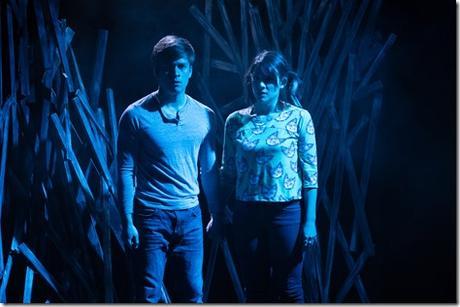 Interrogation continues through March 20th at The Artistic Home, 1376 W. Grand (map), with performances Fridays and Saturdays at 8pm, Sundays 3pm. Tickets are $28-$32 (suggested donation, students/seniors: $20), and are available by phone (866-811-4111) or online through OvationTix.com (check for half-price tickets at Goldstar.com ). More information at TheArtisticHome.org. (Running time: 2 hours, includes an intermission)
Photos by Tim Knight
Kathryn Acosta (Ellie Kimbel), Julian Hester (Kevin Harper), Eric Leonard (Deputy Griggs), Lynne Baker (Lindsey), Josh Dolor (George Stone), Kathy Scambiatterra (Joanna Harper), Scot West (Jim O'Dwyer), Katherine Swan (Amanda Harper-Stone), Maria Stephens (Maureen O'Dwyer), Chuck Spencer (Bill Harper), Jae K. Renfrow (Doug Harper), Kristin Collins (Vanessa Kimbel), Jessica McCluskey. Fletcher Pierson, David Jackson, Rachel Slavik, Sean Harklerode, Laura Coleman, Meghan Reid (understudies)
behind the scenes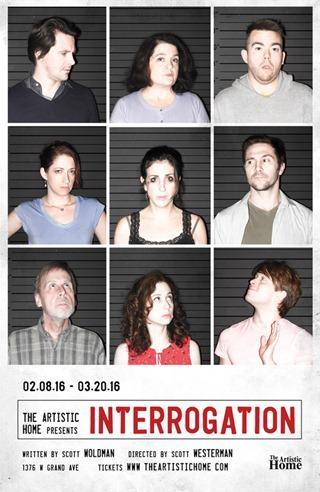 Scott Westerman (director, co-producer), Kristin Collins, Kathy Scambiattera (co-producers), Emily Brown (stage manager), Jack Bourgeois (assistant director), Fletcher Pierson (assistant stage manager), Anders Jacobson and Judy Radovsky (scenic design), Emily McConnell (costume design), Thomas Dixon (sound design), (lighting design), Alex Miller (properties design), Jen Dorman (graphic design), Mitch Anthony (technical director), Kathryn Acosta, Julian Hester (fight choreography), Slick Jorgensen (master electrician), David Vogel (program design), Joseph Eichner (press), Alex Thompson (video), Tim Knight (photography)
Tags: 16-0214, Alex Miller, Alex Thompson, Anders Jacobson, Cat Wilson, Chicago Theater, Chuck Spencer, David Jackson, David Vogel, Emily Brown, Emily McConnell, Eric Leonard, Fletcher Pierson, Jack Bourgeois, Jae K. Renfrow, Jen Dorman, Jessica McCluskey. Fletcher Pierson, Joseph Eichner, Josh Dolor, Judy Radovsky, Julian Hester, Katherine Swan, Kathryn Acosta, Kathy Scambiattera, Kathy Scambiatterra, Kristin Collins, Laura Coleman, Lauren Whalen, Lynne Baker, Maria Stephens, Meghan Reid, Mitch Anthony, post, Rachel Slavik, Scot West, Scott Westerman, Scott Woldman, Sean Harklerode, Slick Jorgensen, The Artistic Home, Thomas Dixon, Tim Knight
Category: 2016 Reviews, Artistic Home, Lauren Whalen