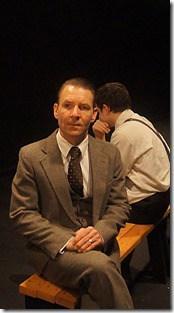 Incident at Vichy 
Written by Arthur Miller
Redtwist Theatre, 1044 W. Bryn Mawr (map)
thru Dec 27  |  tix: $30-$35  | more info
  
Check for half-price tickets  
  
---
Minimalist holocaust production lacks payoff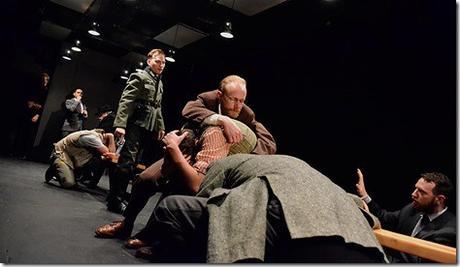 Redtwist Theatre presents
Incident at Vichy
Review by Keith Glab
Dripping with dramatic irony, Incident at Vichy involves a group of detainees in France under the 1942 German occupation. For the first 40 minutes of the play, the group debates why they've been taken. Finally, someone mentions the word "furnaces" and the characters come to accept what the audience has known all along: these men are being investigated to see whether they should get shipped to concentration camps for being Jewish.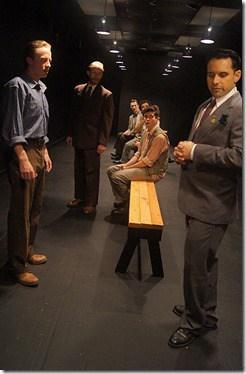 Redtwist's long, intimate space has the audience on two sides of the action. Three benches comprise the only set, the bare walls are completely black, a series of low-hanging lights remain unchanged throughout, and hardly any sound cues are heard. With such a minimalist production, director
Ian Frank
relies upon a celebrated playwright, incendiary subject, and extensive cast to carry the show.
It isn't enough. Incident doesn't represent Arthur Miller's best work, with many of the characters lacking substance and the action taking a very long time to develop. While the holocaust remains a harrowingly compelling subject, the play is 50 years old and countless accounts of fiction and nonfiction since have better captured its psychology and its horrors. The cast of 20 do a solid job for the most part, but several of them either don't have enough stage time to develop their characters or face away from half the audience for most of that stage time.
The biggest issue with the production lies in its overly steady pacing. Several moments warrant a more fervent pace while a sustained silence could help emphasize others. With so many characters onstage and so much evasion of what's happening, these moments of emphasis prove particularly necessary. With what is obviously meant to be a powerful play, allowing some of the more poignant moments to land would allow that power to be realized.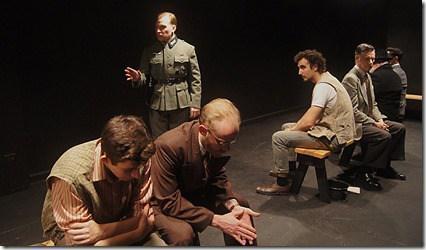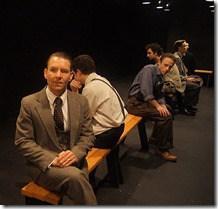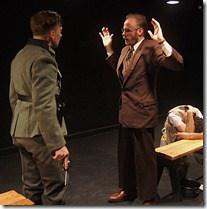 Jeremy Pfaff's performance as The Major highlights the show, exhibiting a broad range of characteristics in his brief time onstage. Tim Parker gives Leduc subtle depth in what you could call the lead role. Jeremy Trager establishes a very distinctive character as Prince Von Berg, though his motivations aren't always clear. That's problematic since the play's final moments hinge on a decision his character makes. What should serve as an incredible payoff instead fizzles out.
Sometimes, all you need for successful theater is a group of talented actors telling a good story. Other times, this results in a bunch of talking heads discussing ideals with the audience feeling less than involved in the action. Redtwist prides itself on taking risks, but Incident at Vichy falls flat in a very conservatively constructed production.
Rating: ★★
Incident at Vichy continues through December 27th at Redtwist Theatre, 1044 W. Bryn Mawr (map), with performances Thursdays-Saturdays at 7:30pm, Sundays 3pm.  Tickets are $30-$35, and are available by phone (773-728-7529) or online through Arts-People.com (check for half-price tickets at Goldstar.com). More information at Redtwist.org.  (Running time: 90 minutes, no intermission)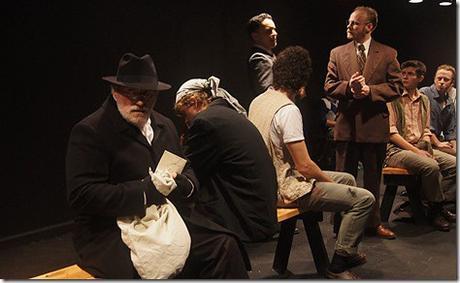 Photos by Ian Frank, Jan Ellen Graves
---
artists
cast
Michael Bartz (Detective), Jerry Bloom (Police Captain), Matt Browning (Lebeau), Justin Burns (Boy), Zach DeNardi (Waiter), Tyler Esselman (Police Guard), Jeff Gamlin (Ferrand), David Giannini (Bayard), William Goff (Prisoner), Peter Brian Kelly (Prisoner), Tom Lally (Old Jew), Matthew Lunt (Prisoner), Jim Morley (Monceau), Daniel Mozurkewich (Gypsy), Devon Nimerfroh (Professor), Tim Parker (Leduc), Jeremy Pfaff (Major), Michael Sherwin (Marchand), Nathan Speckman (Prisoner), Jeremy Trager (Von Berg)
behind the scenes
Ian Frank (director, set design), Matthew Nerber (asst. director), Garth Moritz (stage manager), Kelly Field (stage manager, after Dec 21), Melissa Nelson (asst. stage manager), Daniel Friedman (lighting design), Ray Rehberg (sound design), kClare McKellaston (costume design), Josh Hurley (props design), Jan Ellen Graves (co-producer, graphic designer, marketing, photos), Kevin McDonald (dramaturg), Jeff Gamlin (set construction), Catherine Miller (casting director), Charles Bonilla (box office manager), E. Malcolm Martinez (box office associate), Johnny Garcia (box office associate, associate producer), Michael Colucci (co-producer)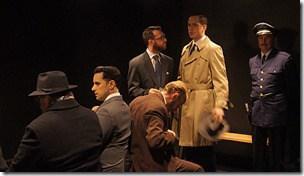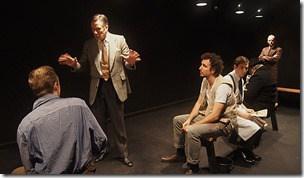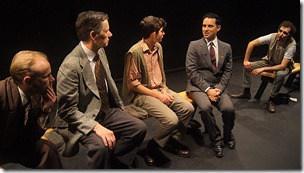 15-1149