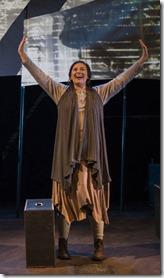 Stunning and vibrant world premiere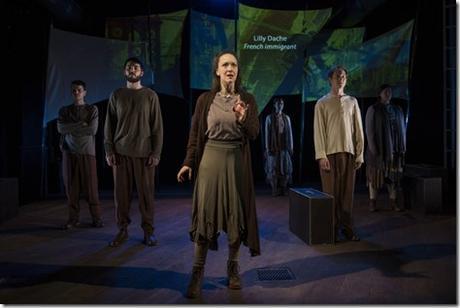 Hours after the 2013 Boston Marathon bombing, I sat in a writing workshop wondering exactly what I was doing there on such a sad and horrible day. As if reading my mind, my writing instructor (also an acclaimed author) assured us that we were just where we needed to be. "At times like this it's hard to remember," she said, looking around the circle of worried faces. "But stories are important. Really, stories are all we have." Her words resonated in my mind as I watched , Griffin Theatre Company's fascinating world premiere that captures the immigrant experience from many eras, races and ethnicities. I don't have to say that this play is particularly relevant in the age of a president who tries to ban certain groups from entering or re-entering the United States. In to America is a stark, complex and emotional reminder of what truly makes America great.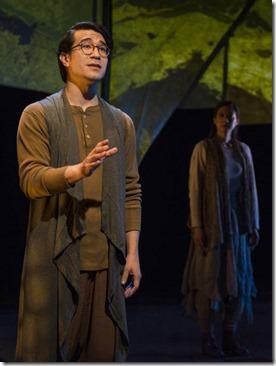 The show's playwright, Griffin's Artistic Director
Bill Massolia
, was inspired by his own family, and
Ronald Takaki
's award-winning book "
A Different Mirror
."
Over the course of 100 minutes, a diverse cast of actors recounts an oral history of the immigrant experience, from Jamestown, Virginia to the present day. Some died, by their own hands or those of others. Some fought for our country, others were banished to internment camps during World War II or were brought over to the United States as slaves. Many made indelible contributions as scientists, nurses, schoolteachers and artists. Many more just lived their lives, learning to bake, wandering New York City with eyes wide open, and raising their children as American citizens who would never know what their parents went through to get them here.
Unless we are Native Americans, who continue to experience many struggles at the hands of the government and its citizens, all of us are descended from immigrants. In to America goes beyond the lessons in whitewashed history books and delves into the personal stories of those who came before, who chose to make America their home, and who was forced into doing so. Though the play starts off slowly, and some of the dialect work is a bit off, In to America is elegantly written and acted, a powerful testament to the complicated legacy of our homeland. The stories range from heartbreaking to funny and everything in between, tales of scrappy street urchins and governmental distrust, hot dogs outside of Woolworth's and the breathless journey of the undocumented.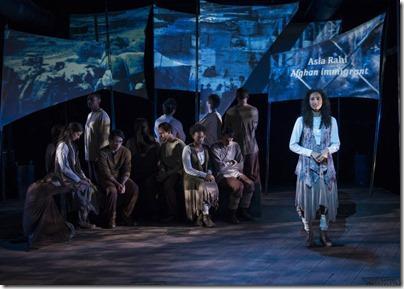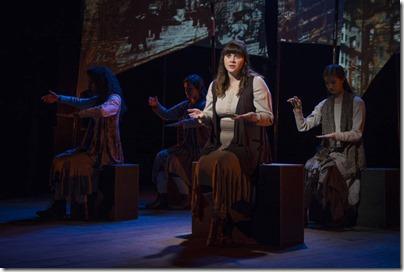 Director Dorothy Milne stages a verbal ballet of sorts, as the actors move seamlessly through characters, settings and places in time. Set designer Joe Schermoly, as always, has a true artist's instincts, keeping the stage mostly bare with overhead fixtures that are perfect for Brock Alter's brilliant projections. Lee Fiskness' lighting and Stephen Ptacek's sound design supplement the stage picture with visual and aural tones creating various moods. The actors are phenomenal, particularly Omer Abbas Salem and Scott Shimizu, the latter of whom recounts a World War II-era raid to a Japanese American family home that brings more than one tear to the eye.
In to America would be touching and timely during any presidential administration, but is particularly relevant now. America has always been flawed, has always been complex, and has always been great, in large part due to immigrants. Besides a powerful show, In to America is a call to action to all of us, to ensure our country stays welcoming and open, and that all persons are created and treated equal.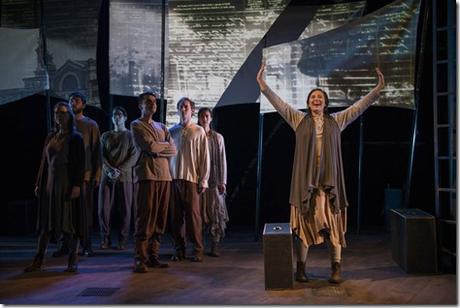 In To America continues through April 23rd at The Den Theatre's Heath Main Stage, 1333 N. Milwaukee (), with performances Thursdays-Saturdays at 7:30 pm and Sundays at 3 pm. Additional performance Saturday, April 22 at 3:30 pm. Tickets are $36, or $31 for students, seniors and veterans, and are available online through OvationTix.com (check for half-price tickets at ). More information at GriffinTheatre.com. (Running time: 1 hour 40 minutes with no intermission)
Photos by Michael Brosilow
Juanita Anderson, Katie Campbell, Jennifer Cheung, Aneisa Hicks, Christopher W. Jones, Cisco Lopez, Adam Marcantoni, Sean McGill, Omer Abbas Salem , Rasika Ranganthan, Scott Shimizu , Jason VonRohn, Elizabeth Hope Williams
behind the scenes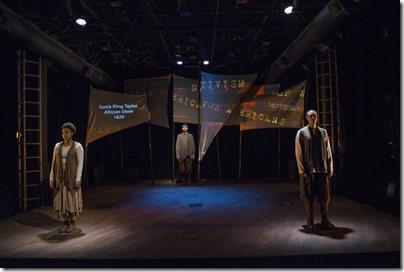 Dorothy Milne (director), Joe Schermoly (set design), Lee Fiskness (lighting design), Rachel Sypniewski (costume design), Stephen Ptacek (sound design), Brock Alter (projection design), Adam Goldstein (dialect coach), Catherine Allen (production manager), Jason Crutchfield (stage manager), Kelly Parker (casting director), Michael Brosilow (photos)
Tags: 17-0343, Adam Goldstein, Adam Marcantoni, Aneisa Hicks, Brock Alter, Catherine Allen, Chicago Theater, Christopher W. Jones, Cisco Lopez, Dorothy Milne, Elizabeth Hope Williams, Griffin Theatre Company, Jason Crutchfield, Jason VonRohn, Jennifer Cheung, Joe Schermoly, Juanita Anderson, Katie Campbell, Lauren Whalen, Lee Fiskness, Michael Brosilow, Omer Abbas Salem, post, Rachel Sypniewski, Rasika Ranganthan, Ronald Takaki, Scott Shimizu, Sean McGill, Stephen Ptacek, The Den Theatre
Category: 2017 Reviews, Den Theatre, Griffin Theatre, Lauren Whalen, World Premier