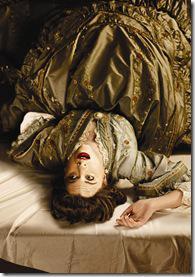 In the Next Room
Written by Sarah Ruhl  
Directed by Sandy Shinner 
atVictory Gardens Biograph Theater (map)
thru Oct 9  |  tickets: $20-$50  |  more info
Check for half-price tickets
  
  
   Read entire review
---
A wickedly humorous, brain-teasingly intelligent production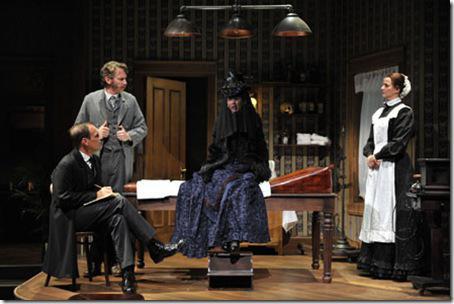 Victory Gardens Theater presents
In the Next Room…or the vibrator play
Review by Catey Sullivan 
Yes, the title is titillating. But Sarah Ruhl's In the Next Room or the vibrator play is as much about what goes on between the ears as it is about what goes on between the legs. Which is to say it is every bit as wickedly humorous and brain-teasingly intelligent as it is sexually provocative. Directed by Sandy Shinner for the Victory Gardens, it has the power to generate both tears and elation, often in such rapid succession the two become gloriously confused. It is a play about sex. And it is a play about the dawn of electricity. And it is a play about the wonders of both. Imagine the remarkable notion of being able to walk at night without a candle, Mrs. Givings (Kate Fry) muses to her infant in the rosy, stained-glass glow of new lamp. Imagine the ability to turn on the day with the push of a switch. Imagine heat without a flame. It's all but beyond comprehension.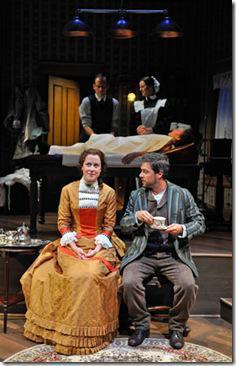 While Mrs. GIvings ponders the miracle of instant light, her husband Dr. Givings (
Mark Montgomery
) is busy with his own electrical innovations. With an instrument that looks like a cross between a lint brush and a circular saw, he's administering "vulvular massages" to his "hysterical" (mostly) female patients, eliciting "paroxysms" to sooth their high strung nerves and restore a healthy pink to their cheeks. While his patients writhe, moan and release the hysteria-inducing buildup of excess fluids, the good doctor (Givings indeed) maintains the clinical detachment of a carpenter sanding down a two-by-four.
Mrs. Givings meanwhile, waits in the next room, corseted and bustled within an inch of her life (Jacqueline Firkins' historically accurate costumes are spectacular), a Madame Bovary waiting to happen, palpably oozing sexual desire and pheromones. In contrast to fretful, pallid new patient Mrs. Daldry (Polly Noonan), Mrs. Givings all but sparks with vibrancy, a bundle of joyous energy itching for an outlet and – as In the Next Room continues – in ever more dire need of release. A powderkeg of pent up tension, she begs her husband to use his device on her – which he resists with a condescending reassurance that she's as hale and hearty as an ox, the very opposite of the swooning creatures who come tip-toeing into his operating theater.
Of course as 21st century audiences in a post-Betty Friedan world will know, none of the women who arrive at Dr. Givings door are hysterical. They are instead victims of a society that keeps them horribly oppressed, both literally (those sharp-ended, whale bone corsets operated on the same general squeezing principal as the horrific Street Sweeper's Daughter device ) and figuratively.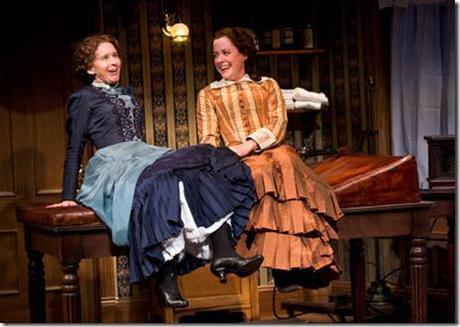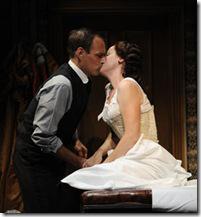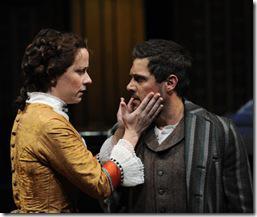 With dialog that's as saucy as it is smart, Ruhl makes a crucial, wrenching point about the psychophysiology of sexual elation light up like a neon sign: even the most intense machine-induced climaxes can't cure what truly ails Dr. Givings' patients. Paroxyms alone can't supply Mrs. Daldry with a husband who will treat her as an intelligent adult rather than a frail, rather dim-witted child. And when Dr. Givings gives in to his wife's pleading and uses his device on her, both soon discover the mere electrical current – heat without flame, sparks without soul – cannot satisfy the craving for a human connection.
Everyone in Ruhl's drama – from Mrs. Givings' infant to Dr. Givings' unmarried midwife/nurse (Patricia Kane) – is consumed by hunger. As Mrs. Givings states with equal parts wonder and sadness in a deeply memorable monolog about breast feeding and bonding, hunger is perhaps the first emotion a human experiences and the driving emotion, a relentless mix of physical and emotional need – that defines a sentient existence.
In the Next Room is a play about that driving hunger, whether it is the primal human need for companionship and connection (be it carnal or cerebral) or the immediate instinct of an infant to latch on to a source of nourishment. In probing such complex matters, In the Next Room puts out the theatrical equivalent of a page-turner, with every scene bring new riches.
The reasons for that are multiple (so to speak): Ruhl tells a ripping fine story. Further, Shinner's cast doesn't miss a stroke. In addition to Dr. Givings' assistant Annie (Patricia Kane) and Mrs. Daldry, , the women who come and go through the Givings' home office also includes Elizabeth (Tamberla Perry) as the Givings' wet nurse Elizabeth. Perry is simply remarkable. Watch closely during the silent, loaded scene between Perry and Fry, as Elizabeth nurses the Givings' baby for the first time. There's not a word spoken as the two women sit side by side, but the very air between them is sweltering with overwhelming and conflicting emotions.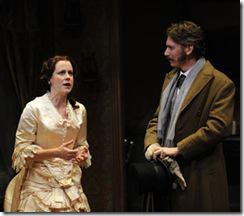 Equally indelible are the giddy scenes between Fry and Noonan, working in tandem like a pair of naughty school girls to unlock the mysteries of Dr. Givings' treatment. There's an innocence to the women that creates a hilarious contrast with their unabashed enthusiasm for sexual exploration. The two are as sexually adventurous as any post-pill modern Cosmo girl – but each would blush 100 shades of crimson and stammer with heart-felt denials were she to be so labeled.
In another memorable scene, Elizabeth delicately intuits that the physical sensations elicited by Dr. Givings' machine are the same as those that occur during "relations" with one's husband. To which Mrs. Daldry and Mrs. Givings begin laughing until they can't speak at the utter preposterousness of such notion. It's a moment that's a near-perfect blend of tragic and comic: These proper Victorian ladies, it would seem, cannot conceive of sex either as a means of pleasure or as a means of creating a deep, meaningful bond with another person.
The entire cast is spot-on, but it's anchored by Fry who is absolutely radiant with energy that's in turns maternal, intellectual and sexual. Her frustration at her husband's inability to see her as something other than a doll to be carefully cared for and displayed – is the driving force of the narrative. As the doctor, Montgomery is a solidly chiseled block of well-meaning but patriarchal cluelessness – careless, callous and unable to understand why his aloof, respectful behavior is so devastating to his wife. Noonan is a picture of troubled wistful gentility as Mrs. Daldry, a delicate, creative soul who is also unappreciated by her less-than-perceptive husband (Lawrence Grimm, at times absolutely loathsome in his condescension to the weaker sex.)
In a strong fall season, In the Next Room lives up to the buzz. And then some.
Rating: ★★★★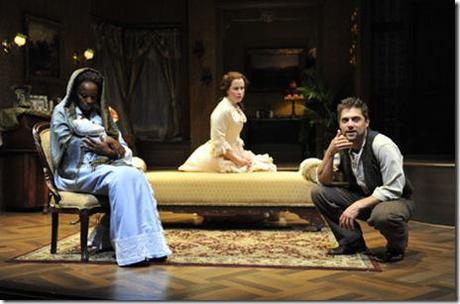 Victory Gardens' In the Next Room continues through October 9th at the Začek McVay Theater (aka Victory Gardens Biograph Theater) 2433 N. Lincoln (map), with performances Tuesdays at 7:30pm, Wednesdays at 2pm and 7:30pm, Thursdays and Fridays at 7:30pm, Saturdays at 4pm and 7:30pm, and Sundays at 3pm. Tickets are $20-$50, and can be purchased by phone (773-871-3000) or online at VictoryGardens.org. (Running time: 2 hours and 30 minutes, which includes an intermission)
---
artists
cast
Kate Fry* (Catherine Givings); Mark Montgomery* (Dr. Givings); Polly Noonan* (Sabrina Daldry); Lawrence Grimm* (Mr. Daldry); Tamberla Perry* (Elizabeth); Patricia Kane* (Annie); Joel Gross (Leo Irving); McKenzie Chinn and Brian Grey (understudies)
behind the scenes
Jack Magaw (sets); Jacqueline Firkins (costumes); Joe Appelt (lighting); Andre Pluess (sound); Grant Sabin (props); Christina Carlson (wigs); Tina Jach (stage manager); Kristin Leahey (dramaturg);
* member, Actors' Equity
In The Next Room: Director Sandy Shinner on the Play from Victory Gardens on Vimeo.