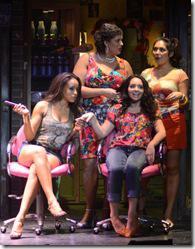 In the Heights 
Music and Lyrics by Lin-Manuel Miranda 
Book by Quiara Alegria Hudes
Directed by Thomas Kail
Oriental Theatre, 24 W. Randolph (map)
thru Jan 15  |  tickets: $25-$75   |  more info
  
Check for half-price tickets  
  
   Read entire review
  
---
Unstoppable score, dancing make for thrilling production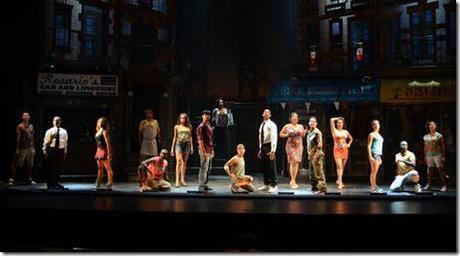 Broadway in Chicago presents
In The Heights
Review by Catey Sullivan 
With its infectious hip hop 'n salsa –infused score and a feel-good triumph-of-the-human-spirit story, In the Heights still has enough zest and zing to heat up a cold winter's night. Although to be sure, these are clearly waning days for the show. Since the first tour came through in 2009, that initial cast of Equity actors has been replaced by young, non-union performers, many of them just a few years out of school. The set – so crucial in establishing a very specific sense of time and place – Washington Heights, New York, has been noticeably downsized. But the kids are good, some of them are quite good, and In the Heights maintains its defiantly hard-working, optimistic core. At its heart, the story is an old one: Immigrants and the children of immigrants arrive in New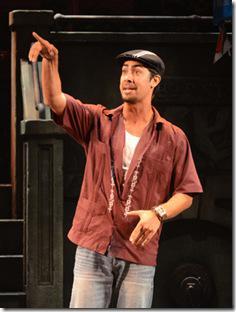 York in belief that they can achieve their own piece of the fabled American Dream whether they've arrived from Puerto Rico to start a limo service or the Dominican Republic to open a bodega or Cuba to clean houses .
Lin-Manuel Miranda's glorious score weaves through the story of the Washington Heights community as a group of (primarily) working class Latinos scrambling to keep hearth and home together and dreams alive in the face of gentrification that's already priced salon owner Daniela out of the Heights and into the Bronx.
The interlocking story of Washington Heights residents as they struggle through several long, hot summer days in the barrio isn't the stuff of super heroes or crashing chandeliers. There's no jaw-dropping special effects, or even any set changes. That's part of the show's considerable charm. Quiara Alegria Hudes' book focuses on ordinary struggles, relying on the strength of their characters and the music rather than spectacle to keep the story flowing. The result is warm and engaging rather than stupendous, a musical that can appeal to those who don't generally go for the genre's often outlandishly heightened situations and emotions. Instead of kings and queens, In the Heights delivers shop keepers and young women with bad credit reports, hair dressers and taxi dispatchers.
The piece begins with Usnavi (Perry Young), and a marvelously complex rap that eventually involves the entire cast. The titular opening number is rapid-fire storytelling , each phrase a precise evocation of a particular person, mood, situation unique to the Washington Heights neighborhood. In all, it's a sprawling sound portrait of a community, fractious, warm, and alive.
In addition to Usnavi, who inherited the neighborhood bodega after his parents died, there's Vanessa (Presilah Nunez), a siren whose alcoholic mother drinks away the rent money, Nina (Virginia Cavaliere), back home in New York after her first year at Stamford didn't go so well, and Claudia (Christina Aranda), the de facto grandmother to the neighborhood. It's an eclectic mix of first- and second-generation New Yorkers: Usnavi's parents came over from the Dominican Republic, Nina's from Puerto Rico, Claudia's from Cuba. (Establishing Washington Heights as a community of diverse beginnings rather than a uniform group of "Hispanics" is one of the show's subtle strengths. )
The slim plot deals with the troubles of love and money, all of which are rather neatly (too neatly) solved by the end of the second act. Usnavi's bumbling attempts to romance Vanessa, Nina's financially-induced college woes, and various and sundry family rifts are all tidily dealt with in a way that belies the musical's struggling working class setting. It's not a tragedy (although one of the primary characters dies midway through), so it's no spoiler to note that, by the end, all crises have been vanquished even if Nina's happily-ever-after resolution is especially unrealistic.
The reason to see In the Heights isn't for the storyline as much as it is to hear that unstoppable score. There's also some fantastic dancing, particularly in the first act finale, which includes an intricate, beautiful and palpably erotic scene in a crowded, chaotic nightclub that is suddenly plunged into blackout. Moreover, the leads here – comparatively inexperienced though they may be (most of them are just a few years out of school) – sound fine and deliver empathetic, believable performances.
Cavaliere makes Nina's troubles at college seem a genuinely felt, initially insurmountable problems. She has a vulnerability that previous Ninas didn't tap into, and it enriches the character. As Vanessa, Nunez sparks with the insta-charisma the role demands and powerfully delivers the character's yearning to improve her lot. Perry Young's Usnavi doesn't quite have the incendiary wordplay that his master of ceremonies role demands; he's got the complex syntax down, but he needs to instill that syntax with the snap, crackle and pop of rogue fireworks going off. As salon owner Daniela, Tauren Hagans has sass and brass to spare. Her interludes of neighborhood gossip bring humor to the production, and help establish The Heights as the tight-knit community that it is.
Despite its troubles, the Heights is home – this Miranda makes crystalline clear in the final notes of the final song. They're simply gorgeous, and a moving testimony to the power of community.
Rating: ★★★
In The Heights continues through January 15th at the Oriental Theatre, 24 W. Randolph (map). Tickets are $25-$75, and are available by phone (800-775-2000) or online at TicketMaster.com (check for half-price tickets at Goldstar.com). More information at InTheHeightsTour.com.  (Running time: 2 hours 35 minutes, which includes one intermission)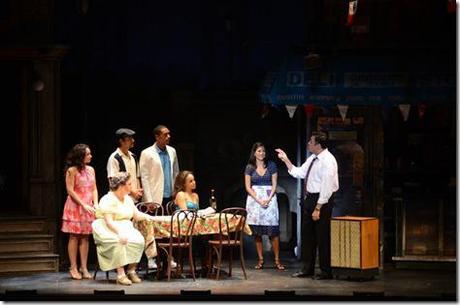 All photos by John Daughtry
---