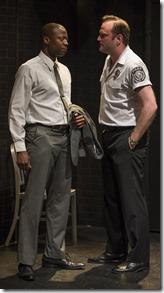 Cast struggles to find heat in rock-solid adaptation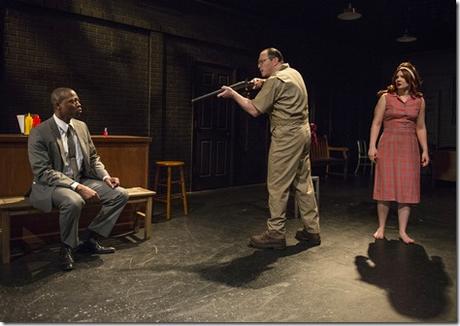 The title of John Ball's page-turner only hints at the darkness and fire within. Set during a sweltering summer in the Jim Crow era south, the story of a brutal murder and small town roiling with Klansmen is both an edge-of-your-seat murder mystery and a scathing portrayal of All-American racism. It's a scorcher from start to finish.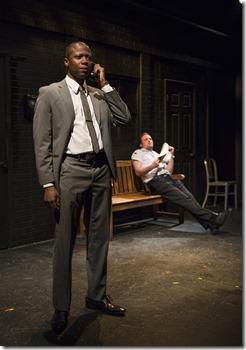 In adapting the novel for the stage,
Matt Pelfrey
remains faithful to the story's unflinching violence and its ugly, bone-true portrait of a small southern town where Klansmen don't have to hide under sheets. Nobody in Argo, Alabama bothers with disguises when it comes time for a lynching. And if people of color are desperate enough to call the cops? Odds are, those cops are the same guys who see nothing wrong with tying a black man to the back of a truck and dragging him to death.
Directed by Louis Conteyfor Shattered Globe Theatre, In the Heat of the Night follows Black detective Virgil Tibbs after he is essentially shanghaied into solving the beating death of a wealthy Argo real estate developer. As a man of color trapped behind the Mason-Dixon Line, Virgil is in constant danger of becoming a murder victim himself.
Indelibly played by Sidney Poitier In the 1967 film adaptation, Tibbs is a character of iconic reach. Ditto Rod Steiger, who won a well-deserved Oscar as good ol' boy Chief of Police Gillespie. The dynamic between the two in the movie is electric. And that fire and heat has to translate to any stage production of In the Heat of the Night . You can't compare film with theater (well you can, but it would be as meaningless as comparing unicycles and crawdads), but you also can't deny that Poitier and Steiger set a mighty high bar when it comes delivering In the Heat of the Night. At Shattered Globe, it doesn't matter if you don't know Sidney Poitier from Sidney Brustein - you'll still have a hard time getting wrapped up in the story.
The foundation of the production - Pelfrey's script - is rock-solid. But Contey's cast never fully captures either the heat or the darkness so crucial to the story. They deliver their lines and hit their marks, but there's little punch or momentum to the production. It's a middle-ground, by-the-numbers staging. Which is fine as far as things go. But this is a story that demands far more than middling competence. In the Heat of the Night should all but vibrate with fear and tension. The emotions should cut to the bone. The constant danger should hum like an overturned piano wire. None of that happens at Shattered Globe. Contey delivers a nicely told story, but that's about it.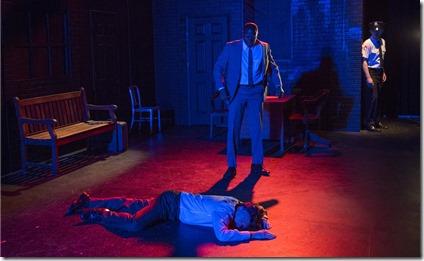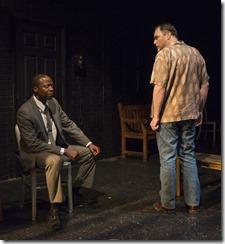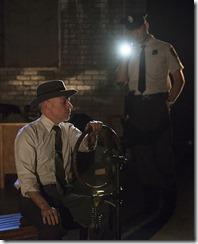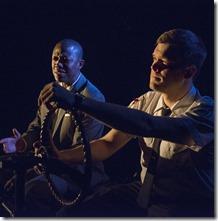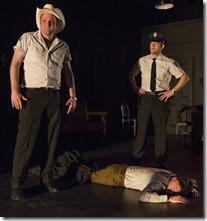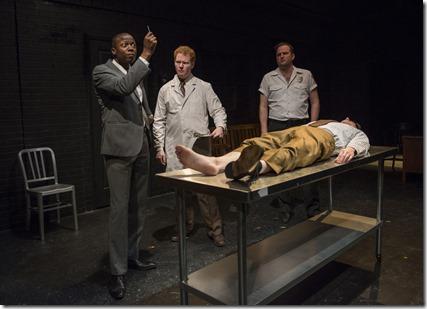 As Tibbs, Manny Buckley veritably radiates potential. He's an actor of serious charisma and gravitas, and in his dignified, understated delivery, he hints at the rage Tibbs harbors just below the surface. But Buckley is simply too young to do the part justice. His Virgil Tibbs is a young man who hasn't fully grown into his formidable powers. You can see hints of those powers, but they're latent for the most part. Clearly Tibbs is the smartest guy in the room. He's got a granite-strong sense of self-worth. But Buckley doesn't create a character shaped by years of striving and indignity. Tibbs' confrontations with the profoundly racist institutions and individuals of Alabama have a superficiality to them. They lack the depth and the steel that comes from prevailing through decades of injustice. That said, when Buckley is on stage, you're watching him. Everybody else fades into the background.
As Sheriff Gillespie, Joseph Wiensis also far too young for his part. Gillespie is a sheriff entrenched for decades in a community where lynchings are accepted with a shrug and the "N" word is as common as talk of the weather. Moreover, Wiens' Gillespie doesn't seem to change as the story moves forward. Pelfrey's dialogue leads the audience to believe that the Sheriff grows just a little through his relationship with Tibbs, but we never see that growth. Gillespie is static from lights up to final bow. The bulk of the ensemble is similarly unmemorable: There are tears, but no real sense of sorrow; violence without any authentic current of terror, and a final resolution that's all veneer and no substance. Finally - and at the risk of sounding catty and cruel - the murder victim's wig looks clearance item from Party City. It's worse than Trump's ridiculous combover and just as distracting.
Joe Schermoly's minimalist set relies on a desk to indicate the police station and a park bench to indicate the outdoors. Beyond that - and like the production itself - there's not a lot to it.
In the Heat of the Night continues through June 5th at Theater Wit, 1229 W. Belmont (map), with performances Thursdays-Saturdays at 8pm, Sundays 3pm. Tickets are $33, and are available by phone (773-975-8150) or online through TheaterWit.org (check for half-price tickets at Goldstar.com ). More information at ShatteredGlobe.org. (Running time: 85 minutes, no intermission)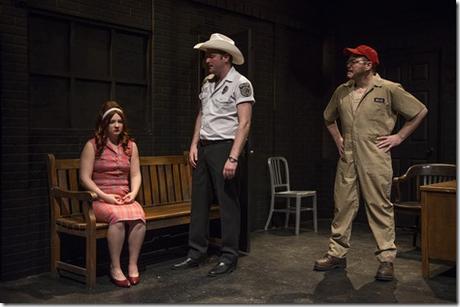 Manny Buckley (Virgil Tibbs), Glenn Fahlstrom (George Endicott, Al Jennings), Christina Gorman (Melanie Tatum), Tim Newell (Eric Kaufman, Charles Tatum), Steve Peebles (Mayor Shubert, Ralph, Coroner, Klansman #2), Brian Scannell (Pete, Man in Shadows, Klansman #3), Drew Schad (Sam Wood), Angie Shriner (Noreen Purdy), Joseph Wiens (Chief Gillespie), Brad Woodard (Harvey Oberst, Purdy, Klansmen #1), Vivian Knouse, Joe Liolos (understudies)
behind the scenes
Louis Contey (director), Joe Schermoly (set design), Sarah Jo White (costume design), Michael Stanfill (lighting design), Christopher Kriz (original music, sound design), Vivian Knouse (props design), Heather Bannon (stage manager), Kelsey Melvin (dramaturgy), Alex Hutson (technical director), Danielle Stack (production manager), Judy Anderson (executive production manager), Sandy Shinner (producing artistic director), Doug McDade (managing director), Michael Brosilow (photos)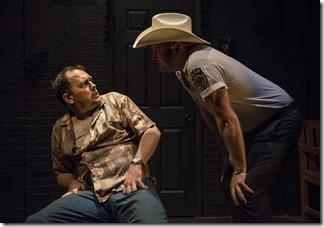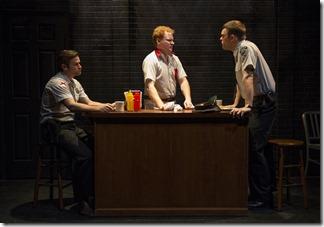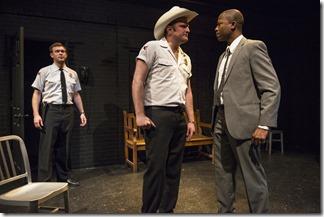 Tags: 16-0454, Alex Hutson, Angie Shriner, Brad Woodard, Brian Scannell, Catey Sullivan, Chicago Theater, Christina Gorman, Christopher Kriz, Danielle Stack, Doug McDade, Drew Schad, Glenn Fahlstrom, Heather Bannon, Joe Liolos, Joe Schermoly, John Ball, Joseph Wiens, Judy Anderson, Kelsey Melvin, Louis Contey, Manny Buckley, Matt Pelfrey, Michael Brosilow, Michael Stanfill, post, Rod Steiger, Sandy Shinner, Sarah Jo White, Shattered Globe Theatre, Sidney Poitier, Steve Peebles, Theater Wit, Tim Newell, Vivian Knouse
Category: 2016 Reviews, Catey Sullivan, Shattered Globe, Theater Wit