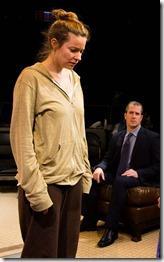 New work delves deep into troubling truths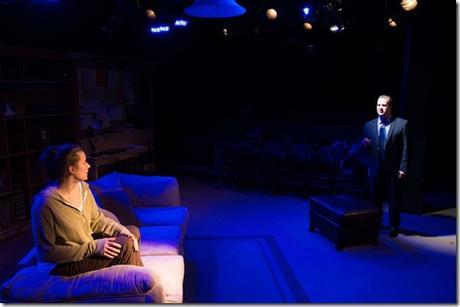 Not as reductive as its title would suggest, the National New Play Network Rolling World Premiere In a Word is akin to a free-verse deconstruction of grief. In a reality bent to the point of fracturing by the loss of a child, words become nearly meaningless and incredibly meaningful in approximately equal measure.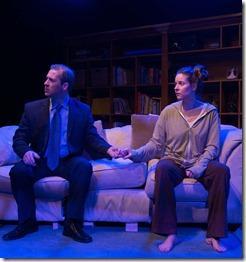 Two years since her adopted son Tristan (
Gabe Franken
) went missing, Fiona (
Mary Winn Heider
) remains trapped in an emotional crossroads. Hubby Guy (
John Ferrick
) just wants to go out for a simple dinner. Even that request seems tantamount to tragedy when Fiona has just "seen" the man who abducted Tristan at the supermarket. She runs to the detective (also Franken), who spouts off unhelpful absurdities that perhaps her son has transmuted into a sweater or a rock. "We may not have answers," he unhelpfully states, "but we always have leads." It's as though the playwright,
Lauren Yee
, is gaslighting her own protagonist.
But there's a deeper level of anguish behind the expected trauma of a lost child. Tristan was a troubled child, and Fiona has been in deep denial over his "difficult" nature. That he was adopted at two years old only adds to her guilt because they made such a conscious decision to have him, only to fall short as his caretakers. Even when she moved him into her own second grade classroom in an act of parent defense, Fiona's patience proved inadequate to his needs. Denial began both before and lingered long after. Guy appears to have moved on more readily and is more concerned with the fracture that occurs with a mid-life crisis. He's frustrated to be tied to a woman he doesn't recognize as the one he fell in love with.
Yee's stylized language is coded with nonverse/free association and glimmers of magical realism. Some of these conceits are overly precious even to this lover of wordplay. The recurrent confusion of "A leave of absence" becoming "A leaf of absence"-right down to their literal appearance falling into the set-is eye-rollingly ballooned into a "tree of absence". Words on scraps of paper (or leaves?) are kept in a literal jar, tucked away on a shelf for later use. Dirty laundry is physically aired at odd moments throughout and never really pays off. Oblique and circumlocutious language throws truth into a tailspin to give us insight into these people's central anxiety. Every facet of the terror and grief is explored in the compacted production.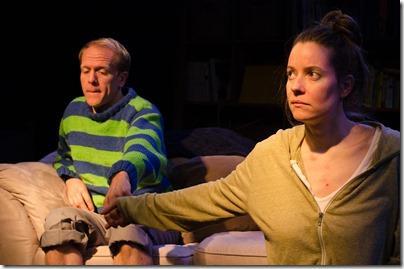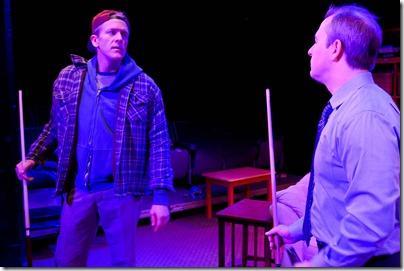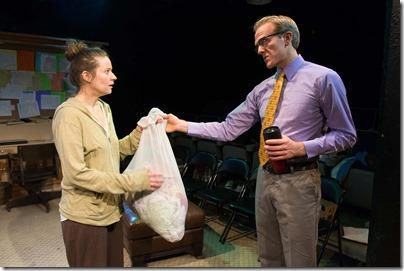 At the core are three powerful performances under Jess McLeod's direction. Ferrick, as the most grounded (relatively speaking) of the trio is almost hateable as he tries to cajole his wife out of the molasses of her grief even as he makes it clear that moving on is the only reasonable option. Heider has a more difficult job. Her face etched in permanent sadness, she must quickly parse Yee's time skips, alternately a woman in the past passionately denying that her adopted son is beyond her capacities and a contemporary woman who is splintered by the knowledge that a mere three-minute lapse of love resulted in his disappearance. Franken doesn't have a boyish face, but he realistically inhabits an ADHD afflicted child of seven while flitting into and out of a variety of other characters, sometimes within the same sentence.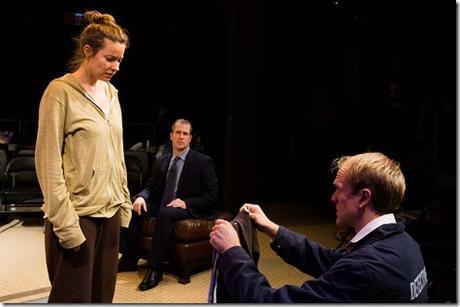 Time is the fourth actor in this short production. A running theme of temporal promises is embedded in Yee's dialogue. Everyone is asking for more time-for delays, for stays of execution-only to find that their initial estimate of minutes, days or years was unrealistic and guilty promises untenable. They are trapped in the time dilation of a black hole at the center of a tragedy. Tomorrow and tomorrow and tomorrow creeps into their petty pace. Now to wonder if they can escape.
continues through March 19th at Strawdog Theatre, 3829 N. Broadway (map), with performances Thursdays-Saturdays at 8pm, Sundays 4pm. Tickets are $28, and are available by phone (773-528-9696) or online through OvationTix.com (check for half-price tickets at Goldstar.com ). More information at Strawdog.org. (Running time: 85 minutes, no intermission)
behind the scenes
Jess McLeod (director), (lighting design), Sarah JHP Watkins (scenic designer), (sound design), Izumi Inaba (costume design), Jamie Karas (properties design), Emmaline Keddy-Hector (production manager), Melanie Kulas (stage manager), Jacob Palmer (technical director), Cameron Petti (master electrician), Casey Schissler (assistant stage manager), Abhi Shrestha (assistant director), Tom McGrath (photos)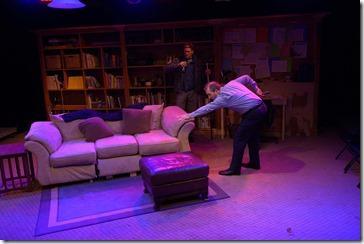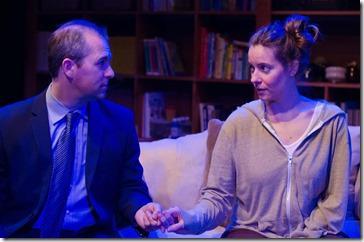 Tags: 16-0238, Abhi Shrestha, Cameron Petti, Casey Schissler, Chicago Theater, Clint May, Emmaline Keddy-Hector, Gabe Franken, Heath Hays, Izumi Inaba, Jacob Palmer, Jamie Karas, Jess McLeod, John Ferrick, John Kelly, Lauren Yee, Mary Winn Heider, Melanie Kulas, National New Play Network, National New Play Network Rolling World Premiere, post, Rolling World Premiere, Sarah JHP Watkins, Strawdog Theatre, Tom McGrath
Category: 2016 Reviews, Clint May, New Work, Strawdog Theatre, World Premier