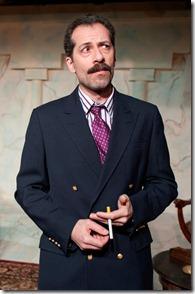 In a Garden 
Written by Howard Korder
Directed by Lou Contey
A Red Orchid Theatre, 1531 N. Wells (map)
thru May 19  |  tickets: $25-$30   |  more info
  
Check for half-price tickets 
  
  
   Read entire review
  
---
An engrossing feast for many palettes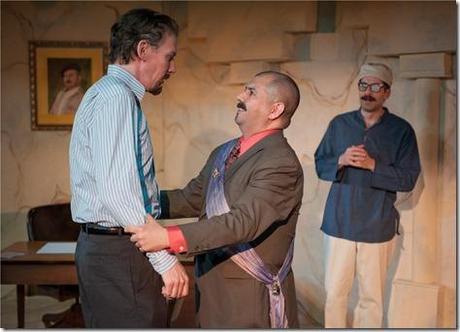 A Red Orchid Theatre presents
In a Garden
Review by Lawrence Bommer
An ambitious American architect's inexorable disillusionment with a wealthy and dangerous client—it sounds like a pretty abstract aesthetic crisis rather than a culture clash that gains interest over two engrossing hours. But the combination of supple and brilliant playwright Howard Korder and the equally sensitive director Lou Contey make A Red Orchid Theatre's In a Garden a feast for many palettes.
At the heart of this geopolitical problem play is the pursuit of beauty—and the costs, moral and economic, that destroy both the process and the pleasure. (The title, initially suggesting a desert dream of tranquility, takes on a bitter irony at the end.) Larry Grimm plays Andrew Hackett, an idealistic architect eager to add the Middle Eastern tyranny of Aquaat to his resume. From 1989 to 2004 we observe a series of encounters between Hackett and Othman (Rom Bardhordar in an equally nuanced role) as the regime's Minister of Culture. He's also the embodiment of all the crises and contradictions of this oppressive Middle Eastern enclave.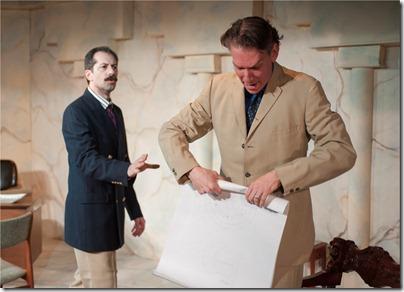 Hackett is insulted by all the bad buildings that make up this petro state's institutional architecture—except for a beautiful Ottoman mosque to be torn down for political reasons: Hackett wants to create edifices that ennoble, expanding our humanity as they expose patterns and textures in walls and windows. (Well, finally it comes down to "I just want to be built.")
Smoothly impassive, Othman agrees with him in everything, even as he sedulously throws up obstacle after obstacle to Hackett's hopes. The Yankee's project eventually dwindles down into a decorative gazebo or summer house, a private project that Othman wants to keep secret from Aquaat's bloodthirsty dictator Najid (Emilio G. Robles).
An encounter with a double for the dictator only adds to the surreal lack of accountability in a kleptocracy on the verge of revolution. Clearly, jumping through hoops is this bureaucracy's favorite sport. If any snafu is overcome, Hackett must also contend with the handicap of tribal hatreds and rivalry from ruthlessly competitive local architects.
Mysteriously, as conditions deteriorate and the summer house/pavilion/gazebo rendering seems as unreal as the dozen arduous years of its negotiation, the "patron" Othman presents the heart of his argument: "Every dream is a secret—and every secret is a betrayal." Andrew has been unmasked as chameleon-like faker willing to dabble in any style or material just to get a commission. Othman, when finally confronted with the real Najid, quakes with fear as the thug-in-charge hints at his own treachery with his family.
The final scene, depicting the American takeover of what is clearly meant to be Iraq, exposes the festering reasons for 15 years of Aquaatanian subterfuge and American naiveté. (It would be hard to say which is more destructive.) It makes a mockery of any 21st century hopes for the kind of patron-artist partnerships of the Michelangelo and Pope Julius II persuasion.
For all the smoke and mirrors that Korder delivers, there's no disputing the clarity of the showdown between Grimm's increasingly anguished American and Barkhordar's cornered commissar. Fraught with twists, reversals, and cliffhangers, In a Garden delivers some dramatic downhill racing, anatomizing the pursuit of artistic purity in a tainted market where innocence is no excuse.
Rating: ★★★★
In a Garden continues through May 19th at A Red Orchid Theatre, 1531 N. Wells (map), with performances Thursdays-Saturdays at 8pm, Sundays at 3pm.  Tickets are $25-$30, and are available by phone (312-943-8722) or online through OvationTix.com (check for half-price tickets at Goldstar.com). More information at ARedOrchidTheatre.org.  (Running time: 2 hours, includes an intermission)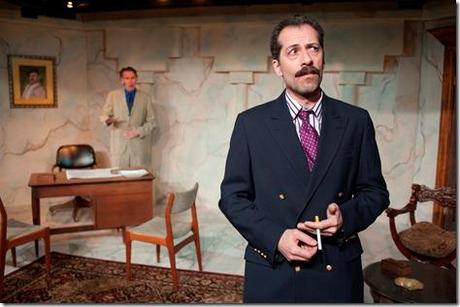 Photos by Michael Brosilow 
---
artists
cast
Larry Grimm (Hacket), Rom Barkhordar (Othman), Shannon Parr (Prudhomme), Emilio G. Robles (Najid)
behind the scenes
Lou Contey (director), Joe Schermoly (set design), Myron Elliott (costumes), Matt Gawryk (lighting), Joshua Horvath (sound design), Toni Kendrick (props design), Alexis Jade Links (dramaturg, asst. director), Stephanie G. Heller (production stage manager), Eva Breneman (dialect coach), Ed Hayes (Arabic consultant), Michael Brosilow (photos)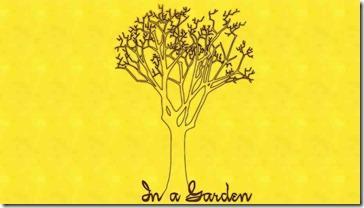 13-0414