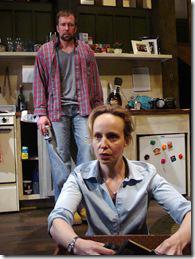 In a Forest, Dark and Deep 
Written by Neil LaBute  
Directed by Joe Jahraus  
at Profiles Theatre, 4139 N. Broadway (map)
thru June 3   |  tickets: $35-$40   |  more info
  
Check for half-price tickets 
  
  
   Read entire review
  
---
LaBute piece fueled by top-notch performances, provocative dialogue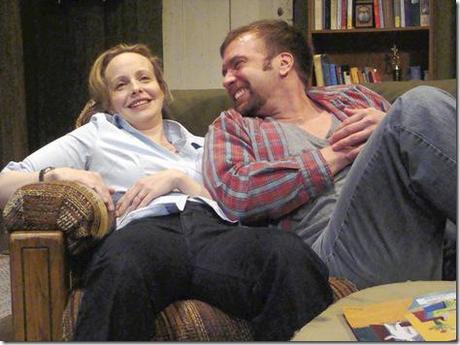 Profiles Theatre presents
In a Forest, Dark and Deep
Review by Catey Sullivan 
In a Forest, Dark and Deep almost seems like Neil LaBute on autopilot. Almost. A cabin in the woods, a dark and stormy night, a mysterious (offstage) death – the piece also has all the elements of a crackling Agatha Christie novel. But despite fine performances from Darrell W. Cox and Natasha Lowe, In a Forest, Dark and Deep is neither thrilling enough to be a thriller nor twisted enough to shock. It's a minor domestic drama between siblings with a "twist" that you can see coming the first time a dead body is mentioned.
What LaBute's latest work does do is present a slippery, elusive sense of how flawed humans (and that would be all of us) discover truth, and in the discovery, reveal the layered lies that surround it.
"Truth, " says Bobby (Darrell W. Cox), "Is something that just happens every once in a while. Like one of those comets." It's brilliant snippets of dialog like this make LaBute such a fascinating, provocative writer. And that saves In a Forest, Dark and Deep from becoming a ho-hum dialog between combative siblings.
Those siblings are Bobby and Betty (Natasha Lowe). They're 'brought together one dark and stormy night' to a cabin deep in the woods, Bobby arriving to help Betty clear the place out so it can be sold. Or so she says. Her real motivation in gathering up all the books, papers and computers in the isolated cottage is a bit more sinister. And that's about all one can say about the plot without indulging in major spoilers.  Directed by Joe Jahraus, Cox and Lowe form a combustible duo, and the explosions they create between them unearth layer upon layer of falsehood masquerading as truth. In the end, the truth hurts like hot wax on bare skin.
Playing out in real time, In a Forest, Dark and Deep shows Bobby and Betty navigating the treacherous path toward what is actually real – and just why Betty is in such a rush to pack up. The problem is the audience can see precisely where these two are headed long before they get there.
Yet if you can tune-out the contrived non-mystery within LaBute's play, you'll hear dialog that is startling in its expression of more than a few universal, deeply hurtful truths. Betty, as it turns out, was a man magnet in her youth, the sort of woman who is largely defined by her desirability. In middle age, she's in the midst of the age-old struggle for visibility. "One day you are transparent…people look right through you," she notes, and the frustration and pain in Lowe's delivery is exquisite. Then comes the kicker, the equivalent of an iron fist through the solar plexus. Her lover, Betty reveals, told her "having sex with you is like fucking gray Jell-o." If there's a more soul killing put-down, I don't know what it is.
Neil LaBute has long battled the accusation that his plays reveal the heart of a misogynist. That couldn't be further from the truth. That Labute is able to write so insightfully about the invisibility that afflicts women of a certain age shows a male mind with a startling grasp of and empathy with the feminine.
So is In a Forest, Dark and Deep worth seeing? Not for its plot. But if you want to witness two actors at the top of their game digging into dialog that probes the painful truths festering just below the shiny, happy lies we all tell ourselves, then Profiles latest is a must-see.
Rating: ★★★
In a Forest, Dark and Deep continues through June 3rd at Profiles Theatre Main Stage, 4139 N. Broadway (map), with performances Thursdays and Fridays 8pm, Saturdays 5pm and 8pm, Sundays 7pm.  Tickets are $35-$40, and are available online at TicketWeb.com (check for half-price tickets at Goldstar.com). More information at ProfilesTheatre.org.  (Running time: 90 minutes, no intermission)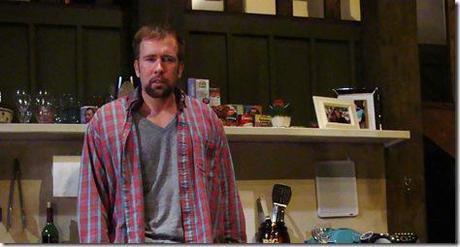 All photos by Wayne Karl 
---