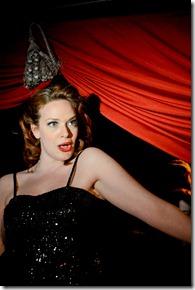 Improbable Frequency  
Book and Lyrics by Arthur Riordan
Music by Bell Helicopter  
Directed by Kyle Hamman
at Strawdog Theatre, 3829 N. Broadway (map)
thru March 30  |  tickets: $18-$28   |  more info
  
Check for half-price tickets 
  
  
   Read entire review
  
---
Indulgent inside joke for the Irish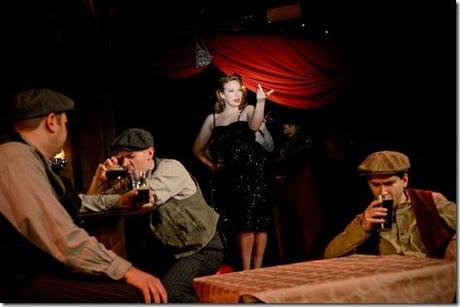 Strawdog Theatre presents
Improbable Frequency
Review by Lauren Whalen
I can think of two people in my life who would enjoy Improbable Frequency. Both are history buffs with a special interest in the 1940's. One is from England, the other Ireland. Obviously no theater piece will appeal to every single person on Earth – and the art isn't about pandering. However, Improbable Frequency's extremely limited appeal, enhanced by a problematic script and over-long running time, isn't going to garner a wide audience. Or much of an audience, period.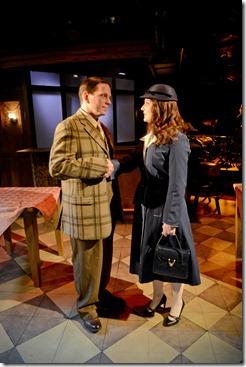 It's 1941, and British gent Tristram Faraday (
Mike Dailey
) solves a crossword puzzle on his way to work. This isn't an ordinary puzzle, but a means of recruitment. Soon, the ace code-breaker and reluctant spy is on a secret mission to Dublin to investigate suspicious radio broadcasts, finding that there's a great deal at stake: overthrowing the British, undermining Irish nationalists, altering time and space, and even Faraday's own heart as he falls for sweet Philomena (
Sarah Goeden
).
The inherent issue with Improbable Frequency is its script. Plot and character are largely established through rapid-fire dialogue, copious puns and muddled lyrics (yes, this is a musical). As a result, much gets lost: at intermission, I overheard at least one audience member commenting "I don't always know what's happening". One character constantly carries a teddy bear. The reason for this could have been explained at some point, or perhaps it was an historical reference. Either way, I didn't get it. The problem with a muddled script is that eventually the audience will grow tired of trying to crack the code, and disengage altogether.
As Faraday, Dailey makes a valiant effort, with a crisp British accent and energetic determination. Still, I never quite connected with the character or learned why I was supposed to care about him. Love interest Philomena is a world-class dolt, and Goeden squeaked and giggled her way through the show. The other three men (Scott Danielson, Jason Grimm and Eric Paskey) play multiple roles and try very hard, but fail to compel.
A few bright spots exist: Joanna Iwanicka's set design is amusing and malleable, transforming from British intelligence headquarters to an Irish pub with thoughtful, unexpected transitions. Though the score (by Irish band Bell Helicopter) leaves much to be desired, it's impressively executed by a four-piece band led by music director Mike Przygoda. And Christina Hall delivers the sole convincing, entertaining performance. Her Agent Green is pure femme fatale, conveying magnetic charisma and dry wit with every quip.
Any script that's purely inside jokes and obscure references will instantly have a limited appeal. Improbable Frequency goes beyond mere indulgence and leaves me wondering: what is the point? Why does a musical about British spies in the 1940's exist? Why did Strawdog choose this particular show out of every other available musical? I often ask myself some version of these questions at the beginning of every show I review. In the case of Improbable Frequency, at the end of the performance I still had no answers.
Rating: ★★
Improbable Frequency continues through March 30th at Strawdog Theatre, 3829 N. Broadway (map), with performances Thursdays-Saturdays at 8pm, Sundays 4pm.  Tickets are $18-$28, and are available by phone (773.528.9696) or online through OvationTix.com (check for half-price tickets at Goldstar.com). More information at Strawdog.org.  (Running time: 1 hour 50 minutes, includes an intermission)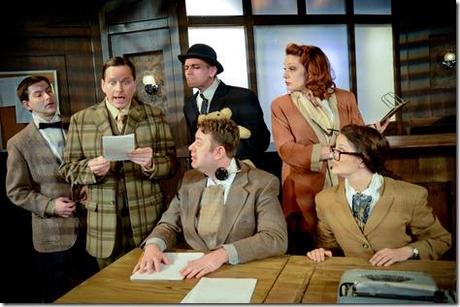 Photos by Chris Ocken
---
artists
cast
Mike Dailey (Tristram Faraday), Sarah Goeden (Philomena), Scott Danielson (Muldoon/Myles), Jason Grimm (Betjeman/Meehawl), Christina Hall (Agent Green), Eric Paskey (Erwin Schrodinger/Colonel)
musicians
Hillary Holbrook (Triangle/Mandolin/Synthesizer/Violin), Kristina Lee (Accordion/Bass), Curtis Williams (Flute/Drums/Acoustic Guitar/Synthesizer), Mike Przygoda (Drums/Bodhran/Electric Guitar/Banjo/Piano)
behind the scenes
Kyle Hamman (Director), Mike Przygoda (Musical Director), Brigitte Ditmars (Choreographer), Jordan Kardasz (Light Design), Joanna Iwanicka (Scenic Design), Jordan Muller (Stage Manager), Sarah Burnham (Production Manager), Rachel Sypniewski (Costume Design), Heath Hays (Sound Design), Jeff Shields (Props Design), Kathy Logelin (Dialect Coach), Eli King (Technical Director), Aaron Cannon (Master Electrician), Chris Ocken (photos)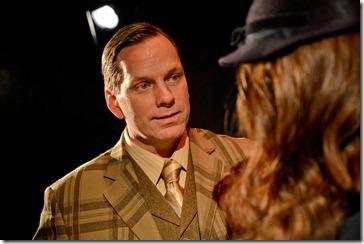 13-0251