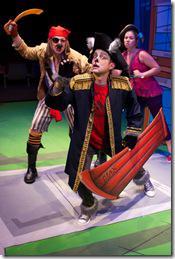 If You Give a Cat a Cupcake
Adapted and directed by Ernie Nolan
Based on book by Laura Numeroff 
at Apollo Theater, 2540 N. Lincoln (map)
thru Jan 7  |  tickets: $13- $16  |  more info
Check for half-price tickets
Download the show's parent guide
  
   Read entire review
---
A tasty treat for the entire family!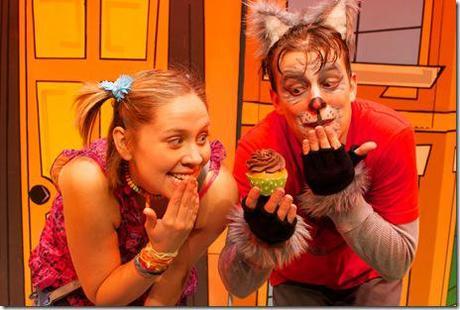 Emerald City Theatre presents
If You Give a Cat a Cupcake
Review by Katy Walsh 
There is nothing odd about a chocolate frosted cupcake.  It's ordinary.  When a cat adds on the sprinkles, the ordinary gets pretty wacky!  Emerald City Theatre presents If You Give a Cat a Cupcake.  A little girl is bored.  She wants her dad to play with her.  He has to work.  When she gives her cat a cupcake, the adventure begins.  Suddenly, the cat can talk and walk and misbehave. The girl ends up chasing him to the beach, gym, park and museum.  She discovers what sprinkles and a little imagination can do.  If You Give a Cat a Cupcake be ready for playtime.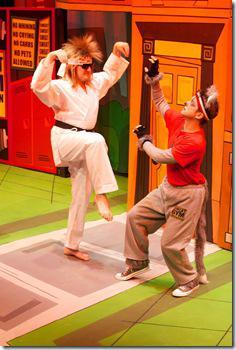 Adapter and director
Ernie Nolan
uses author
Laura Numeroff
's book to entertain and educate.  Throughout the show, an animated
Leah Raidt
(the girl) repeats what happens after you give a cat a cupcake.  Specific words are matched up with gestures.  The repetition provides an ongoing interactive element.  And the end results is a Macarena-style dance.  In the finale, kids of all ages can go onstage to dance with the cast.  Besides practicing memory skills, friendship and resourcefulness themes are illustrated. 
Joe Goldammer
(cat) leads the rascally antics.  Goldammer keeps the kids intrigued as he goes from place to place.  Goldammer, along with Raidt, break the pet-owner bond to become friends.  They are high-energy sweet. From French-accented hermit crab to Krazy Karate dude,
Kyle Rehder
's buffoonery is funny!  Rehder also plays the dad.  When he finishes working and comes out to play, *spoiler alert* Rehder remarks about Raidt's ability to play by herself.  It's a tender father-daughter moment as he explains to a confused Raidt that he's watched her in the backyard all afternoon. It's an important lesson in creative capability.  
Scenic designer Shea Coffman uses a multi-functional building for the trip around the city.  At first glance, the cartoon cut-out is a house.  Walls move.  Signs are hung.  Location changes.  Up on the roof, chase scenes are illustrated with stick puppets (Designer Ken Sprouls).  This amusing addition especially grabs the kids' attention.  The innovative and changing look of the house adds a layer to the pretend that the little girl is still home.  This is a magical place for make-believe!  
The cupcake craze continues!  Downtown, a little girl can't stop eating pink ones.  In Lincoln Park, they're feeding them to their pets.  The results are similar, frosted family fun!  Emerald City's Pinkalicious (our review ★★★) and If You Give a Cat a Cupcake are sweet treats meant to be enjoyed!
Rating: ★★★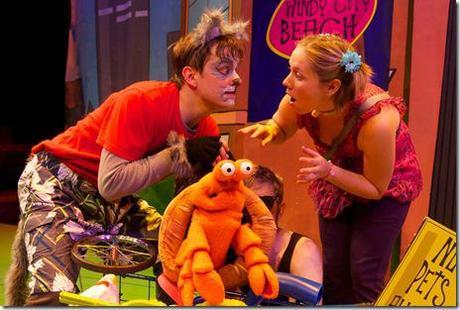 Emerald City Theatre's If You Give a Cat a Cupcake continues through January 7th at the Apollo Theater, 2540 N. Lincoln (map). Tickets are $13 for kids and $16 for adults, and can be purchased by phone (773-935-6100) or online at TicketMaster.com. More information at EmeraldCityTheatre.com. (Running Time: Sixty minutes with no intermission) Recommended for ages 3+. Parent's guide available here.
All photos by Tom McGrath 
---
artists
cast
Joe Goldammer (Cat), Leah Raidt (Girl) and Kyle Rehder (multiple roles)
behind the scenes
Ernie Nolan (director), Shea Coffman (set), Nathan Rohrer (costumes), Christian Gero (sound), D.J. Reed (props), Jeff Glass (lighting), Ken Sprouls (puppets), Navid Afshar (stage manager), Tom McGrath (photos)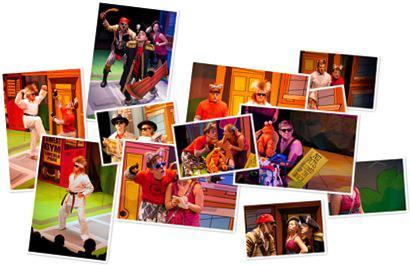 If You Give a Cat a Cupcake – Emerald City