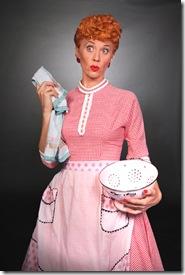 I Love Lucy Live on Stage 
Adapted by Kim Flagg and Rick Sparks
Directed by Rick Sparks 
at Broadway Playhouse, 175 E. Chestnut (map)
thru Nov 11  |  tickets: $23-$65   |  more info
  
Check for half-price tickets
  
   Read entire review
  
---
Lucy's as lovable as ever!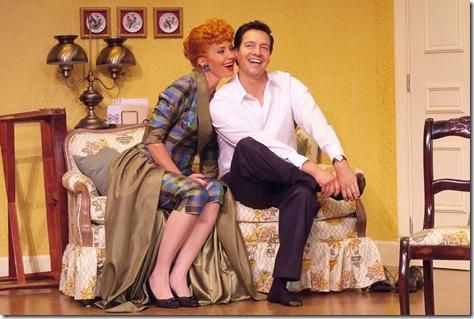 Broadway in Chicago presents
I Love Lucy Live on Stage
Review by Clint May 
There's a sweet spot to be had in a viewing of I Love Lucy Live on Stage. Sit somewhere near the middle/back so that the actors playing actors are just fuzzy enough to be even more convincing—getting too close can only spoil the illusion. Turns out this is also a convenient metaphor for any analysis of this valentine to one of, if not the, best loved sitcom in television history. Thanks to Nick-at-Nite and Lucy's invention of the rerun, even this millennial was able to grow up watching and loving the show that set the standard for all others. It went out on top and so remains there, 55 seasons since it went off the air, still viewed by some 40 million people a year. Live on Stage is a sweet piece of nostalgia candy, recreating two episodes from the original teleplays and allowing viewers the illusion that they are there for a live taping (another Desilu invention). It's an often smile-inducing, sometimes hilarious, always adoring recreation that resists complexity in favor of simplicity. Someday others may mount more serious behind-the-scenes productions about the acrimony that drove Ethel and Fred's (Vivian Vance and William Frawley) on-screen antagonism or the rocky marriage of Lucy and Desi (Lucille Ball and Desi Arnaz), but that day isn't today and director Rick Sparks isn't interested in the VH1-ing of history.
Overseen by Maury Jasper (Ed Kross), Live on Stage is something of a variety show. Between scenes, the Crystaltone Singers (they also have some wonderful choreography) introduce us to the marvels of Brylcreem, invite us to "See the USA in Your Chevrolet," and even show us which face cream works best with some radioactive dirt. Maury provides some stand-up comedy of the wry variety while interacting with period-dressed audience plants. One plant in particular, Sara Sevigny, is funny enough in her little 'audience competition' vignette I'd go see her in a one-woman show based on that character.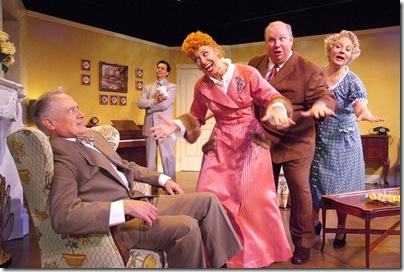 Perhaps by necessity for a play about TV, the two shows selected focus on Lucy's insatiable desire to break into showbiz. This gives Sirena Irwin the ideal chance to show off both her comedic and physical talents as a pitch-perfect (or imperfect, as Lucy never could stay in pitch…) inhabitation of Lucy Ricardo. In "The Benefit", Ethel (Joanna Daniels) needs Ricky (Bill Mendieta) to perform for her Women's Club art benefit. There's one catch: Lucy won't ask Ricky unless she can be part of the show. When Ricky tries to upstage her, he is reminded that no one beats Lucy at her own game.
When Ricky's big shot director friend comes to town in "Lucy Has Her Eyes Examined", his attempts to keep Lucy and the Mertz's (don't forget, they were former vaudevillians) unaware of his showbiz connections are thwarted. Their scheme to get a free audition over dinner actually works, and Lucy gets to jitterbug with King Katt (Richard Strimer). A trip to the eye doctor accidentally sabotages her big break with a bit of blurriness that gives Irwin another chance to show off her kindred physical fearlessness.
Thanks to the miracle of this modern age, YouTube, you can actually see several scenes from both episodes if you feel like doing a direct comparison. It's hardly necessary, as the entire cast of four have the mannerisms polished to a mirror finish. To complete the illusion of being filmed live, Lucy even "goes up on her lines" at one point, necessitating a scene be reshot three times. It's one of the few times the difference between theater/TV is demonstrated.
His part is small, but Curtis Pettyjohn as Fred is just as lovably irascible playing off Daniels' exasperated Ethel as the original. Mendieta's Ricky hits all the right notes and gets all the wrong words right ("So nice to 'mit' you!") and has a spot-on "Babalu!". Of course it's Irwin's Lucy that will prove most analyzed, and she certainly has nailed the physicality of the role, right down to the eyebrows and a mouth that can shift from an all-compassing grin to a pursed set of petulant cupid lips in a wink. The voice is a dead-ringer, thanks to Irwin's rigorous research. There can only be one Lucy, but if there has to be a doppelganger, this is as close as we may get (until Meryl Streep does a biopic).
If my opening paragraph seemed a bit apologist for loving a fluffy production that uses recycled materials and roles created by others, you'd be right. Live on Stage is a warm hug of escapist pleasure almost anyone can enjoy, and while there are no shortage of ways to watch the original, seeing this ode live is another great way to enjoy a classic communally. I'm still not a fan of much of the fluff theatre out there, but I dare you to resist this lovable redhead!
Rating: ★★★★
I Love Lucy Live On Stage continues through November 11th at Broadway Playhouse, 175 E. Chestnut (map), with performances Tuesdays at 7:30pm, Wednesdays 2:30 and 7:30pm, Thursdays/Fridays 7:30pm, Saturdays 2pm and 8pm, Sundays 2pm and 5pm.  Tickets are $23-$65, and are available by phone (800-775-2000) or online through their website (check for half-price tickets at Goldstar.com). More information at ILoveLucyLive.com.  (Running time: 95 minutes, no intermission)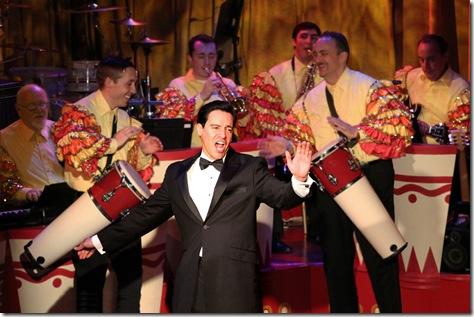 ---
artists
cast
Sirena Irwin (Lucy), Bill Mendieta (Ricky), Curtis Pettyjohn (Fred), Joanna Daniels (Ethel), Ashley Braxton, Lauren Creel, Gregory Franklin, Kristen Freilich, Karl Hamilton, George Keating, Peter Kevoian, Ed Kross, Debbie Laumand-Blanc, Rebecca Prescott, Sara Sevigny, Richard Strimer
behind the scenes
Rick Sparks (director, co-adaptor); Kim Flagg (co-adaptor, producer); Peitor Angell (original music); Wayne Moore (musical supervision, arrangements); Alan Bukowiecki (music director, "Wilbur Hatch"); Aaron Henderson (set); Noah Mitz (lighting); Shon LeBlanc (costumes); Cricket S. Myers (sound design); Diane Martinous (hair, wig design); Stacey Miller (make-up); Kelly Bailey (asst. costumes); Justine Baldwin (production stage manager); Jennifer R. Graves (company manager); Richard Lundy (asst. stage manager); Stephen Kahn, David George, Allan Williams, Dede Harris, Sharon Karmazin, David Carpenter (producers)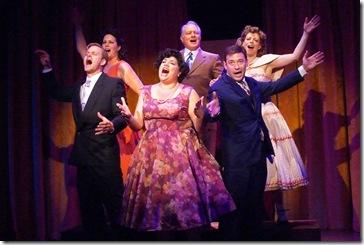 12-0942