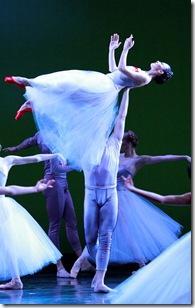 Human Landscapes 
Choreographed by Jirí Kylián,
   James Kudelka and Kurt Jooss 
Auditorium Theatre, 50 E. Congress (map)
thru Oct 28  |  tickets: $31-$152   |  more info
  
Check for half-price tickets 
  
  
  
  
---
'Landscapes' showcases ballet's vitality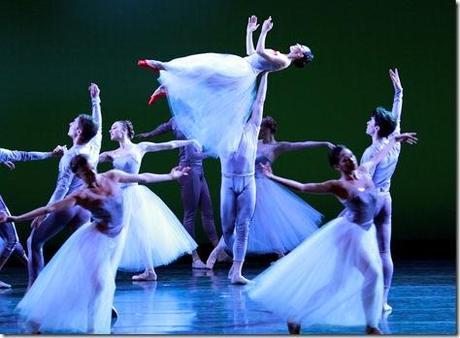 Joffrey Ballet Chicago presents
Human Landscapes
Review by Lauren Whalen 
It's been a long summer without the Joffrey Ballet. Thankfully, one of Chicago's premier dance companies is back in full force, reminding us just why ballet is a vital and relevant art form. At what other show can an audience member contemplate the sea, ponder the complexities of a career in dance, and ruminate on one's mortality – all in the span of two hours? With three diverse pieces that span 80 years, the Joffrey's fall program delights, amazes and frightens in equal measure. Human Landscapes explores a wide range of technique, emotion and storytelling: ballet's endless capability, rife with inspiration.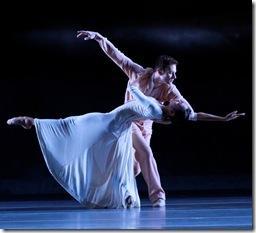 "Forgotten Land", the evening's opening piece, was created in 1981 for the
Stuttgart Ballet
by groundbreaking Czech choreographer
Jirí Kylián
to the music of English composer
Benjamin Britten
.
John Macfarlane
's backdrop was inspired by an
Edvard Munch
painting of women on a beach, staring out at the sea and the twelve dancers begin accordingly, their backs to the audience as they contemplate the dramatic sea. Macfarlane's costume design is a seamless blend of red, black, pink and beige, an unusual complement to the backdrop's green and black motif. Kylián's choreography is heavy on stretches, backbends and
pas de deux
. What's most wonderful about an already strong ballet is its showcase of some of Joffrey's strongest dancers.
Victoria Jaiani
and
Miguel Angel Blanco
have long been company stars, and their expressive duet is nothing short of breathtaking, but "Forgotten Land" spotlights several of Joffrey's rising talents:
Lucas Segovia
is lovely to behold as he ably partners
Joanna Wozniak
– the two bend and stretch as if they are one fluid being. And
Rory Hohenstein
's expressive flexibility shines in his
pas de deux
with
Christine Rocas
. Jaiani, Rocas and April Daly move together and apart in a wonderful, wistful closing tableau.
I was in the audience the night "Pretty BALLET" had its 2010 world premiere at the Joffrey, and I enjoyed it even more this time around. Jaiani once again displays her signature delicate intensity – reminiscent of American Ballet Theatre's Julie Kent – in a four-movement exploration of what it means to be a dancer. James Kudelka's masterpiece is less ballet and more abstract art: the steps are not only stunning but also symbolic. With the exception of a stirring pas de deux, in which Blanco manipulates Jaiani like a beautiful and terrifying life-sized doll, the sexes are mostly separated. Even the title is evocative of how ballet looks on the surface ("pretty") and its dominating presence in the life of anyone who chooses to pursue it full-time ("BALLET"). Denis Lavoie's costumes are an elegant mix of elaborate (long white tulle skirts on the women, and Jaiani's striking red pointe shoes) and utilitarian (gray long john-like garments for the men): also symbolic of ballet's unique mixture of beautiful surfaces and strict, tight positions. The Chicago Philharmonic's strong sound completes the piece, a fitting first outing for the Joffrey's new official orchestra. Two years later, "Pretty BALLET" is no less exciting and thought-provoking.
"The Green Table" is the opposite of new – it was created in 1932 – but retains its disturbing impact in 2012. The late German choreographer Kurt Jooss required that this ballet always be the closing piece of any program in which it appeared, so the audience would leave contemplating life and death. Fabrice Calmels, tall and imposing even in his gentlest roles, cuts a frightening figure here as Death. Face made up in black, white and gray, Death lurks in the presence of a group of soldiers and a cadre of women. Death is brutal and gentle in equal measure, but always inevitable – when he is nearby, someone's not long for this world. Jooss' choreography is woefully dated: in 1932, ballet dancers were capable of much less, and it shows in the steps. However, Hein Heckroth's costumes and  's masks add a horrific layer, and the cast's utter dedication – especially Calmels, Anastacia Holden as an innocent young woman and Temur Suluashvili as a snakelike Profiteer – make "The Green Table" a truly watchable dance of death.
"Mavericks of American Dance" is the Joffrey's 2012-13 season theme, and the possibilities are exciting. With three phenomenal pieces, the company's year is off to a promising start. From the yearning "Forgotten Land" to the abstract "Pretty BALLET" to the disturbing "The Green Table", Human Landscapes thrills – and sets the tone for an incredible season.
Rating: ★★★½
Human Landscapes continues through October 28th at the Auditorium Theatre, 50 E. Congress Pkwy. (map), with performances Wednesday through Friday at 7:30 p.m., Saturday at 2 p.m. and 7:30 p.m., Sunday at 2 p.m. Tickets are $31-$152, and are available by phone (312.386.8905) or online through their website.  More information at Joffrey.org.  (Running time: 2 hours, includes two intermissions)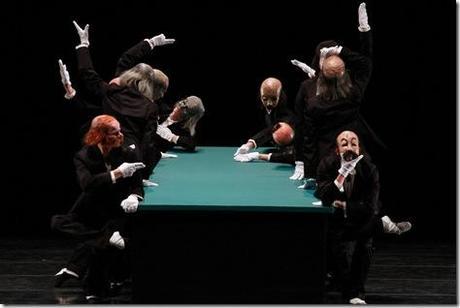 Photos by Herbert Migdoll 
---
artists
cast
Note: casts vary according to performance.
Matthew Adamczyk, Derrick Agnoletti, Yoshihisa Arai, Guilliaume Basso, Miguel Angel Blanco, Ogulcan Borova, Katherine Bruno, Fabrice Calmels, Raul Casasola, April Daly, Erica Lynette Edwards, Yumelia Garcia, Cara Marie Gray, John Mark Giragosian, Dylan Gutierrez, Elizabeth Hansen, Jaime Hickey, Rory Hohenstein, Anastacia Holden, Dara Holmes, Victoria Jaiani, Fabio Lo Guidice, Graham Maverick, Caitlin Meighan, Jeraldine Mendoza, Katherine Minor, Jacqueline Moscicke, Amber Neumann, Alexis Polito, Valerie Robin, Christine Rocas, Aaron Rogers, Ricardo Santos, Lucas Segovia, Abigail Simon, Michael Smith, Temur Suluashvili, Jack Thorpe-Baker, Shane Urton, Alberto Velazquez, Mauro Villanueva, Mahallia Ward, Jenny Winton, Joanna Wozniak, Kara Zimmerman
behind the scenes
Joffrey Ballet Chicago:
Ashley C. Wheater (Artistic Director), Christopher Clinton Conway (Executive Director), Robert Joffrey and Gerald Arpino (Founders), Scott Speck (Music Director), Chicago Philharmonic  (Orchestra), Nicolas Blanc and Gerard Charles (Ballet Masters), Graca Sales (Ballet Master/Principal Coach), Herbert Migdoll (photos)
For "Forgotten Land":
Jirí Kylián (Choreography), Roslyn Anderson (Assistant to the Choreographer), Benjamin Britten  (Music), John Macfarlane (Set and Costume Design), Kees Tjebbes (Lighting Design/Technical Adaptation), San Francisco Ballet (Costumes and Scenery Courtesy Of)
For "Pretty BALLET":
James Kudelka (Choreography), Bohuslav Martinu (Music), Denis Lavoie (Costumes), Michael Mazzola (Lighting Design), Jack Mehler (Lighting Design Recreation)
For "The Green Table":
Kurt Jooss (Book and Choreography), F.A. Cohen (Music), Hein Heckroth (Costumes), Hermann Markard (Masks and Lighting), Jan Hofstra (Lighting Recreation), Jeanette Vondersaar (Staging), Claudio Schellino (Repetiteur), Mungunchimeg Buriad and Paul James Lewis (Pianists)