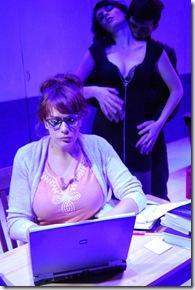 Hot 'N' Throbbing
Written by Paula Vogel
Directed by Jeffry Stanton
at Raven West Stage, 6157 N. Clark (map)
thru Oct 21  |  tickets: $10-$25   |  more info
  
Check for half-price tickets 
  
  
   Read entire review
  
---
Not for the faint of heart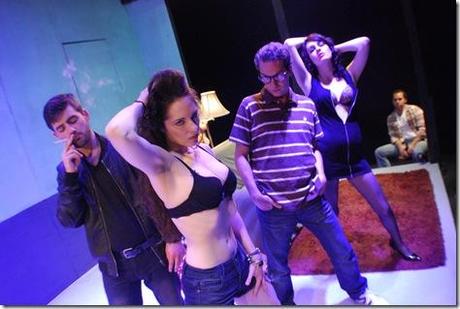 Interrobang Theatre Project presents
Hot 'N' Throbbing
Review by K.D. Hopkins
We live in a world that I never thought would happen. Sex is the dominant facet in everything where it was once a more suggestive intimation. Somewhere the filters came off and so did the veil on the undercurrent of sexuality involved in domestic violence. Some groups blame the surge in sexual awareness on pornography and call for  suppression on moral grounds. Then the argument begins – what is pornography?
Divorced mother Charlene (Christina Hall) is supporting herself and her two children by writing screenplays for female-centric erotica. Her career puts her at odds with her sexually curious teenage daughter Leslie Ann (Stella Martin) and her bookish son Calvin (Andrew Goetten). Charlene divorced Clyde (Matthew David Gellin) because of his drinking problem and abusive behavior.
Hot 'N' Throbbing is a play about a family, interlaced with two extra characters: The Voice (Griffin Sharps) and Voice Over (Casey Wortmann), who relay the characters in Charlene's erotica. The Voice and Voice Over exist in Charlene's head – dancing, grinding, and giving face to her darkest fantasies. Or are they submerged memories?
This is an unsparing look at how sex has become devalued, even as the premium is raised on having your fantasy fulfilled. Charlene uses her children's burgeoning maturity as fodder for one of the scenes she is writing. Leslie Ann accuses Calvin of masturbating with his baseball glove and Charlene turns it into a voyeur fantasy. Lesley Anne chides her mother on the questionable way she makes money and challenges her on whether or not it is porn and exploitive.
Where the line is drawn is left to the mind of the individual. Just because Charlene write for a film company called "Gyno" she claims that it is for women. She justifies the rough sex and exhibitionism as a matter of consent. Unfortunately, the maxim of "whatever turns you on" turns tragic.
The scenes between Gellin and Hall, though riveting, are tough to watch. Gellin is chilling as the angry and alcoholic Clyde. Like so many abusive men, Clyde is charming and manipulative. Charlene's vulnerability turns all of her defenses off and she allows herself to be seduced, even after shooting Clyde in the ass. There begs the question: is Charlene turned on by the violence and power that she has over Clyde?
Playwright Paula Vogel shifts the upper hand back and forth between the characters. The Voice and Voice Over beg her to get out but she ignores them. Sharps and Wortman exemplify sexuality in a vivid Expressionist style. The sex is emotionless and more about control, which is the same psychology as sexual assault. Jeffry Stanton does a steel sharp job of directing this material. There is ambiguity at every turn and there is no clear delineation of what is the cause of the violence. Vogel is a proponent of free speech and expression and leaves that question unanswered. This is about making choices and taking responsibility for them.
Did Charlene deserve to find a way out of cleaning bedpans? One could say yes, because her writing is revealed as being informed by her violent marriage and the need for control. Then again it could be said that she was empowering herself by taking that control and giving voice to her sexuality.
This is an interesting time for Hot 'N' Throbbing to be staged. Some directors and theater companies might feel that the subject matter and presentation are too disturbing. It is violent and would get an NC-17 rating for mature subject matter if it were a film. With the hoopla over "50 Shades of Grey", this play puts a different perspective on what could be called empowerment and taking control. I recommend Hot 'N' Throbbing for those who can have an intelligent discourse on sexuality. This a provocative play and, be warned, not for the faint of heart or sensitive viewer. This pushes the envelope and you have to be prepared for what's inside.
Rating: ★★★
Hot 'N' Throbbing continues through October 21st at Raven West Stage, 6157 N. Clark (map), with performances Thursdays-Saturdays at 8pm, Sundays 3:30pm.  Tickets are $10-$25, and are available by phone (773-338-2177) or online thru TicketTurtle.com(check for half-price tix at Goldstar.com). More info: InterrobangTheatreProject.org.  (Running time: 90 minutes, no intermission)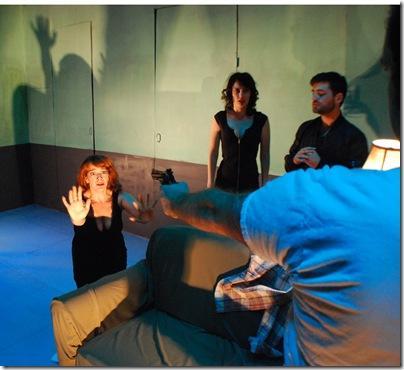 Photos by Gregory Hollimon
---
artists
cast
Matthew David Gellin (Clyde), Andrew Goetten (Calvin), Christina Hall (Charlene), Stella Martin (Leslie Ann), Griffin Sharps (The Voice), Casey Wortman (Voice Over)
behind the scenes
Jeffry Stanton (director), Elana Elyce (producer), Allison Queen (production stage manager), Mike Mroch (set and prop design), Erica Griese (costume design), Christopher Kriz (sound design), Dylan Marks (tech director), Claire Yearman (fight director), Andrew Goetten (fight captain), Zelda Fitzhugh (special effects design), Gregory Hollimon (photos)
12-0953