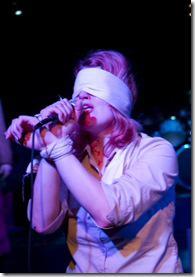 Hostage Song 
Written by Kyle Jarrow (music, lyrics)
   and  Clay McLeod Chapman (book)
Directed by Ronan Marra 
Signal Ensemble Thtr, 1802 W. Berenice (map)
thru June 9  |  tickets: $15-$20   |  more info
  
Check for half-price tickets 
  
  
   Read entire review
  
---
Unique interpretation of grisly subject matter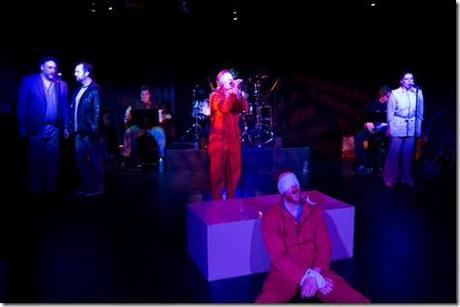 Signal Ensemble Theatre presents
Hostage Song
Review by Lauren Whalen 
When one thinks of potential subject matter for a musical, a hostage situation does not immediately come to mind. (Then again, Andrew Lloyd Webber penned one of the most successful musicals of all time…about cats.) Even more unique, Hostage Song uses only five actors, two of whom spend the 90-minute running time blindfolded with their hands bound. Signal Ensemble Theatre's Chicago premiere of the acclaimed New York rock musical makes the most of a sometimes-lagging pace and often-dull lyrics, thanks in large part to three strong performers who overcome huge challenges to convey the most fraught and nightmarish situation with unexpected humor and heartfelt pathos.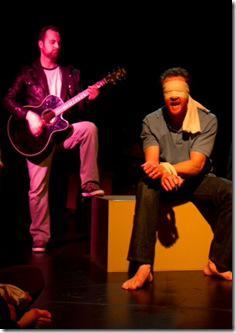 In an unnamed war-torn country, reporter Jennifer (
Simone Roos
) and contractor Jim (
Steve O'Connell
) are held captive. They didn't know each other before they were thrown into a cell, now they pass the endless time by playing I Spy, pretending they're sitting down to dinner or meeting in a bar, and remembering their families and homes. As they are blindfolded, neither has any idea what the other looks like, but their isolation and their unknown fates will bind them together forever (no pun intended).
Located off the beaten path in Ravenswood, Signal Ensemble's airy studio space is ideal: it's intimate without being claustrophobic, and Hostage Song uses it well. With minimal set pieces – a small platform and two chairs – the audience can easily imagine the characters' prison without feeling too closed in and therefore distracted. Having the excellent musicians in plain view is another smart choice on the part of director Ronan Marra, and the volume is too loud only a few times. Though the hostages appear awfully clean for the foul conditions that they have endured thus far, Elsa Hiltner's costumes are very effective if viewed as symbols.
Hostage Song's source material, however, could use some work. Clay McCleod Chapman's dialog is strong, with just the right balance of gallows humor and tragic interactions. Kyle Jarrow's songs have lovely melodies, but the lyrics are too narrative and overall unmemorable. And Jim's final monolog is superfluous: it could have easily been cut to save the last 15 minutes from dragging.
In terms of interpretation, two cast members just slightly miss the mark. Dave Skvarla isn't quite convincing as Jennifer's father – the plea for his daughter's life on national television comes across as almost flippant, far from a shocked, frightened and grief-stricken parent. In the dual roles of Jennifer's mother and Jim's wife, Brigitte Ditmars tends to overact, bugging her eyes out while speaking and singing.
Fortunately, Hostage Song's other three players are a joy to watch. Joseph Stearns' pleasantly tuneful voice gives the songs a haunting cadence, and he later brings an earnest gawkiness to Jim's thirteen-year-old son. The actors portraying the two hostages face a major obstacle: form a believable relationship and captivate the audience without the use of their eyes and hands. Both O'Connell and Roos execute this with aplomb. O'Connell is alternately sarcastic and soulful as Jim, wistfully channeling his childhood memories and lashing out at the horrible injustice he's suffering. Roos, who has the delicate beauty of Lauren Ambrose, brings light to the darkest of conditions by delivering her poignant dialog and heartwrenching solos with utmost grace.
Though far from a perfect production, Hostage Song is worth the Brown Line jaunt. With a ripped-from-the-headlines plot and compelling performances, the show brings a glimmer of hope to a horrific nightmare. Senseless acts lead to more senseless acts in the landscape of war, and one can only hope someday the madness will subside, and the events that inspired Hostage Song will only be commemorated in the safety of the theater.
Rating: ★★★
Hostage Song continues through June 9th at Signal Ensemble Theatre, 1802 W. Berenice (map), with performances Thursdays-Saturdays 8pm, Sundays 3pm.  Tickets are $15-$20, and are available by phone (773-698-7389) or online here (check for half-price tickets at Goldstar.com). More information at SignalEnsemble.com.  (Running time: 90 minutes, no intermission)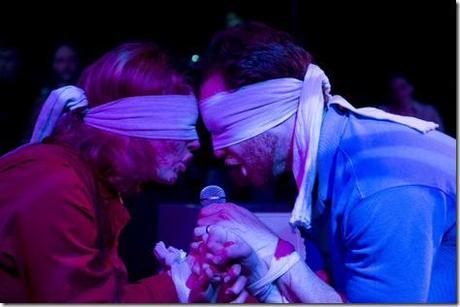 All photos by Johnny Knight 
---
artists
cast
Brigitte Ditmars (Mother/Wife), Steve O'Connell (Jim), Simone Roos* (Jennifer), Dave Skvarla (Father), Joseph Stearns* (Frontman/Son)