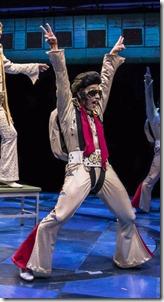 A good bet for a good time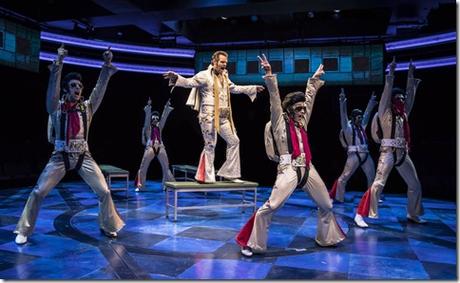 Most often, musicals take us to places we've never been - and probably couldn't possibly go. To times long past, or places that may never have even existed like Camelot or Oz. So, you sorta have to love the rare musical like that sets a world we know to music. Sure, it's based on a 25-year-old film comedy, but the targets of this satire by Andrew Bergman (who wrote the book based on his original screenplay) and Jason Robert Brown, who wrote the witty lyrics as well as the bright, catchy music are still recognizable. The main target of the satire is the modern American man - who is he, what does he think he's supposed to be, and why does he have such a hard time growing up?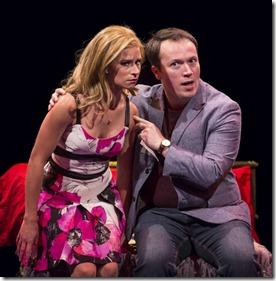 Jack Singer is the specimen of American male under examination here. He wants to marry his girlfriend, Betsy, but is haunted (figuratively and literally) by the pledge he made to his dying mother 10 years earlier that he would never get married. His mother Bea was already dead five years when Jack met Betsy - and being perfect, Betsy has patiently waited for him to propose. Jack's finally ready to cast aside his fears and buy an engagement ring, but while he and Betsy are at Tiffany's picking one out, the ghost of his mother appears and Jack runs out terrified. Betsy is not so perfect as to put up with this last disappointment and breaks off the engagement, but Jack wins another chance by asking her to go to Las Vegas with him that very day and get married.
Arriving in Vegas at the swanky "Milano" Casino and Hotel (surely a stand-in for the Bellagio), the lovely Betsy catches the eye of Tommy Korman - a gambler shark who thinks she resembles his dead wife and decides he must have her. Tommy lures Jack into a card game and tricks him into losing $58,000 - far more than Jack has any ability to repay. Tommy gives Jack the option of selling his debt to a usurious loan shark - or forgiving it if Jack will agree to let him spend a weekend with Betsy at his estate in Maui. Creepy as this is, Betsy, upon learning of the situation, agrees to go to Hawaii with Tommy. Tommy has assured them both there will be no "hank-panky," but Betsy's acquiescence in the affair is motivated more by anger at Jack than anything. Jack watches Betsy leave with Tommy on what should have been their wedding night, but soon becomes determined to follow her to Hawaii and somehow pry her from Tommy's clutches.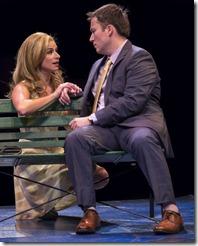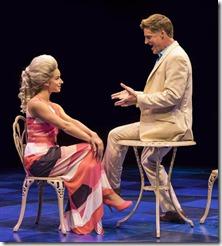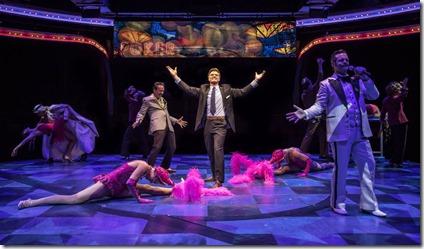 What's a guy supposed to do? Isn't he supposed to be the knight in shining armor rescuing his true love? Is it his fault for trying to be a good son and honoring his pledge to his mom? Does that make him a mama's boy? And shouldn't a real man be either a) smart enough not to fall for a card shark's ruse or b) strong enough to defend himself? Poor Jack quickly descends into a medley of all the American males' worst nightmares.
This situation also gives Bergman and Brown a vehicle for shots at a variety of modern absurdities, from overcrowded commercial airline flights, to the tacky, faux-sophistication of Las Vegas (and its affinity for imitation Elvises) and our tendency to be seduced by money and comfort. Brown, generally considered to be an ambitious, even arty composer, has written an accessible and tuneful score for this show. And surprise of surprises, the writer of such melancholy musicals as and The Bridges of Madison Countyhas written the funniest stuff in this musical comedy. His score opens with an exuberant love song, "I Love Betsy," in which he praises Betsy because "she likes hockey, no I swear, she likes guys with thinning hair." When Tommy returns to Vegas after an absence, he extols its virtues in "When You Say Vegas" with "London's too old, And Cleveland ain't pretty, And we got nicer hookers than Jersey City."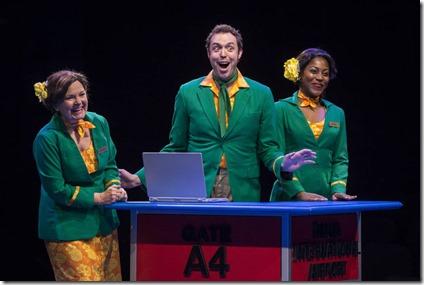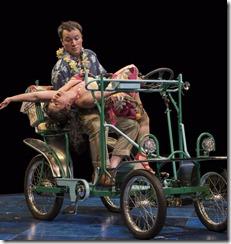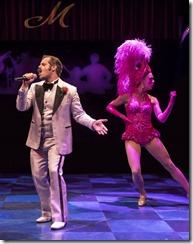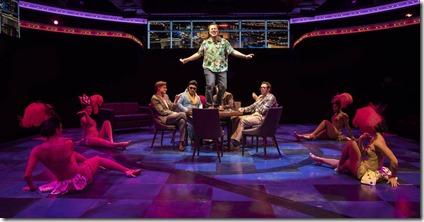 Honeymoon in Vegas had its world premiere at the Paper Mill Playhouse in Milburn, New Jersey, not far from New York City. The New York Times's chief theater critic Ben Brantleysaw it and raved, suggesting a Broadway run would be a huge hit. Strangely, despite another positive review from Brantley when it opened in NYC, it wasn't. Officially, it ran just 2-1/2 months, following two months of previews. This production at the Marriott Theatre is a second chance of sorts for key members of the creative team -director Gary Griffin, choreographer Denis Jones and costume designer Brian Hemesath.
Griffin and Jones are working here with a Chicago-based cast that's perfectly matched to the material. Their Jack is songwriter-actor Michael Mahler, a singing actor who has a way with comedy and a demeanor of everyman charm that makes you root for him even as you laugh at his character's shortcomings. Playing Tommy is the Chicago actor Sean Allan Krill, who understudied the role for Tony Danzaon Broadway. Krill's perfect for the role - he has a Sinatra-like voice for velvet vocals that could play one of Vegas's lounges - and the ability to project charm and danger all at once. Their Betsy is Samantha Pauly, a lovely actress with comic chops and a brassy singing voice. Vegas glitz and cheesiness is provided by the strong character work of Cole Burden as a Vegas lounge singer and a skydiving Elvis impersonator; and by Marya Grandyas Jack's dead, but not really departed mother, Bea.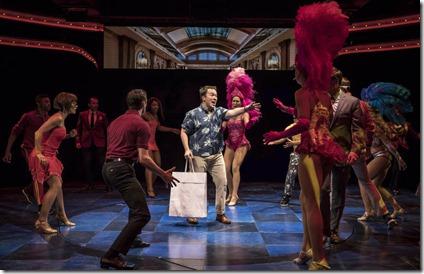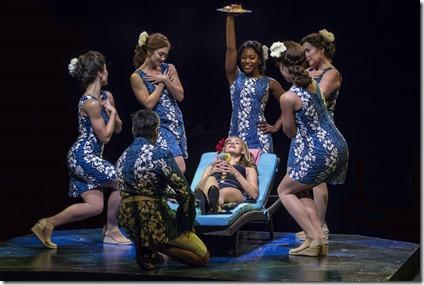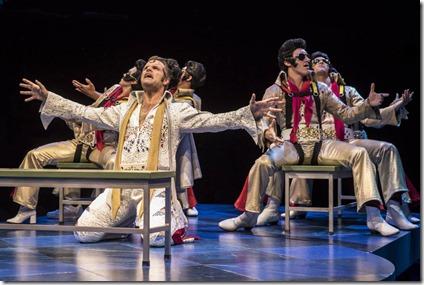 Jones's dances brightly build on the way people actually move - beginning with an everyday Brooklyn street scene in "I Love Betsy," to tourists moving around the Vegas hotel lobby - and having some fun mimicking the entertainment styles of "Sin City." The looks of Brooklyn, Vegas and Hawaii are parodied smartly by Hemesath's bright costumes. Griffin's direction pulls it all together in a fast-paced package, knowing and executing exactly the tone this material needs.
So why did NYC audiences not love Honeymoon in Vegas the way Jack loves Betsy? The creepy premise might have been off-putting. And Bergman's book takes the entire first act to provide the setup of the situation, but in the second act, occurring mostly in Maui, the development of that situation is not as funny as one might expect. Finally, with a 2-1/2-hour running time, you get just a little exhausted at the pace and style of satire. The piece might have worked better with a shorter running time so it could end before it stops surprising. Right now, it feels a little like indulging at one of those Las Vegas hotel buffets.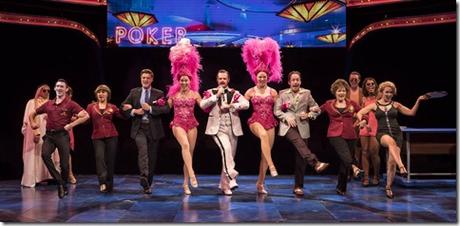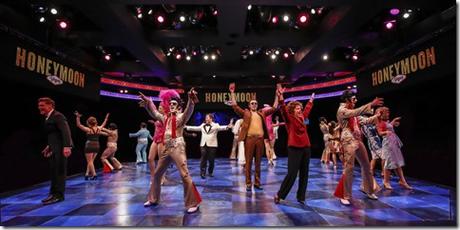 A little trimming might make all the difference. A show that allows the key theater-going demographic of women to laugh at their men and the men who accompany them some laughs of recognition ought to be a winner.
Honeymoon in Vegas continues through October 15th at Marriott Theatre, 10 Marriott Drive, Lincolnshire (map), with performances Wednesdays 1pm & 8pm, Thursdays and Fridays 8pm, Saturdays 4:30pm & 8pm, Sundays 1pm & 5pm. Tickets are $50-$60, and are available by phone (847-634-0200) or online through Ticketmaster.com (check for availability of ). More information at MarriottTheatre.com. (Running time: 2 hours 30 minutes, includes an intermission)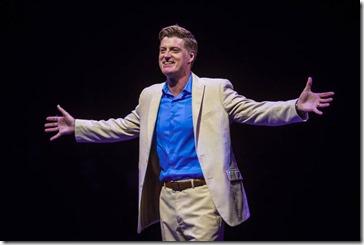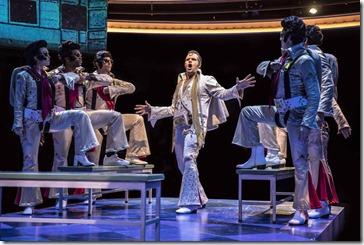 Photos by Liz Lauren
behind the scenes
Gary Griffin (director), Denis Jones (choreographer), Ryan T. Nelson (music director), Patti Garwood (musical supervisor, conductor), Kevin Depinet (scenic design), Brian Hemesath (costume design), (lighting design), Robert E. Gilmartin (sound design), Anthony Churchill (projection design), Sally Weiss (properties design), Angela M. Adams (stage manager), Liz Lauren (photos)
Tags: 17-0818, Aaron Choi, Alejandro Fonseca, Alex Goodrich, Allison Sill, Ambria Sylvain, Andrew Bergman, Angela M. Adams, Anne Gunn, Anthony Churchill, Brian Hemesath, Chicago musical theater, Chicago Theater, Christine Bunuan, Cole Burden, Denis Jones, DeShawn Bowens, Devin DeSantis, Drew Redington, Gary Griffin, James Rank, Jason Robert Brown, Jesse Klug, Jessica Wolfrum Raun, John Olson, Kevin Depinet, Kristina Larson, Laura Savage, Liz Lauren, Marriott Theatre, Marya Grandy, Michael Mahler, Patti Garwood, post, Richard Manera, Robert E. Gilmartin, Ryan T. Nelson, Sally Weiss, Samantha Pauly, Sean Allan Krill, Shana Dagny, Steven Strafford, Tyler John Logan