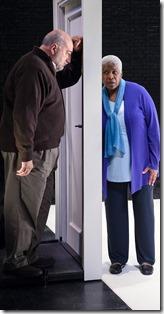 Good, not great, political fiction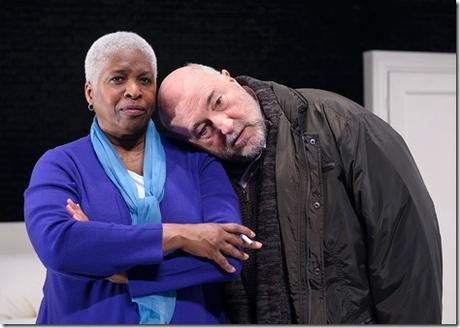 In such a chaotic and divisive political climate, it's natural and appropriate that theater will reflect its surroundings. Victory Gardens appears to have dedicated its season to political explorations and analyses, with mixed results. Sarah Gubbins' was, at its heart, a relationship drama, but was marketed so heavily as a gun-control piece that it was distracting. Its successor, Hillary and Clinton , automatically invites PR with its title and description even though it too is a relationship drama. The world premiere of Lucas Hnath's historical fiction play is strong at some points, weak at others, with a very specific style that will either appeal or repel depending on the audience member.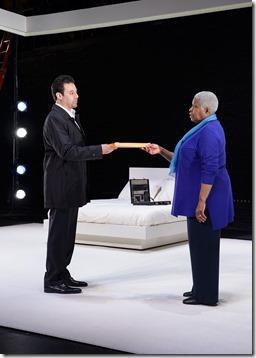 Hillary and Clinton borrows from both Brecht and Thornton Wilder's Our Town. Shortly before the lights go down, actors arrange a few set pieces on a bare stage to evoke a hotel room: clean, spare and sterile. Actress Cheryl Lynn Bruce explains to the audience what is about to happen: they will watch scenes from an alternate reality, from a 2008 much like we experienced in our world, but not quite. In this alternate reality, a woman named Hillary is running for President. Bruce then steps into the role of Hillary, discussing her dismal primary results with her campaign manager Mark (Keith Kupferer) in a New Hampshire hotel room. Left alone and riddled with insomnia, Hillary calls her husband Bill (John Apicella) and asks him to come visit. Twelve hours later, Bill - a former President himself - arrives, and everything changes.
Hnath has played with history before - specifically, the narratives of Anna Nicole Smith and Walt Disney - so he's likely accustomed to legally covering himself. I didn't have a problem with an actor establishing that this isn't a true story about the Hillary and Bill Clinton we know. I just wish it could have been Kupferer or Juan Francisco Villa (the latter only appears in one scene, as Hillary's party rival who wants to offer her a deal), rather than the play's lead. Hnath also has a very specific style when it comes to language: a character will reiterate a word or phrase two or three times in as many sentences. A language style isn't unusual for playwrights - think David Mamet - but once the audience catches on to the style, they can also catch on to mistakes or inconsistencies. Bruce in particular stumbled over her lines several times and it was very noticeable given Hnath's style.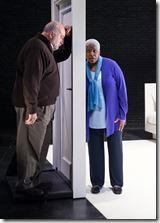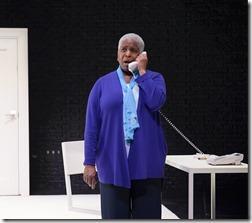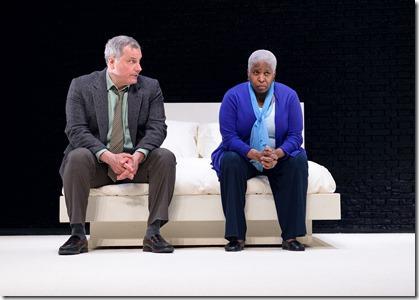 Hillary and Clinton isn't really political in nature. Yes, it's set on the eve of a presidential primary, but the play centers on Hillary and Bill's complex marriage. The two discuss loyalty, love and fidelity. Even Bill's thoughts on Hillary's campaign strategies and subsequent actions reflect the deep history between the couple. It's in these moments that Hillary and Clinton is its most successful, and director Chay Yewisn't afraid to expose the characters' fleshy, vulnerable underbellies. Kupferer's Mark is the quintessential campaign manager with a secret, and Villa shines in his brief moments onstage. Apicella's Bill is all the ego and bluster that comes with being a straight, privileged white man, and the actor plays this ingrained cluelessness to the hilt. And Bruce has a politician's charisma and intelligence, as well as a speaking voice as smooth as butter.
Hillary and Clinton is at once very broad and very niche. In our own world, no one living outside of a bunker is unaware of the Clinton political dynasty and its effects on America. Hnath's play takes this knowledge and twists it, challenging the audience to imagine a parallel universe almost exactly like our own, but not quite. The results aren't always successful, but for 80 intermission-less minutes, Hillary and Clinton remains interesting and relevant.
Hillary and Clinton continues through May 1st at Victory Garden's Biograph Theater, 2433 N. Lincoln (map), with performances Tuesdays-Fridays at 7:30pm, Saturdays 3pm & 7:30pm, Sundays 3pm. Tickets are $15-$60, and are available by phone (773-871-3000) or online through PrintTixUSA.com (check for half-price tickets at Goldstar.com ). More info at VictoryGardens.org. (Running time: 80 minutes, no intermission)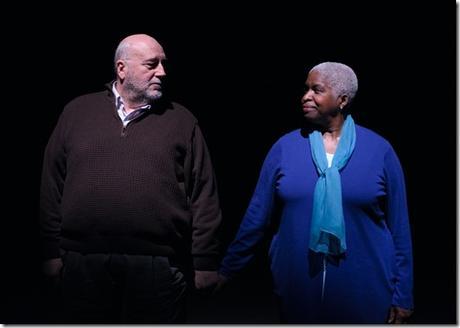 behind the scenes
(director), William Boles (scenic design), Janice Pytel (costume design), Keith Parham (lighting design), (sound design), Aimee Plant (props master), Jinni Pike (stage manager), Isaac Gomez (dramaturgy), Kevin Matthew Reyes (asst. director), Michael Courier (photos)
Tags: 16-0410, Aimee Plant, Chay Yew, Cheryl Lynn Bruce, Chicago Theater, Isaac Gomez, Janice Pytel, Jinni Pike, John Apicella, Juan Francisco Villa, Keith Kupferer, Keith Parham, Kevin Matthew Reyes, Lauren Whalen, Lucas Hnath, Michael Courier, post, Rick Sims, Victory Gardens Theater, William Boles
Category: 2016 Reviews, Biograph Theatre, Lauren Whalen, New Work, Victory Gardens, World Premier