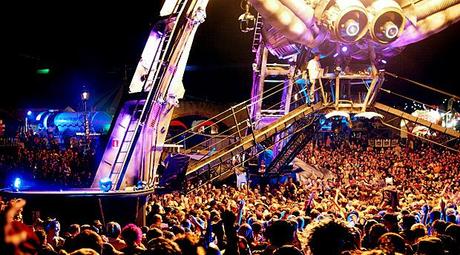 If you describe yourself as "The UK's Maddest City" in the festival season, you'd better live up to it. Boomtown does, in spades.
In short, it was mental. This was my first time but everyone I spoke to about it said it's incredible but mental. There are daily glitter fights, a stage playing non-stop ska and a 30ft fire-breathing spider.  Having Arcadia at Boomtown shows how big it has become, especially as Arcadia only also rocks up at Glastonbury and Bestival.  Admittedly most of the acts weren't household names, but Lee 'Scratch' Perry, Foreign Beggars, Parov Stelar and well, The Wurzels know how to make people bounce around.
The site is split up into separate districts, each specialising in their own genre. From Reggae to Ska to Punk to Electro Swing to Grime / DnB / Dubstep, bopping around like a mad thing is pretty well catered for. There was a spoken word area and a chilled out workshop bit, but there's also a (G)Rave Yard, a dance off stage and the most trippy A&E I've ever seen. In the evening, just go for a wander and poke your head in random doors; I guarantee you'll find something bizarre.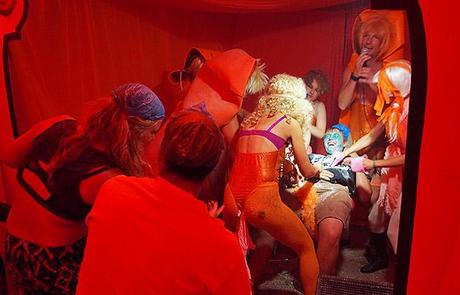 Pictures from urban75.org
The music was great and the vast majority of the line-up tour the festivals over the summer so know how to ace their sets. Gentleman's Dub Club, First Degree Burns, Chinese Man and Parov Stelar were personal favourites, with an honorable mention to the Electro Swing Ballroom in general. Oh and The Original Rabbit Foot Spasm Band, just for the name.
Basically if you want a smaller, madder, more skanking amalgamation of Glasto and Bestival, next year's Boomtown should go on your list.