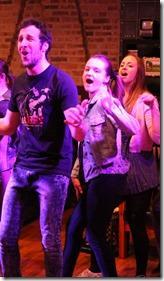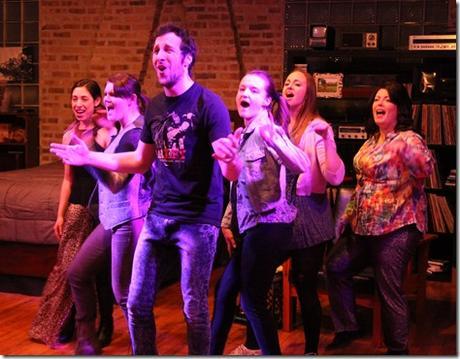 Nick Hornby's first novel, "High Fidelity," was a smash hit: an adult coming-of-age tale with a musical backdrop, crackling dialogue and witty observations about relationships past and present. The 2000 film adaptation starring John Cusack was both a breakout for comedian Jack Black and a love letter to Chicago. But what of the musical adaptation, with a book by award-winning playwright David Lindsay-Abaireand a score from the composer of ? Thanks to Refuge Theatre Project, I now know that while the musical doesn't quite live up to the book and film, it's a solid, smart effort - and Refuge's production is a snarky delight.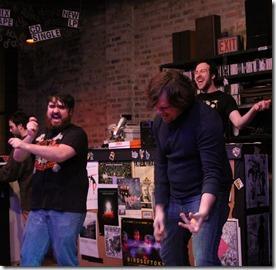 Rob Gordon (
Max DeTogne
) has everything figured out - sort of. He owns a fantastic record shop, Championship Vinyl, and gets to hang out every day. So what if his customers never actually buy anything and his employees (
Stephen Garrett
and
Nick Druzbanski
) sometimes scare people away? He also lives with his beautiful lawyer girlfriend Laura (
Liz Chidester
), until the day she dumps him. Rob can't quite understand what went wrong, so he turns to his vast record collection and his memories of girlfriends past. Can he figure it out before Ian (
Tony Carter
) - who handled Kurt Cobain's ill-fated intervention - steals Laura's heart? Or is Rob destined to be forever alone, with only his music for company?
Be it book, movie or musical, High Fidelity is challenging in that Rob isn't always a likable protagonist. And in Lindsay-Abaire's adaptation, Rob makes less of a journey than Hornby's book or Stephen Frears' film. That said, Amanda Green and 's lyrics and music are peppy and clever, using Rob's top five breakups as a Greek chorus of sorts and clearly defining characters with nuance and humor. Tributes to Neil Young and Bruce Springsteen are hilarious and spot-on to even the casual listener of each, and though no song is particularly memorable, the score is fun and pleasantly rocking.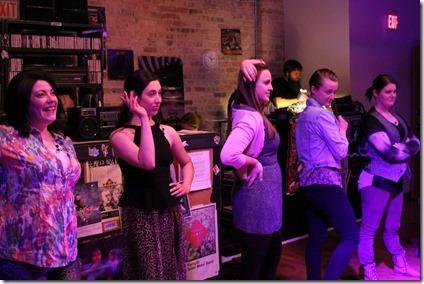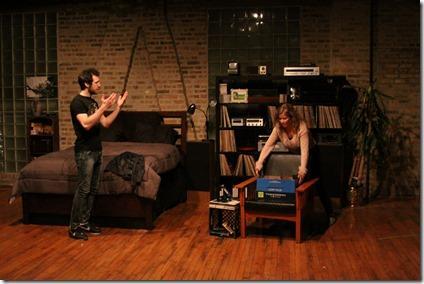 Refuge Theatre Project, a relatively young company with a promising start, stages High Fidelity in a west side pop-up space that simply but accurately conveys Championship Vinyl and Rob's apartment, the two main settings. The intimate, somewhat rough atmosphere lends itself well to the struggles of High Fidelity 's neurotic and almost-hip hero, and Christopher Pazdernik's staging and choreography furthers the show's relatability. Though I question exactly what era this is supposed to be (I assume late 90's, but a few cultural references in the book and Derek Valenti 's costumes are a bit anachronistic), I appreciated being right there in the moment with Rob, Laura and the realistic but colorful cast of characters.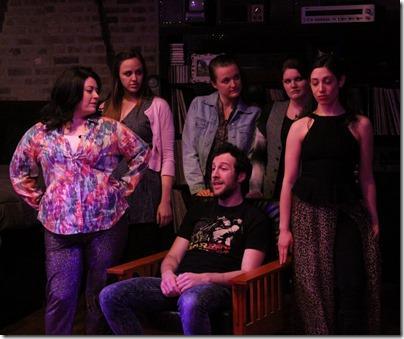 DeTogne is a funny, snarky Rob who's utterly likable even at his most self-centered (in fact, I wish at times he'd been a bit less likable), and displays sweet, sparky chemistry with the golden-voiced Chidester. Caitlin Jacksonputs her considerable pipes to use as Rob's tell-it-like-it-is pal Liz, displaying flawless comic timing to go with her Bette Midler-esque vocals. Druzbanski embraces the challenge of playing the brutally honest Barry - a breakout film role for Jack Black - by giving the character a dry, lovably weird vibe that's a joy to watch. And speaking of lovable, Garrett shines as the emotional heart of the show, shy music nerd Dick. His solo song, "It's No Problem," is soul-baring in the quietest and sweetest way.
Refuge is a company to watch: not even two seasons in, and their performers are strong, their ideas fresh, their enthusiasm plentiful. High Fidelity is an indie delight, chronicling a nontraditional yet quite universal delayed coming-of-age. We all have a little Rob Gordon in us, and High Fidelity is a testament to the power and potential of maturity, relationships and pop music.
High Fidelity continues through February 28th at Refuge Records, 666 W. Hubbard (map), with performances Fridays/Saturdays at 8pm, Sundays 6pm. Tickets are $20, and are available online through EventBrite.com (check for half-price tickets at Goldstar.com ). More information at RefugeTheatreProject.com. (Running time: 2 hours 30 minutes, includes an intermission)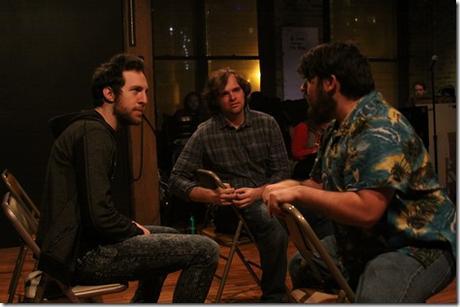 Photos by Laura Leigh Smith
Max DeTogne (Rob), Liz Chidester (Laura), Amy Stricker (Marie, Charlie), Kelly Baskin (Penny, Backup Singer, Laura u/s), Britain Gebhardt (Sarah, Liz u/s), Jacob Fjare (PYM, Rob u/s, Trumpet), Lewis Rawlinson (PYM, Dick u/s, Cello), Will Wilhelm (PYM), Caitlin Jackson (Liz), Nick Druzbanski (Barry), Stephen Garrett (Dick), Tony Carter (Ian), Noah Berman (TMPMITW), Lizzie Schwarzrock (Anna, Allison), Stephanie Rohr (swing), Bradley Halverson (Ian u/s, swing)
John Cockerill (piano), Robert Campbell (guitar), Will Gumbiner (bass), Kedgrick Pullums (winds)
behind the scenes
Christopher Pazdernik (director, choreographer), John Cockerill (music director), JC Widman (stage manager), Michelle Manni (technical director, set design), Jessica Doyle (lighting design), Cody Ryan (master electrician), Richard Schroeder (sound design), Derek Valenti (costume design), Laura Leigh Smith (photos)
Tags: 16-0153, Amanda Green, Amy Stricker, Bradley Halverson, Britain Gebhardt, Caitlin Jackson, Chicago musical theater, Chicago Theater, Christopher Pazdernik, Cody Ryan, David Lindsay-Abaire, Derek Valenti, Flat Iron Arts Building, Jacob Fjare, JC Widman, Jessica Doyle, John Cockerill, Kedgrick Pullums, Kelly Baskin, Laura Leigh Smith, Lauren Whalen, Lewis Rawlinson, Liz Chidester, Lizzie Schwarzrock, Max DeTogne, Michelle Manni, Nick Druzbanski, Nick Hornby, Noah Berman, post, Refuge Theatre Project, Richard Schroeder, Robert Campbell, Stephanie Rohr, Stephen Frears, Stephen Garrett, Tom Kitt, Tony Carter, Will Gumbiner, Will Wilhelm
Category: 2016 Reviews, Lauren Whalen, Musical, Refuge Theatre Project, Tom Kitt