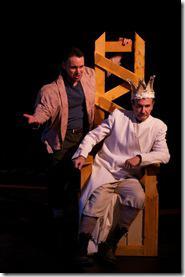 Henry V 
Written by William Shakespeare 
Directed by Brian Pastor  
Athenaeum Theatre, 2936 N. Southport (map)
thru June 2  |  tickets: $20   |  more info
  
Check for half-price tickets 
  
  
   Read entire review
  
---
Sexy Henry V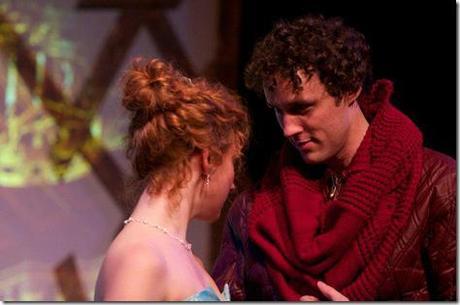 Promethean Theatre Ensemble presents
Henry V
Review by K.D. Hopkins
Every time I walk into a Shakespeare production, I wonder how this will be made fresh and relatable to the millennial audience. I am very pleased to give kudos to Promethean Theatre for breathing life into a retelling of Henry V. The last version I saw was a film version starring Kenneth Branagh. This is one of Shakespeare's more testosterone fueled plays (along with Titus Andronicus). There is plenty of grit, horses, and bloody sword play-no doubt an inspiration for the American Western.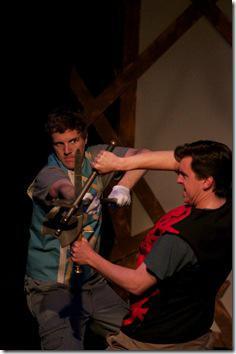 The Promethean Theatre Ensemble puts on an epic production with the economy and resourcefulness of a storefront company. There is more heft to the dialog through modern vernacular, projected photos and illustrations of wars from the 20th century.
Ensemble member Nick Lake shines as the titular King Henry. He brings a powerful energy and authority to the King, who triumphed over France in the Battle of Agincourt. Shawna Tucker and Edward Kuffert play Mistress Quickly and Pistol respectively. The chemistry between these actors, as commoners drawn into the battle, is spot on. Kuffert is both funny and poignant in this role with a perfect balance of bluster and love for king and country. Tucker exudes a rough sensuality as a female tavern keeper which bears a certain branding of her class.
Jerry Bloom is wonderful as the defiant King of France. When France is defeated his body language shows the slump of resignation. It is also a great touch to have him costumed in foppish attire, suggesting that his kingdom teeters only on accoutrement. Jeremy Trager plays Dauphin, the arrogant son of the King of France. Trager pulls it off with none of the moustache twirling or spitting vitriol. The Dauphin is a semi-comic character who arrogantly leads his country to the brink of total ruin. Trager takes the character up a notch with an edge of filial pride and patriotism.
John Arthur Lewis as Chorus lends a "Masterpiece Theatre" flavor to the proceedings, giving introduction to the course of events ending the Hundred Years War. He also plays Montjoy, who is given the unseemly task of delivering a trunk full of double entendre tennis balls to Henry. Lewis keeps a great stone face as the Dauphin's messenger. There is a certain civilized tone given to war with Shakespeare's dialog. The images chosen by Daniel Carlyon of soldiers in agonized death throes and abandoned on the battlefield lend urgency to the story. The choreography for the sword fight is beautiful and visceral.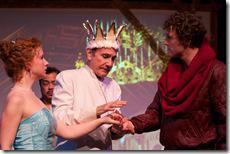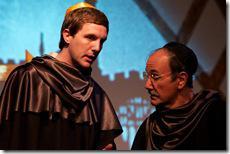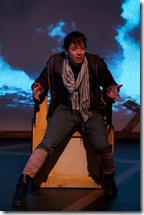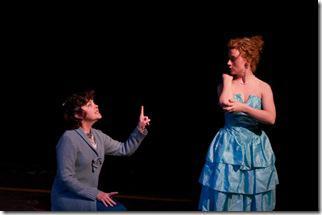 After all of the bloodletting and brutality, there is some comic relief in the character of Katherine and her tutor Alice. Catherine Gillespie speaks rapid fire French with beautiful expression. Even if you don't speak a word of French, her face and perfectly timed fluttery mannerisms tell the story. Judy Lea Steele is spot on as the vigilant tutor/governess to the French princess. The repartee between Lake and Gillespie is very sexy in its flirtatiousness. Although the marriage between Henry and Katherine was a politically motivated union, I loved the humanity given to the characters in this adaptation.
Promethean Theatre Ensemble has put on a really interesting 2011-2012 season. Their choices are gutsy, complicated, and outside of the usual black box theater mold.  Check them out – you won't be disappointed!
Rating: ★★★
Henry V continues through June 2nd at Athenaeum Theatre, 2936 N. Southport (map), with performances Thursdays-Saturdays 8pm, Sundays 2pm.  Tickets are $20, and are available by phone (773-935-6875) or online at OvationTix.com (check for half-price tickets at Goldstar.com). More information at PrometheanTheatre.org.  (Running time: 2 hours, includes 10-minute intermission)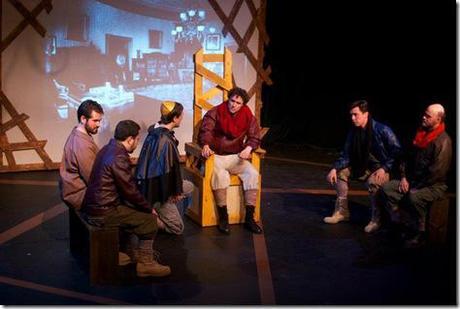 All photos by Tom McGrath 
---