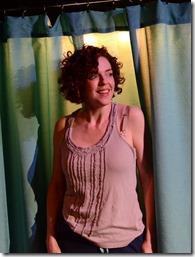 Hello Failure
Written by  Kristen Kosmas
Directed by Adam Webster  
at Side Project Theatre, 1439 W. Jarvis (map)
thru July 13 |  tickets: $15-$20   |  more info
  
Check for half-price tickets 
  
  
   Read review
  
---
Now extended through July 13th!
A sweet, funny, and quirky play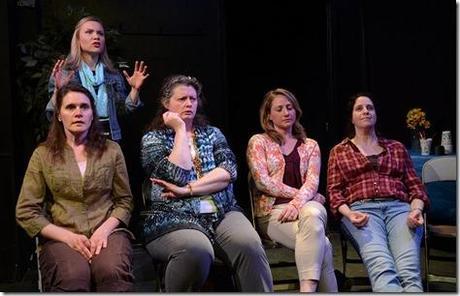 Side Project Theatre presents
Hello Failure
Review by Kat Hey
Hello Failure is an intriguing dark comedy from playwright Kristen Kosmas that follows a woman in the throes of an imaginary relationship. It is in repertory with What to Listen For – another story of a woman and her daughter in imaginary relationships substituting for lost and absent passion.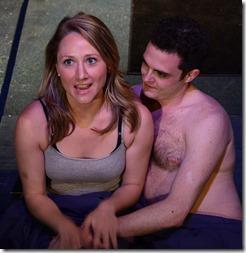 Hello Failure hits a home run with the storyline and character structure.
Rebecca (Meg Elliott) has not been showing up at her women's group because she is ensconced in her bathroom with HL Hunley (Nate White) – the inventor of the first Confederate submarine that sunk a Union ship before being sunk and killing all six crew members. Also missing from the group is Kate (Julia Daubert), but she is trying to get busy with her secret lover Shlomy (Mike Shields) and late picking up New Girl (Amanda Lipinski).
The support group, which meets at a museum dedicated to submarines and other things aquatic, is for women whose partners are in an unnamed war. Netta (J. Kingsford Goode) is the unspoken leader, keeping order as best she can. Goode is reminiscent of actress Shirley Knight, with a soft vulnerability and edgy nervousness. Kirsten D'Aurelio plays the role of Gina, who is attached at the hip with her cellphone and a job that's driving her nuts. D'Aurelio brings a fresh and honest portrayal of a person getting on with life in spite of longing and possible loss. Gina is a bit self-involved as well, which adds a fun dimension to the character rather than being a martyr to the circumstances. Amy Johnson plays Karen, a nervous wreck that immerses herself in outrageous non-sequitur projects such as taking Japanese lessons and coming up with ideas for soup. Johnson is spot on as the person that overcompensates to subdue grief.  The funniest lines come from Meredith Lyons as Valeska. She is a sultry woman who says whatever is on her mind and no matter how shocking she hits the bull's eye. Lyons affects an accent resembling Natasha from Rocky and Bullwinkle.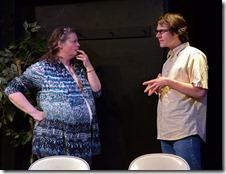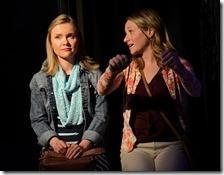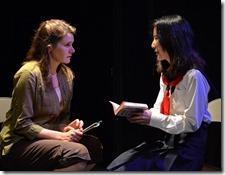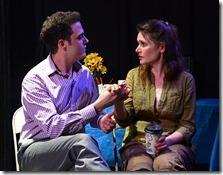 I love the story structure that is slice of life, and sometimes so outrageous that it can only be true. Director Adam Webster keeps the pace quick so the lines don't feel set up, allowing the tender moments to be more effective. Characters such as The Japanese (Mari Uchida) and Tim the Museum employee (Dean Beever) appear in vignettes that evoke hilarity. Beever edges on comic genius as the odd custodian.
The ending is very "Bob, Carol, Ted, and Alice" but also quite poignant. Everyone is given a snapshot to take home of a character that New Girl speaks of and I don't think that any were left behind. It is a nice parting gift from a sweet, funny, and quirky play. Go check it out. It's a great 90 minutes.
Rating: ★★★
Hello Failure continues through July 6th July 13th at Side Project Theatre, 1439 W. Jarvis (map).  Tickets are $15-$20, and are available by phone (773-340-0140) or at BrownPaperTickets.com (check for half-price tickets at Goldstar.com). More information at TheSideProject.net.  (Running time: 90 minutes without intermission)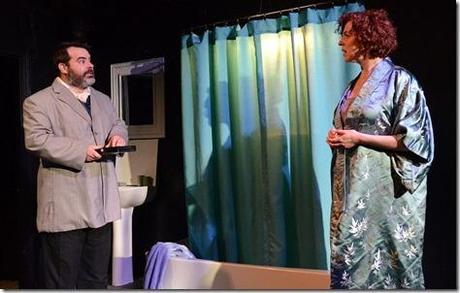 Photos by Scott Dray
---
artists
cast
Nate White (HL Hunley), J. Kingsford Goode (Netta), Julia Daubert (Kate), Mike Shields (Shlomy), Meg Elliott (Rebecca), Kirsten D'Aurelio (Gina), Meredith Lyons (Valeska), Amanda Lipinski (New Girl), Amy Johnson (Karen), Mari Uchida (The Japanese), Dean Beever (Tim)
behind the scenes
Adam Webster (director), Rebecca Butler (stage manager), Brian Ruby (production coordinator), Michael Manocchio (assistant director, dramaturg), Sarah JHP Watkins (set and prop design), Becca Jeffords (light design), Allison Smith (costume design), Trevor Patrick Watkin (original music, sound design), James Sobiesczyk (video trailer), Nate White (assistant sound design), Renee Witherwax (graphic design), Scott Dray (photos)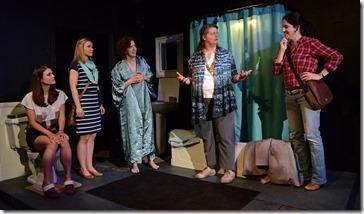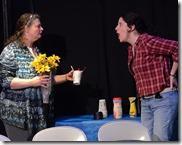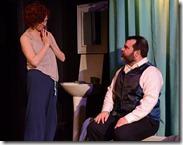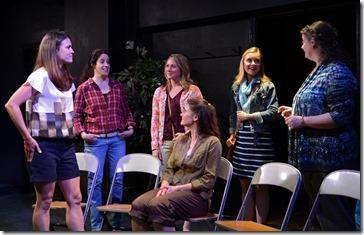 14-0628