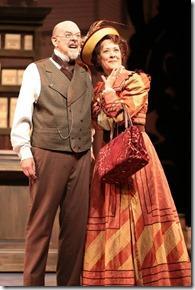 Hello Dolly!
Written by Michael Stewart and Jerry Herman
Directed by Rachel Rockwell
Drury Lane Theatre, Oakbrook Terrace (map)
thru Jan 5  |  tickets: $35-$49   |  more info
  
Check for half-price tickets 
  
  
   Read review 
  
---
Drury Lane's holiday show will send you smiling into 2014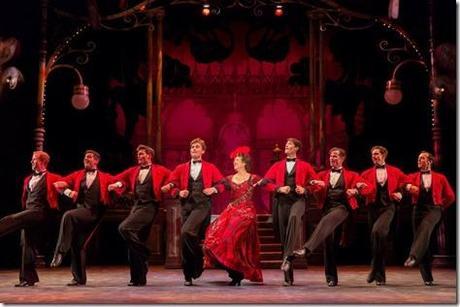 Drury Lane Theatre presents
Hello Dolly!
Review by Lawrence Bommer
Thornton Wilder's genius for the common touch isn't just in Our Town or The Skin of Our Teeth. There's almost as much warm wisdom in his The Matchmaker, the perfectly plotted mating comedy that Michael Stewart and Jerry Herman transformed into the gem known as Hello, Dolly!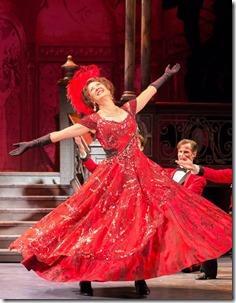 A pleasant way to end one year and begin another,
Rachel Rockwell
's cumulatively delightful revival may not be the most sumptuous recreation of turn-of-the-century Yonkers or New York City, let alone the posh Harmonia Gardens restaurant. (Its filigreed proscenium with too-few period postcards illustrating 1890 Yonkers and New York relies too heavily on props and costumes to evoke a world long gone.) But it's got spunk to spare, even heart, especially in Tony-winner
Karen Ziemba
's brassy and indomitable Dolly Gallagher Levi, an unsinkable powerhouse to make you forget, reluctantly, Carol Channing or, eagerly, Barbra Streisand. Yes, Dolly is a gold-digging fortune huntress but she exists to make life flourish, not fester, and her chosen fertilizers are money and matchmaking. This nurturing Earth Mother gardens people and they thrive. (A bit uncertain on opening night, Ziemba has plenty of time to grow into a role that repays every stage minute.)
The genius of this musical is how it delights in first and second chances—first for stockboy Barnaby, chief clerk Cornelius and milliner's assistant Minnie Fay; second for Dolly and Irene Molloy, whose late husbands were their best love, and especially for crusty burgher Horace Vandergelder, who never respected a woman until Dolly tames him. Growling, gravelly but ultimately melting like a glacier, David Lively plays flinty Horace much like Walter Matthau, grudgingly giving in to the life force personified by Ziemba's hungry, ardent yenta Dolly.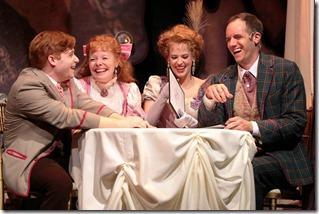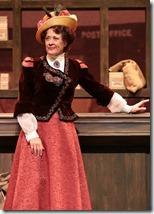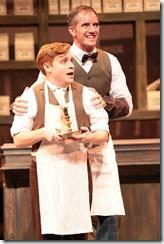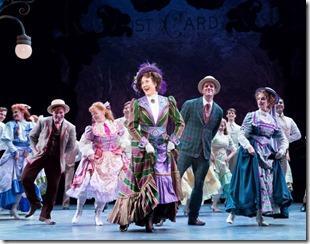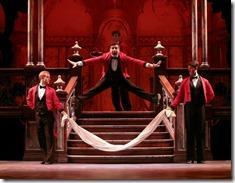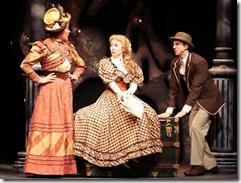 The cunning casting continues with tall and short Jeff Diebold and Lee Slobotkin as the lovable goofball truants who run off to the future Big Apple, Emily Rohm's worldly wise Irene, Maggie Portman's impish screwball Minnie, Skyler Adams' plucky Ambrose Kemper and Laura Savage as the always hysterical Ermingarde. Except for some harsh notes from the horns on opening night, Ben Johnson's orchestra mainly rediscover the riches of Herman's celebratory score. No one has more fun than the wrenchingly athletic waiters dancing up a dining ballet in the splendid second act. Rockwell's choreography would do Gower Champion proud as "Before the Parade Passes" by threatens to strut itself right into "The Music Man." Theresa Ham's abundant and tintype-accurate costumes (this chorus changes clothes a lot) make up for Kevin Depinet's mainly suggestive scenery.
Wilder and Herman make a wonderful, seemingly inevitable, combination, the tart survival knowledge of the former perfectly blending into the unashamed sentiment of "Dancing," "Put on Your Sunday Clothes," and the inexpressibly exuberant title number, a showtopper as much as stopper. Theater can redeem so much that life fails to encourage, and Drury Lane Theatre's holiday show will send you smiling into 2014.
Rating: ★★★
Hello Dolly! continues through January 5th, 2014 at Drury Lane Theatre, Oakbrook Terrace (map), with performances Wednesdays at 1:30pm, Thursdays 1:30 and 8pm, Fridays 8pm, Saturdays 5 and 8:30pm, Sundays 2 and 6pm.  Tickets are $35-$49, and are available by phone (630-530-0111) or online through Ticketmaster.com (check for half-price tickets at Goldstar.com). More information at DruryLaneOakbrook.com.  (Running time: 2 hours 30 minutes, includes an intermission)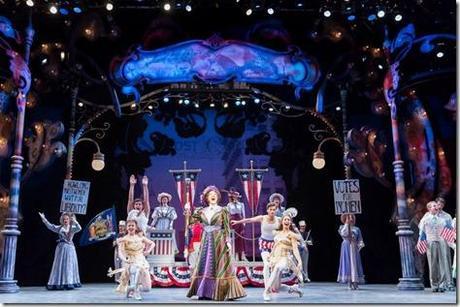 Photos by Brett Beiner 
---
artists
cast
Karen Ziemba (Dolly Levi), David Lively (Horace Vandergelder), Skyler Adams (Ambrose Kemper), Jeff Diebold (Cornelius Hackl), Emily Rohm (Irene Malloy), Maggie Portman (Minnie Fay), Laura Savage (Ermengarde), Lee Slobotkin (Barnaby Tucker), Holly Stauder (Ernestina), George Andrew Wolff (Rudolph), Kelsey Andres, David Baur, Jessica Blair, Bryan Connor, Betsy Ferrar, David Girolmo, Allyson Graves, Zachary L. Gray, Elizabeth Lanza, Alissa Robinson, Stephen Schellhardt, Will Skrip, Brittany Paige Snyder, Richard Strimer, Jared Titus (ensemble).
orchestra
Ben Johnson (Conductor, Keyboard), Michael Favreau (Piccolo, Flute, Clarinet, Alto Saxophone), Jim Gailloreto (Clarinet, Bass Clarinet, Tenor Saxophone), Carey Deadman, Marty Tilton (Trumpet, Flugelhorn), Dan Johnson (Trombone, Bass Trombone), Marc Hogan (Bass, Tuba), Rich Trelease (Drums, Percussion), Alan Bukowiecki (Assistant Conductor), Carey Deadman (Music Contractor)
behind the scenes
Rachel Rockwell (director, choreography), Roberta Duchak (music director), Kevin Depinet (set design), Theresa Ham (costume design), Jesse Klug (lighting design), Ray Nardelli (sound design), Rick Jarvie (wig and makeup design), Nick Heggestad (props design), Adam Ford (stage manager), Emilie Hanlet (asst. stage manager), Juli Walker (production manager), Erika Senase (costume manager), Ben Johnson (music supervisor), Carey Deadman (music contractor), Jeremy Drechny (tech director), Brett Beiner (photos)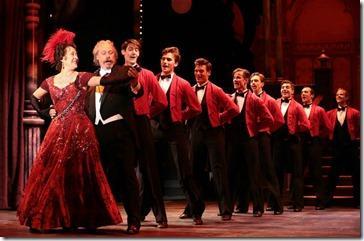 13-1052