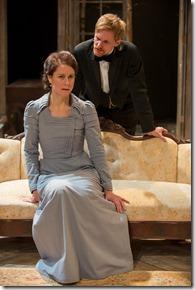 Hedda Gabler
Written by Henrik Ibsen
Translated by Nicholas Rudall  
Directed by Kimberly Senior 
Writers Theatre, 325 Tudor Ct., Glencoe (map)
thru April 6   |  tickets: $35-$70   |  more info
  
Check for half-price tickets 
  
  
   Read review
  
---
   Now extended through April 6th!
Simply stupendous.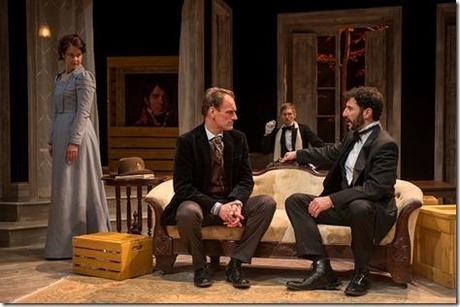 Writers Theatre presents
Hedda Gabler
Review by Katy Walsh 
On Thursday, I saw Hedda Gabler for the last time – Kate Fry's (Hedda) sublime performance has ruined me for any future Hedda Gabler productions.
Playwright Henrik Ibsen, translated by Nicholas Rudall, penned a tale of a complex woman.   The classic centers around the newly-married Hedda.  Living in the late 1800s, Hedda is discontent with the social mores of the era.  The convention of both marriage and motherhood bore her.  She longs for excitement.  She wants to make something happen.  She is desperately looking to make an impact.  Ibsen's story is dramatic as Hedda tries to shed her melancholy by stirring the pot(s) within her sphere.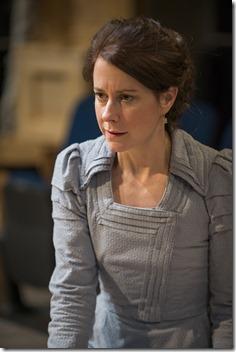 Even though
Hedda
's drama has always been blatant, Director
Kimberly Senior
uncovers the humor.  Senior facilitates a surprisingly playful side to the iconic character.  Instead of the traditional overwrought agitation, Fry delivers her lines stinging with sarcasm. Her face is deadpan.  Her eyes flicker with mischief.  Fry is the original 'mean girl' as she pulls the strings of her self-appointed puppets.  Within the malicious game playing, Fry continually nails the dark humor.  She controls the props in her dollhouse with perfect comedic timing.  Everything she touches does 'turn mean and farcical.' In the end, Fry goes brilliantly manic in resolving her situation.  
The entire cast support Fry in re-defining Hedda.  In particular, the newly-sober Mark L. Montgomery (Lovborg) becomes the perfect target to be Fry-ed.  He crumples under Fry's force. Montgomery impressively goes from tucked to crazed.  In another noteworthy performance, Scott Parkinson (Brack) also makes despicable chuckle-worthy.  The smarmy Parkinson perches like a vulture on the edge of Fry's existence, waiting for room to swoop in. 
Senior masterfully paces the show with a deliberate cadence for dark intrigue and comedy. It may sound cliche but it's the God's honest truth, you haven't seen Hedda Gabler until you see *this* Hedda Gabler.  It is excellent! 
Rating: ★★★★
Hedda Gabler continues through March 16th April 6th at Writers Theatre, 325 Tudor Court, Glencoe (map), with performances Tuesdays and Wednesdays at 7:30pm, Thursdays and Fridays at 8pm, Saturdays 4pm and 8pm, Sundays 2pm and 6pm.  Tickets are $35-$70, and are available by phone (847-242-6000) or online through their website (check for half-price tickets at Goldstar.com). More information at WritersTheatre.org.  (Running time: 2 hours 45 minutes, includes two intermissions)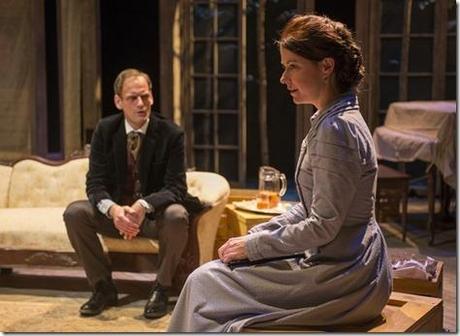 Photos by Michael Brosilow 
---
artists
cast
Kate Fry (Hedda Gabler), Chaon Cross (Thea Elvsted), Barbara Figgins (Juliana Tesman), Sean Fortunato (George Tesman), Mark L. Montgomery (Eilert Lovborg), Scott Parkinson (Judge Brack), Kathleen Ruhl (Berte).
behind the scenes
Kimberly Senior (director), Jack Magaw (scenic designer), Rachel Laritz (costume designer), Christine Binder (lighting designer), Christopher Kriz (sound designer), Julie Eberhardt (props designer), Nate Silver (assistant director), David Castellanos (stage manager), Michael Brosilow (photos)
14-1221