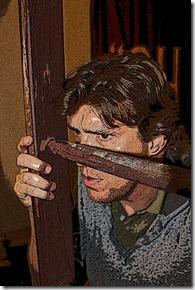 Harry's Halfway House
Written by John C. Davenport  
Directed by Paul Tinsley
at City Lit Theater, 1020 W. Bryn Mawr (map)
thru June 23  |  tickets: $20   |  more info
  
Check for half-price tickets 
  
  
   Read entire review
  
---
Bizarre characters doing bizarre things for the sake of being bizarre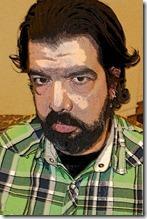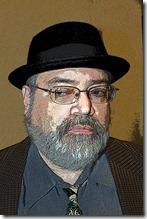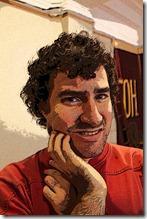 Rebekah Theatre Project presents
Harry's Halfway House
Review by Patrick Dyer
I've noticed a tendency in emerging playwrights lately who believe that having your characters be "eccentric" or "quirky" is somehow all you need for an entire stage play. Unsurprisingly, it results in them lacking any real motivation or, even worse, stakes. And, sadly, that is what's painfully evident in the Rebekah Theatre Project's world-premiere production of Harry's Halfway House.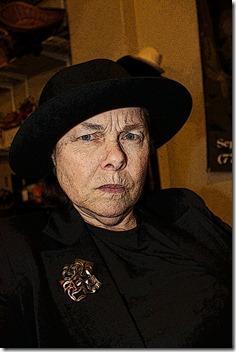 The play takes place in Harry's Halfway House, a boarding house of sorts normally occupied by addicts and drunks. Norris (
Donaldson
), the highly sarcastic owner (himself a recovering addict) who for some reason never leaves his chair, lives with a cast of colorful, quirky characters including a geeky Star Wars fan Jabsen (
Michael Wagman
), an out-of-work doctor with a poetic flair known as the Shaygetz (
Tony Papaleo
) – a Gentile man married (or previously married) to a Jewish woman, the mysteriously muted Porter (
Patricia Tinsley
) who always carries a vase full of cookies, and Jennings (
John Wefler
) who tries to hide from everyone. Elaine (
Carol Ludwick
), from the Department of Social Services, comes by the house because Norris hasn't paid the property taxes, meaning he could lose his beloved family home. A homeless drug addict Tim (
James K. Mahon
) comes into the picture and lands a spot in the house, building a friendship of sorts with Norris. However, he has secrets of his own that could save this dilapidating home.
The script itself feels like a rough draft. A very rough draft. It's clear that playwright John C. Davenport didn't think this concept through very well. It's not that the characters don't have the potential to be interesting; it's just that Davenport doesn't give them anything interesting to do. Most of the action is very static, the story wanders all over the place, and the motivations behind the characters are both weak and confusing (especially for Elaine, Tim, and Porter near the end). The character's interactions consist either of spouting exposition or pointing out each other's character traits over and over to the point of numbness without ever moving forward. Most of the gags are either just strange running gags like everyone trying to steal from Porter's mysterious vase or modern pop-culture references. Matters aren't helped with an abrupt, nonsensical ending when we learn who really owns the house. It comes out of nowhere with little to no build-up (which, honestly, I still don't get, even as I'm writing this.).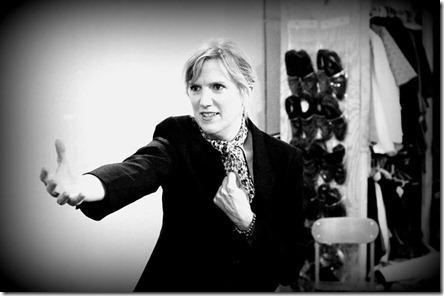 The house is appropriately dilapidated, the costumes are competent, and the make-up design on Tim is definitely worth noting. The use of sound effects is awkward at times – why have a full-on orchestra when Elaine's cell phone rings or why use a pre-recorded snore for Norris when Donaldson can just snore loudly by himself? Wefler's ukulele music brings in some much needed atmosphere before the show begins and during intermission.
The cast as a whole is competent, though none really stand out. To be fair, their characters aren't characters; they're character designs – big difference. True, they're weird and awkward, but without strong motivation or stakes you're left with people who are just weird and awkward. Norris's job in this play seems only to spout awkward one-liners and constant insults to everyone for no apparent reason. I will give Donaldson credit for making me chuckle every now and then, and for doing the whole show sitting in a chair (especially before the show and during intermission), but a lot of the times he seems to be on autopilot. Wagman tries too hard to be funny and ends up making Jabsen the most annoying character in the show. Papaleo nails the poetic flair of the Shaygetz, but he's only there to spell out the "message" for the audience in the end, proving that "tell, don't show" isn't a good writing strategy. Ludwick brings some much-needed energy to her social worker Elaine (though I doubt real social workers would act the way she does). Mahon manages to make his character somewhat sympathetic, but the tonal shifts in the script and the abrupt ending in Act II only hurt him. At first, I was wondering why Tinsely was cast as Porter, though she manages to have fun even if her character makes absolutely no sense especially when we find out why s/he is mute. Wefler's Jennings gets the shaft in this production: he literally does nothing but climb on the furniture, walk across the stage with a ladder, and play the ukulele in a bizarre dream sequence – all without saying a line.
The only thing that has some potential is the relationship between Norris and Tim. While neither the characters nor their relationship are properly defined, these two at least share something in common: they're recovering drug addicts with severe disabilities. Maybe if Davenport had allowed that relationship to play out more naturally instead of forcing in an awkward conspiracy subplot to bring them together, the play could have been much more poignant.
In the end, Harry's Halfway House seems content with just being quirky while leaving audiences feeling empty and having more questions than answers. Quirky means nothing without purpose, motivation, or stakes, and this script is solely lacking all three.
Rating: ★½
Harry's Halfway House continues through June 23rd at City Lit Theater, 1020 W. Bryn Mawr (map), with performances Thursdays-Saturdays at 8pm, Sundays 3pm.  Tickets are $20, and are available by phone (312-544-0002), online (BrownPaperTickets.com), or by sending a reservation request to [email protected]. (check for half-price tickets at Goldstar.com). More information at RebekahTheatreProject.org.  (Running time: 1 hour 45 minutes, includes an intermission)
---
artists
cast
Donaldson (Norris), Michael Wagman (Jabsen), Tony Papaleo (The Shaygetz), Patricia Tinsley (Porter), John Wefler (Jennings), Carol Ludwick (Elaine), James K. Mahon (Tim)
behind the scenes
Paul Tinsley (director, lighting, sound design), James Sparling (stage manager), Patricia Tinsley, Carol Ludwick (costume design), Mary Aurora Moore (set design), John Wefler (original music)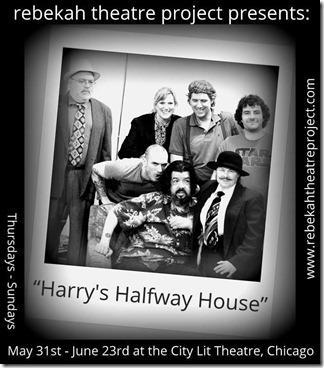 13-0550