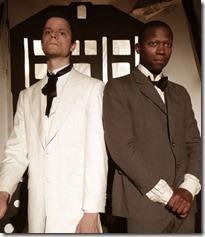 Harry and the Thief 
Written by Sigrid Gilmer
Directed by Krissy Vanderwarker
The Den Theatre, 1331 N. Milwaukee (map)
thru Nov 10  |  tickets: $15-$25   |  more info
  
Check for half-price tickets 
  
  
   Read review
  
---
An extraordinary comic thriller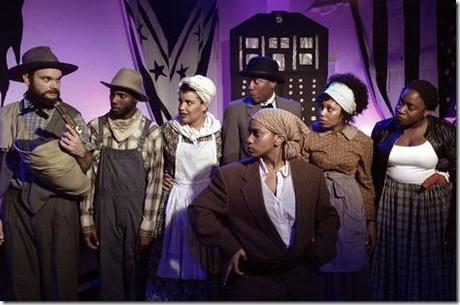 Pavement Group presents
Harry and the Thief
Review by Keith Glab
A quirky scientist named Jeremy (Osiris Khepera) has invented a time machine with the intention of supplying futuristic arms to Harriet Tubman (Marjie Southerland), famed conductor of the Underground Railroad in the mid-19th century, so that the balance of racial power in America turns upside down. He manipulates a thief named Mimi (Lucy Sandy) to take the trip, but Mimi finds her childhood hero ambivalent about the plan. Things really go awry when a slave owner (Alexander Lane) makes the return trip to the future with Mimi…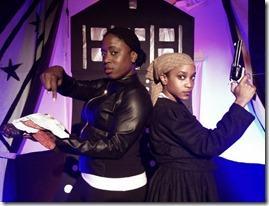 Pavement Group presents the world premiere of
Harry & the Thief
, which is one part action thriller and one part outrageous comedy.
Sigrid Gilmer
's outlandish script teems with comedy that director
Krissy Vanderwarker
further elevates, but the proceedings retain a sound internal logic that allows the audience to go along with the absurdity of what is presented.
Beginning with a uniquely thorough use of The Den Theatre space, Pavement Group pioneers an evening of inimitable theater. Music, song, dance, and fight sequences all play parts in this 90-minute romp. Throughout it all, there remains a subtlety to the actors' performances that nails the humor far better than larger, louder choices would.
There are so many fun and quirky elements slipped into the show that it's impossible to mention them all. Anita (Bryan Bosque), a glamorous diva, narrates/croons/conducts the proceedings while her outfit progressively bears more skin. Much of the action is set to an 80s soundtrack (Billy Idol, REO Speedwagon) and other cheesy 80s-movie hallmarks get peppered in. (One silly element is so unique that the director requested that I not reveal it in my review.)
The production features great double-acts throughout, beginning with the perfectly-timed rapport between Khepera and Sandy as scientist and thief. Lane's slave owner Orry Main gets emotionally attached to one of his cool-headed slaves (Manny Buckley), who nonchalantly corrects Main's grammar now and then. Another slave named Knox (Tyshaun Lang) makes smiling death threats to Overseer Jones (Keith Neagle) while square dancing with him. Several romances develop, ranging from humorously fitting to off-the-wall absurd.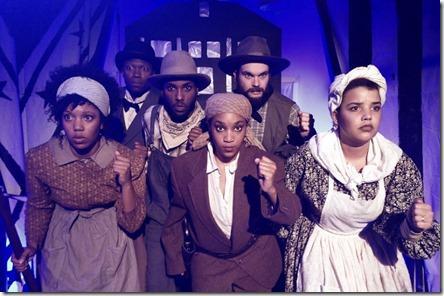 That is the key to the success of this show – an ensemble of skilled character actors who are able to remain grounded and focused while still making big, goofy choices. The cast works extremely well together, moving the story along at a brisk pace without rushing past any moments. Amidst all the irreverent racial jokes, pop culture parodies, and zany physical comedy, this is a well-researched historical drama with moments of poignant social commentary.
You can see Harry & the Thief for its message, its spectacle, its action, or its humor. Most of all, see this production because Pavement Group presents a fresh and entertaining style of theater that you won't find anywhere else.
Rating: ★★★★
Harry and the Thief continues through November 10th at The Den Theatre, 1333 N. Milwaukee (map), with performances Thursdays-Saturdays at 8pm, Sundays 6pm.  Tickets are $15-$25, and are available online through TicketWeb.com (check for half-price tickets at Goldstar.com). More information at PavementGroup.org.  (Running time: 90 minutes, NO intermission)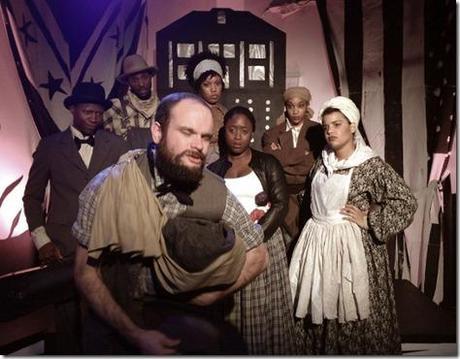 Photos by Brittany Barnes
---
artists
cast
Bryan Bosque (Anita), Manny Buckley (Maddox), McKenzie Chinn (Vivian), Osiris Khepera (Jeremy), Alexander Lane (Orry Main), Tyshaun Lang (Knox), Morgan McNaught (Shilo), Keith Neagle (Overseer Jones), Lucy Sandy (Mimi), Marjie Southerland (Harry), Jared Fernley, Krystel McNeil, Sasha Smith, Jeremy Sonklin (understudies)
behind the scenes
Krissy Vanderwarker (director), Elyse Cowles (asst. director), Mary Krupka (production manager), Danielle Love (stage manager), Megan Truscott (set design), Claire Chrzan (lighting design), Jeff Kelley (sound design), Aimee Plant (props design), Constance Blackmon Lee (costume design), Jenn BeVard (choreography), Matt Hawkins (fight choreography), Dan Mayer (technical director), Brittany Barnes (photos)
13-1029