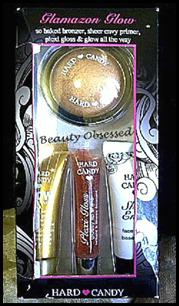 I couldn't resist when I saw this cute little package filled with golden goodies by Hard Candy. I had to run to Wal-Mart yesterday to get one thing, but I knew I couldn't leave without checking out the beauty isles. They had a few different other combos; a pink blush set and a smokey eye package. I just thought this was so cute for $8. I always wanted to try their baked bronzer and the 24 karat glow all the way face & body luminizer, I just recently ran out of their primer too so that's one of the major reasons I bought it.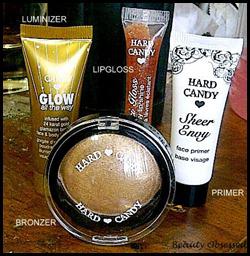 The size of each product are equal to travel sizes, it came with:
 Glow All They Way Face & Body Luminizer infused with 24 karat gold
Plexi Gloss Glossy Lip Shine in Genie 
So Baked Bronzer in Tropics
Sheer Envy Face Primer
I did a swatch of each product except for the face primer because there's no color to it. When looking at the swatches keep in mind that my camera combined with the lighting didn't do the best job at showing their true colors. I have to work on adjusting the lighting but you'll get the idea, this is also my first time swatching colors, I know right? lol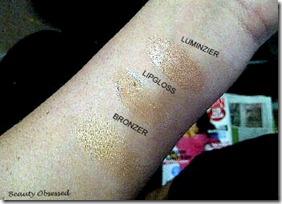 I've never seen these packages before, maybe it's something new they came out with or maybe its just a random product they are selling for a short time because there were only 2 other packages left. I'm happy I bought it though, I need to try more of Hard Candy's products.



How do you guys feel about Hard Candy's products, have you tried a lot of them, like them or no?