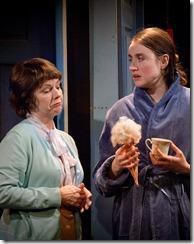 Happy Now? 
Written by Lucinda Coxon 
Directed by Roger Smart
at Stage 773, 1225 W. Belmont (map)
thru March 3  |  tickets: $28   |  more info
  
Check for half-price tickets  
  
   Read entire review
  
---
It's not always happily ever after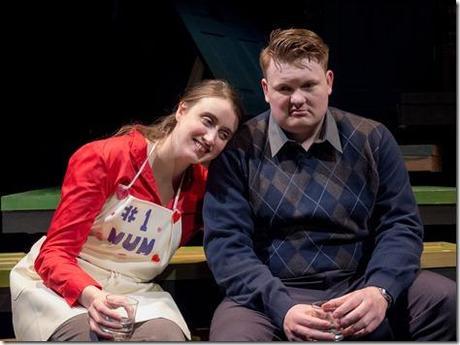 Shattered Globe Theatre presents presents
Happy Yet?
Review by Joy Campbell
Happy Now? takes an honest, cynical look at what happens when the things you think will lead to Happily Ever After lead merely to This Is All There Is. At a business conference, Married-With-Kids Kitty (Christina Gorman) meets Michael (Ben Werling) a fellow attendee who quickly makes it clear he's interested in sleeping with her. At first blush, he seems repulsively smug and self-assured, but we soon realize he's — well, yes, smug — but also very candid and self-aware. In a brilliant monologue, he describes to a skeptical Kitty exactly what she thinks about him, and what she will think and do when she walks away from him in disgust, the second thoughts she'll have about her situation, the unhappiness she really feels about her life. He explains that he seduces women by being honest about what he's doing. "The trick," he says, "is that there is no trick." Watching Kitty's face during his spiel, we see him hit the mark more than once, and we ourselves are also grudgingly convinced.
Kitty's husband, Johnny (Steve Peebles) has left his high-powered corporate job to work as a schoolteacher and do something meaningful. While he enjoys his work, Kitty is disappointed to discover that it's as demanding on his time as his former occupation, frequently leaving her alone with parenting and household duties. She in turn has been filling in for her boss, the head of a charity who is battling cancer. Kitty struggles to balance marriage, job, kids, and personal identity. When Johnny asks Kitty what she's thinking, she replies, "I'm thinking, 'Is this my real life? For-the-rest-of-my-life-life?'" Kitty feels overwhelmed, under-supported, and under-appreciated. Added to this, the father who left her and her mother when Kitty went to college is now in hospital gravely ill. Kitty longs to ask him whether he became unhappy after he left, or had been unhappy all along and only waited for her to go to college before he cut out. It's in this stranger that Kitty hopes to find some answers to her own unhappiness, or at least some kindred understanding, but she can't muster the courage to ask the question. Meanwhile, her bitter, attention-seeking hypochondriac mother (Linda Reiter) has spent most of her life expecting her estranged husband to telephone.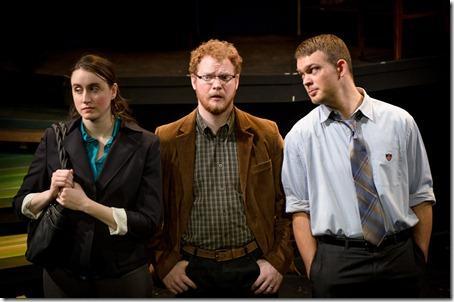 Kitty's best friend, Carl (Karack Osborn) has fallen in love with a very young man, and through him we experience the optimism and excitement of the first blush of love. When the relationship falls apart, we see the same Carl who was previously enamored facing in hindsight the reality of the relationship's imbalance. Kitty's and Johnny's friends Miles (Drew Schad) and Bea (Cortney McKenna) are an upper-middle class couple drifting apart; Bea has taken on a home-improvement project in an attempt to give them something to do together. Bea is stable, organized, and well intentioned next to the dissolute Miles, but as a woman who can't choose among a half-dozen colors of beige for the walls, she holds no excitement for him. Miles, on the other hand, is a jerk who holds no stability for Bea, and entertains himself by making nasty remarks about her until she kicks him out.
While disillusionment by realized dreams, or marriages straining to survive with stress are not novel themes, what's refreshing about Coxon's script is that she doesn't wrap it up with a nice neat "but it all works out in the end" bow. The script subtly references fairly tales throughout, and contrasts the fantasy of Happily Ever After with the often disappointing reality of life: Kitty talks about having to read tales over and over to her 5-
year-old daughter; Kitty herself could be a fairy-tale princess, with her own mother the evil crone of the fairly tales and her father the ineffectual, absent patriarch who can't protect her. Rather than feeling rescued by a prince, Kitty feels taken for granted by her husband and kids. She talks about researching the tale of "Sleeping Beauty," and discovered that the original Italian story is not one of a wronged princess being rescued by a chivalrous prince, but one where the princesses' helplessness is exploited in a very dark way by an opportunistic prince. Even the fairy tale, the script
implies, is a fairy tale.
The performances are very strong overall; As Kitty, Christina Gorman is solid and believable, although at times I wanted to see her break the restraint she shows throughout most of the show, and give us a deeper look. Cortney McKenna is spot-on as the sheltered Bea who develops some spine and shows that for all of her beige-challenged ways, she at least has the guts to go after what she thinks will help her be happy, even if it isn't earth-shattering. Steve Peebles walks a fine line as Kitty's husband Johnny, a good but self-involved man who believes in his job, and who cannot
understand his wife's unhappiness, and takes it personally. As Carl, Karack Osborn is the optimist who wants to believe that real love is out there. Drew Schad's Miles is fairly self-pitying and vile; Schad does a good job of keeping him real without resorting to caricature. As mentioned, Linda Reiter does an excellent job as Kitty's self-victimized mother, a woman we should all pray we never become. As Michael the seducer, Ben Werling gives the most entertaining performance. He, too, would be easy to play for caricature, but Werling manages to make him fairly likeable, if not someone to whom we'd like to be married.
Mention must be made of Amanda Rozmiarek's excellent, expressionistic set. An orchestrated chaos of imagery, it seems to reflect the issues swirling around Kitty: the left wall displays a parade of suits that begins with a coat and morphs into a full body carrying a briefcase. The right wall is a flurry of papers flying from an open briefcase and suspended in mid-flutter; doors compose the stairs, entrances and exits, and part of a
wall askew as if to represent the many options in life, and everywhere are picture frames of all sizes. Photos of family, kids, celebrated events are a ubiquitous symbol of personal accomplishment. The frames are empty.
As in life, there is no clear resolution to this play. Watching Kitty sitting between two clueless men, watching TV, though, we get the feeling that there is no happily ever after for this princess.
Rating: ★★★
Happy Now? continues through March 3rd at Stage 773, 1225 W. Belmont (map), with performances Thursdays-Saturdays at 8pm; Sundays 3pm.  Tickets are $28 ($10 students, day of; $5 industry), and are available by phone (773-327-5252) or online through Stage773.com (check for half-price tickets at Goldstar.com). More information at ShatteredGlobe.org.  (Running time: 1 hour 45 minutes, includes an intermission)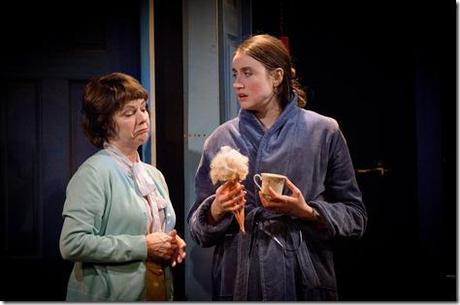 Photos by Kevin Viol 
---
artists
cast
Christina Gorman (Kitty), Cortney McKenna (Bea), Karack Osborn (Carl), Steve Peebles (Johnny), Linda Reiter (June), Drew Schad (Miles), Ben Werling (Michael), Erika Haaland (Understudy, Kitty/Bea)
behind the scenes
Roger Smart (director); Kelsey Melvin (assistant director); Amanda Rozmiarek (scenic design, master carpenter, technical director); Nöel Huntzinger (costume design); Richard Norwood (lighting design); Melissa Schlesinger (sound design); Vivian Knouse (props design); Kathy Logelin (dialect coach); Judy Anderson (production manager); Christine Gorman (fight director); Rosie Chevalier (producer); Jeffrey Clark Stokes (stage manager); Sean Tait (master electrician); Kevin Viol (photos)
13-0150