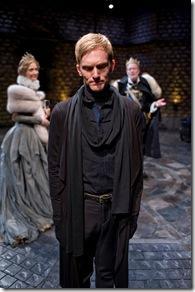 Hamlet 
Written by William Shakespeare 
Directed by Michael Halberstam 
at Writers' Theatre, Glencoe (map)
thru Nov 11  |  tickets: $   |  more info
  
Check for half-price tickets 
  
  
   Read entire review
  
---
Writers' Hamlet is crazy great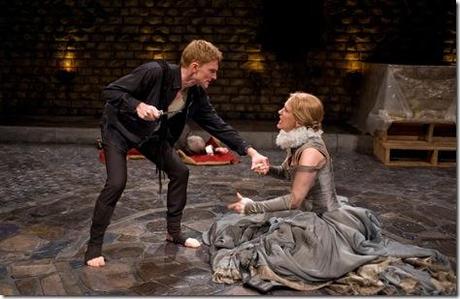 Writers' Theatre presents
Hamlet
Review by Katy Walsh 
Family drama is always unpleasant!  But I try to keep it in perspective.   Was anyone stabbed, poisoned, or drowned at the family gathering?  Okay then, it wasn't truly family drama.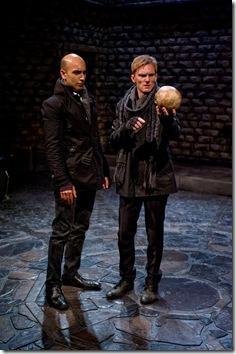 Writers' Theatre presents
Hamlet
.  The king is dead.  The queen is remarried.  The prince is mad.  The king's ghost tells Hamlet that he was murdered. His own brother   Claudius killed him to take the crown and the queen. The news sends Hamlet into a wacko rampage.  He wants a confession and revenge.  His mother is concerned.  His girlfriend is bewildered.  His uncle is unfazed.  The combination response makes him lose it even more.  Writers'
Hamlet
is a unique and unforgettable tale of a classic.  
Director Michael Halberstam made a deliberate choice to do it different.  Halberstam cast Scott Parkinson (Hamlet) in a leading role that has been traditionally bestowed on actors like Timothy Edward Kane (Laertes).  Physically, Parkinson is diminutive, and this contrasts brilliantly with the majestic statuesque Shannon Cochran (Gertrude) and Michael Canavan (Claudius).  Mentally, Parkinson is bat-shit crazy and this really sets him apart from the regal Cochran and Canavan.  Under Halberstam's direction, an animated Parkinson goes beyond the customary subtle Hamlet brooding.  Parkinson rants with a one-flew-over-the-cuckoo's nest absurdity.  He spellbinds with an exhausting and raw delivery.  
With Parkinson's fervor defining the show's tone, the rest of the talented ensemble pop in moments of quiet distinction.  A poignant Kane reacts to his sister's death.  A calculating Canavan plots the deadly duel.  A stunning Cochran tries to deflect her son's madness.  Playing multiple roles, Larry Yando (gravedigger, ghost) interjects delightful humor and commanding edicts.   And especially because Parkinson is so off-the-rails, Kareem Bandealy (Horatio) endears in loving loyalty to Hamlet. 
I've seen three movie versions of Hamlet, including the magnificent Laurence Olivier version.  I've seen at least seven stages versions of Hamlet, including two last year.  I've never seen anything like *this* Hamlet. Writers' Hamlet is crazy-great!
Rating: ★★★★
Hamlet continues through November 11th at Writers' Theatre, 325 Tudor Court, Glencoe (map), with performances Tuesdays and Wednesdays at 7:30pm, Thursdays-Fridays 8pm, Saturdays 4pm and 8pm, Sundays 2pm and 6pm.  Tickets are $65-$70, and are available by phone (847-242-6000) or online through PrintTixUSA.com (check for half-price tickets at Goldstar.com). More information at WritersTheatre.org.  (Running time: 3 hours, includes two intermissions)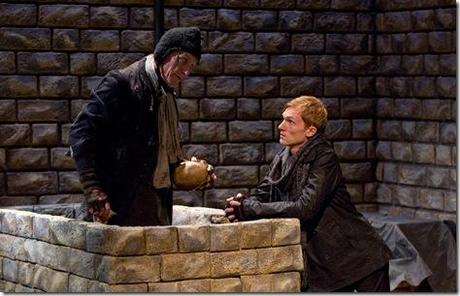 Photos by Michael Brosilow 
---
artists
cast
Scott Parkinson (Hamlet), Shannon Cochran (Gertrude), Michael Canavan (Claudius), Timothy Edward Kane (Laertes), Larry Yando (Ghost, Gravedigger), Ross Lehman (Polonius), Kareem Bandealy (Horatio), Liesel Matthews (Ophelia), Julian Parker (Rosencrantz), Witold Huzior (Fortinbras), Billy Fenderson (Guildenstern)
behind the scene
Michael Halberstam (director); Collette Pollard (scenic); David Hyman (costumes); Sarah Hughey (lighting); Mikhail Fiksel (sound); Nick Heggestad (props); David Woolley (fight choreography); David Castellanos (stage manager); Michael Brosilow (photos)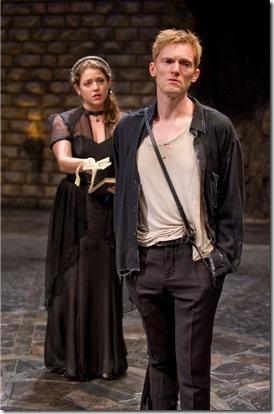 12-0929