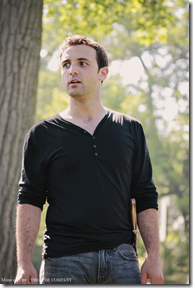 Hamlet
Written by William Shakespeare 
Directed by Jemma Alix Levy  
Ingraham Park, 2100 Ridge, Evanston (map)
thru Aug 30  |  free admission   |  more info
  
Check for half-price tickets  
  
  
   Read review
  
---
Outdoor Bard is the best Bard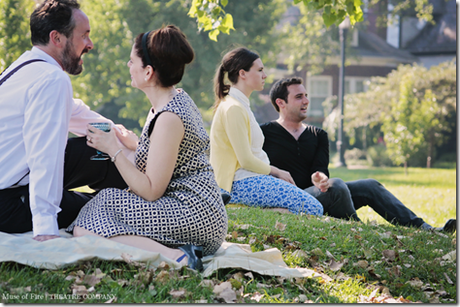 Muse of Fire Theatre presents
Hamlet
Review by Lauren Whalen 
Muse of Fire Theatre not only has a brilliant concept – free Shakespeare in a gorgeous outdoor setting – but also attracts fantastic talent. When I think of organizations I want funded, Muse of Fire is close to the top of the list. I first discovered MoF last summer when I reviewed their stellar Romeo and Juliet, and their latest production of Hamlet doesn't disappoint. This Hamlet trusts Shakespeare's brilliant language, eschewing bells and whistles and presenting a compelling story in a simple, rustic setting with immensely gifted players.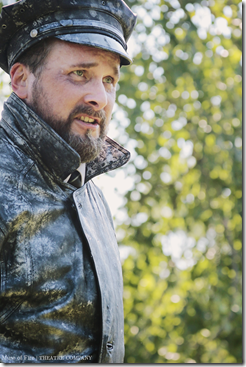 Upon watching
Hamlet
, even those who have studied the play (essentially, most everyone who graduated high school in the United States) may forget just how many lines from the play have made it into the cultural lexicon. Not just "to be or not to be" and "something is rotten in the state of Denmark," but "to the manor born," "neither a borrower nor a lender be," and "to thine own self be true." The list goes on and on. Additionally,
Hamlet
was surprisingly ahead of its time in its treatment of mental illness – in acknowledging that mental illness exists in the first place.
While outdoor theater is always a gamble, the Saturday afternoon I attended Evanston's Ingraham Park was pleasant, sunny and breezy. MoF stages its productions in a grassy area of the park with two large trees, which provide dappled shade and serve as a majestic, natural set piece and the sunshine apt lighting.
Director (and Muse's Artistic Director) Jemma Alix Levy keeps the pacing tight and the action plentiful, so much so that even the children in the audience were captivated and engaged throughout the production's two-and-a-half hour running time. Perhaps the strongest element of Levy's direction is her understanding and deep reverence for Shakespeare's language. She keeps the staging basic but compelling, aided by Jon Beal's superb fight choreography and Noël Huntzinger's simple but lovely costume design. Thanks to Jason K. Martin's excellent vocal coaching, the actors' diction and volume is perfect. Having to deal with summer street noises of car alarms, airplanes and various shouts of children playing is a challenge to say the least, and every line and syllable (save for a little bit of minor dialogue) is clear and present.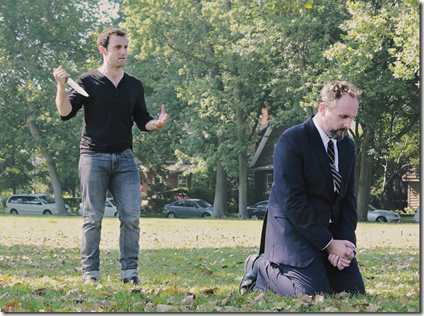 Like last summer's Romeo and Juliet, Hamlet boasts a stellar ensemble of trained and capable players. Standouts include Caitlin Aase in the dual role of Barnardo and Rosincrantz, and Rejinal Simon as Guildenstern/Marcellus/Fortinbras – both actors create and maintain a wonderful rapport throughout the course of the play. Benjamin Ponce is a sympathetic, mature Horatio, and has grown more comfortable with Shakespearean acting since his turn in Romeo and Juliet a year ago. Ken Miller brings a brotherly concern and moral center to Laertes, and Sasha Kostyrko's Ophelia makes a convincing, heartbreaking journey from bookish and sweet girl to woman on the verge. While Alex Fthenakis' Hamlet gets a little too glib at times, his ironic humor and self-absorption largely doesn't detract from the character's sense of inner and outer destruction. And Brent T. Barnes is a force to be reckoned with: as both Hamlet's nefarious uncle/stepfather Claudius and the ghost of Hamlet's father, Barnes possesses a booming voice and a standout presence that the audience will not soon forget.
When director and cast are capable, there's no need to dress up a Shakespeare play with outlandish settings and egregious effects, both of which I've witnessed far too often. Levy does a beautiful job with concentrating on dialog and acting, and the cast is more than up to the challenge. There's a reason Hamlet has lasted through the ages: it's a sad but dynamic story written in the most beautiful way, and Muse of Fire, quite simply, gets it.
Rating: ★★★★
Hamlet continues through August 30th at Evanston's Ingraham Park (2100 Ridge – map) and Public Library (1703 Orrington – map), with performances Saturdays and Sundays at 3pm.  All performances are free – seating is open and unlimited.  For more information, and a complete schedule, call 847-707-8632, or visit MuseOfFire.org.  (Running time: 2 hours 30 minutes, includes an intermission)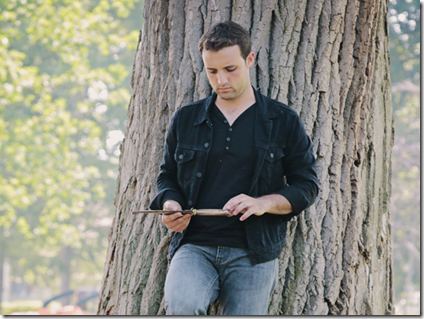 Photos by Teresa Foote 
---
artists
cast
Caitlin Aase (Rosincrantz, Barnardo), Brent T. Barnes (Claudius, Ghost), Paul Chakrin (Player King, Philosopher), Cameron Feagin (Gertrude), Alex Fthenakis (Hamlet), Brett Garrett (Voltemond, Francisco), Sasha Kostyrko (Ophelia, Judge), Ken Miller (Laertes, Player), Joe Page (Polonius, Priest), Benjamin Ponce (Horatio), Rejinal Simon (Guildenstern, Marcellus, Fortinbras), Helen Young (Player Queen, Gravedigger), Elliot Cruz (understudy)
behind the scenes
Jemma Alix Levy (director), Lisa Uhlig (stage manager), Noël Huntzinger (costume and prop design), Steph Taylor (assistant costume design), Jon Beal (fight choreography), Jason K. Martin (vocal coach), Brett Garrett (fight captain), Elliot Cruz (house manager), Sally Beck Wippman (dramaturgical assistant), Teresa Foote (photos) 
15-0734