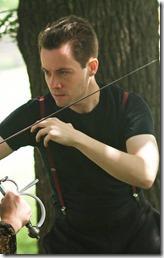 Multifaceted, well-acted and free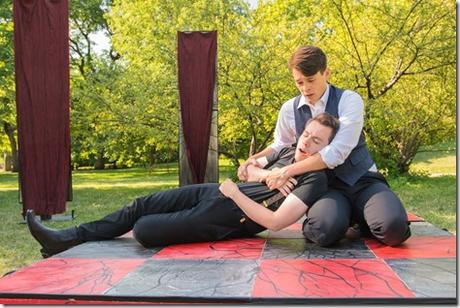 Review by Lauren Whalen
Out of all Shakespeare's plays, Hamlet may be the most quotable. Every expression from "neither a borrower nor a lender be" to "shuffle off this mortal coil," to "to thine own self be true" appear in the play. (Many appear in the same speech, even.) In addition, the classic Shakespearean elements of family, loyalty, bloodshed and existential crisis are all present, times ten. For the above reasons, staging Hamlet without descending into cliché overdramatics can be incredibly difficult. Now in its sixth season of presenting free Shakespeare in Chicago parks, Midsommer Flight both keeps Hamlet simple (with a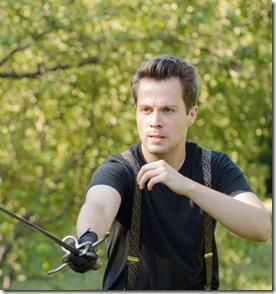 100-minute abridged version that's relatively kid-
and
dog-friendly), and dives into the complexities of mental illness, violence and the consequences of living in one's own mind.
On paper, Hamlet (Samual Cheeseman) is the Prince of Denmark. The reality is more complex: he's a kid, home from college, whose mother Gertrude (Morayo Orija) has just married his uncle Claudius (Jared Dennis), not two months after the death of his father. Haunted by visions of his father's ghost (also played by Dennis), Hamlet slowly loses control of his mind and body. Or is his madness manufactured? Gertrude and Claudius are at a loss, as is Hamlet's intellectual friend Horatio (Ian Michael Minh) - who's also seen the ghost - and Hamlet's sweet, fragile love interest Ophelia (Bianca Phipps). What's a Dane to do? Start a lot of fights, stage a play slandering his mother and uncle, and ruminate on a mental state that's slowly but surely going down the drain.
Since its debut production of A Midsummer Night's Dreamin 2012, Midsommer Flight has only grown stronger. Artistic Director has helmed all productions thus far, and may be her finest work yet. Wolf keeps the pacing tight while retaining the script's essential and iconic material, and incorporates live music, an incredibly simple but symbolic set, and just enough stage combat (fantastically designed by fight directors Chris Smith and Maureen Yasko) to keep things interesting. The costumes are modern but classic, comfortable with a touch of Old World, and the story both easy to follow and suspenseful, even for those of us who know the bloody end. On opening night, the weather in Lincoln Park was perfection, with minimal street noise, elegant ambiance and, at one point, enthusiastic participation from a nearby dog.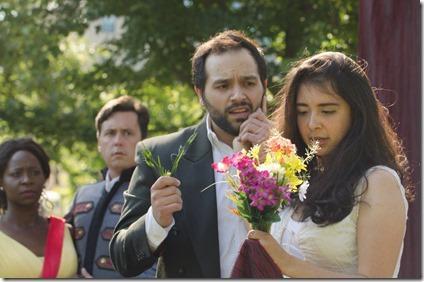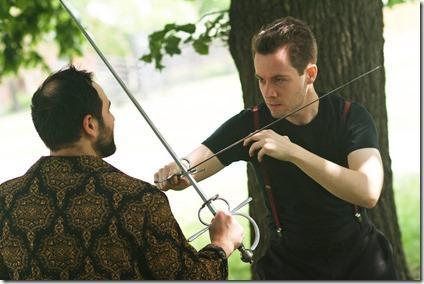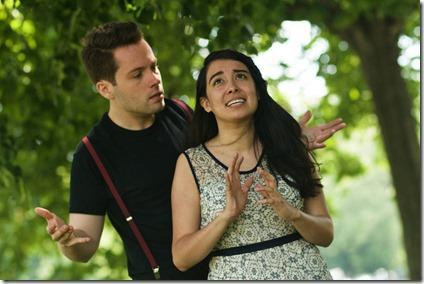 The title role is perhaps one of the most difficult in theater history, requiring just the right balance of intellectualism and emotion, not to mention stamina for intense scenes and multiple soliloquies. It's easy to play Hamlet as a characterization of "crazy," as I've seen in lesser productions (not only simplistic, but disrespectful to boot). Thankfully, Cheeseman escapes these traps and dives right into the character's over-the-top and subtle moments. His Hamlet is manic, but realistically so, recalling his old master Yorick with an obsessive fondness, and earlier, contemplating suicide with a sick joy, wielding a dagger as if it's a child's toy. He taunts the innocent and lovely Ophelia (played by Phipps with equal care and skill) to the point of madness, but may not understand exactly what he's doing. Cheeseman's Hamlet is a star turn for sure, but the cast has several brilliant performances, including Dennis as the slick Claudio and the tortured ghost, Joe Sergio as Ophelia's caring but combative brother Laertes, and Emily Renee Shimskey in multiple roles, including one of Ophelia's darkly humorous gravediggers.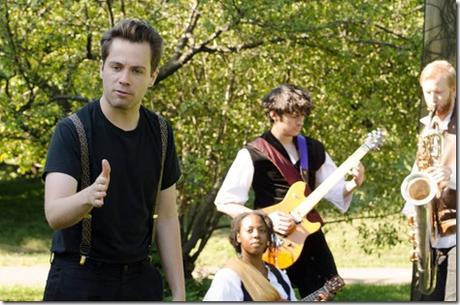 This will run through the end of August in various parks throughout Chicago (including another turn in Lincoln Park August 26-27). Audience members can bring their own chairs and blankets (and in many cases, picnics, kids and well-behaved pit bulls) and settle in for either a lively introduction to Shakespeare or a vibrant, nuanced interpretation of a well-loved classic. 's universal appeal makes the play one for the ages, and Midsommer Flight's exceptional production is not to be missed.
continues through August 27th at Touhy Park (July 15-16, 22-23), Schreiber Park (July 29-30, August 5-6), Gross Park (August 12-13, 19-20) and Lincoln Park (August 26-27), with performances Saturdays at 6pm Sundays 2pm. Tickets are free, but seating is first-come-first-served, and audience members may want to bring their own blankets or chairs. More information at MidsommerFlight.com. (Running time: 1 hour 40 minutes, no intermission)
Photos by Zach Whittington, Tom McGrath
Samual Cheeseman (Hamlet), Jared Dennis (Claudius, Ghost), Stephen Fedo (Polonius), Martin Gutfeldt (Player King, Musician [saxophone], Adam Habben (Marcellus, Player 1, Lucianus, Gravedigger 2, Osric), Amber Hugee (Musician [percussion, ukulele,vocals]), Ian Michael Minh (Horatio), Jesse Montoya (Rosencrantz), Morayo Orija (Gertrude), Bianca Phipps (Ophelia), Adam Rice (Guildenstern), Erick Rivera (Musician [electric guitar, snare drum]), Joe Sergio (Laertes), Emily Renee Shimskey (Player Queen, Gravedigger 1, Messenger)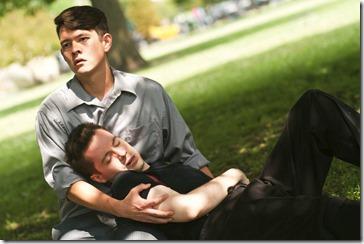 behind the scenes
(director), Robin Waisanen (stage manager), Meredith Ernst (asst. director), Adam Habben (fight captain), Jenna Meyers (props design), John Morrison (graphic designer), John Olson (press relations), Elizabeth Rentfro (vocal coach, composer, music director), Erick Rivera (composer, music captain), Chris Smith , Maureen Yasko (fight directors), Kelly Tietjen (house manager), Zach Whittington (publicity photographer), Tom McGrath (production photos)
Tags: 17-0705, Adam Habben, Adam Rice, Amber Hugee, Beth Wolf, Bianca Phipps, Chicago Theater, Chris Smith, Elizabeth Rentfro, Emily Renee Shimskey, Erick Rivera, Ian Michael Minh, Jared Dennis, Jenna Meyers, Jesse Montoya, Joe Sergio, John Morrison, Kelly Tietjen, Lauren Whalen, Martin Gutfeldt, Maureen Yasko, Meredith Ernst, Midsommer Flight, Morayo Orija, post, Robin Waisanen, Samual Cheeseman, Shakespeare in the Park, Stephen Fedo, Tom McGrath, William Shakespeare, Zach Whittington
Category: 2017 Reviews, Chicago Park District, Lauren Whalen, Midsommer Flight, Outdoor Performance, William Shakespeare