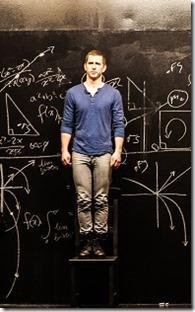 hamlet is dead.
   no gravity
Written by Ewald Palmetshofer
Translated by Neil Blackadder
Directed by Seth Bockley  
at Red Tape Theatre, 621 W. Belmont (map)
thru Feb 22  |  tickets: $25   |  more info
  
Check for half-price tickets 
  
  
   Read review
  
---
'hamlet' pulls you in with stylized intrigue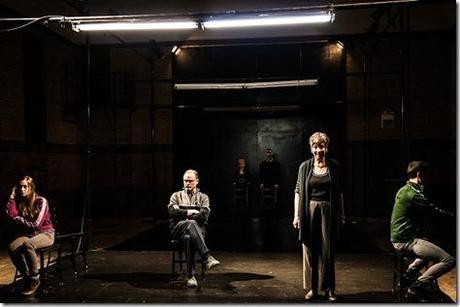 Red Tape Theatre presents
hamlet is dead. no gravity
Review by Keith Glab
Avant-garde theatre typically consists of a frustratingly absurd plot that underscores clear thematic points. In hamlet is dead. no gravity, an English-language world premiere, the converse applies. The narrative of Austrian Ewald Palmetshofer's play is made abundantly clear through much repetition, yet no amount of repetition can elucidate the many thematic issues Palmetshofer endeavors to raise.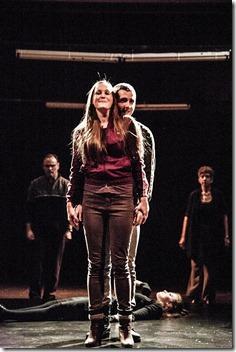 Very little happens in the first hour-plus of the play besides the establishment of character relationships. Caro (
Lona Livingston
) invites her 30-ish kids Dani (
Amanda Drinkall
) and Mani (
Alex Stage
) over to her house for their grandmother's 95th birthday. They learn that an old friend of theirs has died (presumably hamlet, given the title of the piece, though everyone pronounces it as something like Hanis). At the funeral, they run into a married couple with whom they used to be good friends, Oli (
Blake Russell
) and Bine (
Sarah Grant
).
Dani had previously dated Oli, and does a very poor job of hiding her still strong feelings for him. Mani laments how no one is attracted to him (no gravity) and seems that he may be in a physical relationship with his sister. Caro plots to rid herself of her mother by staging an accident, while her husband Kurt (John Fenner Mays) appears suspiciously obsessed with the details of hamlet/Hanis' death.
As all this tension mounts, each character addresses the audience with tangents involving vague phrases. Bine goes on about coincidence and rotating axes, Dani uses various meanings of the word 'lengthwise' to describe her relationship with Oli, and Mani advocates 'living in the moment' and calculates how 'heaven is a number.' These phrases (and more) apply to the situation of the play to varying degrees, and get repeated over and over, though this repetition does not help further elucidate meaning.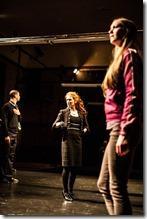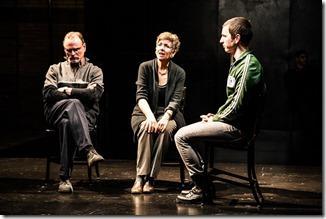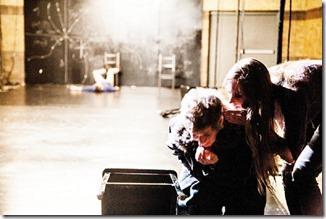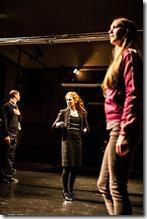 Seth Bockley's precise-yet-invigorating staging, along with a tremendously talented cast, help offset any frustration from this tedious repetition. The actors choreograph tossing and turning in bed, spit takes, and rotating between chairs gorgeously timed to monologues. The rhythm of the piece continues with an ominous ticking sound during scenes set in the parents' home. The meta-theater gets heightened by Dinah asking for several breaks during the storytelling.
The play's climax satisfies when it finally arrives, not because of the abstract adages drilled into the audience for the previous 90 minutes, but because it provides an interesting resolution for the problems of six relatable characters. Comic timing and nuanced facial expressions enhance what has to be labeled a tragedy. Despite being weird and repetitive, hamlet is dead. no gravity earns points for creativity, uniqueness, entertainment, and shock value. Perhaps the vague mantras will reach a small section of each audience as well.
Rating: ★★★
hamlet is dead. no gravity continues through February 16th at Red Tape Theatre, 621 W. Belmont (map), with performances Thursdays-Saturdays at 8pm, Sundays 7pm.  Tickets are $25, and are available online through Tix.com (check for half-price tickets at Goldstar.com). More information at RedTapeTheatre.org.  (Running time: 1 hour 40 minutes, no intermission)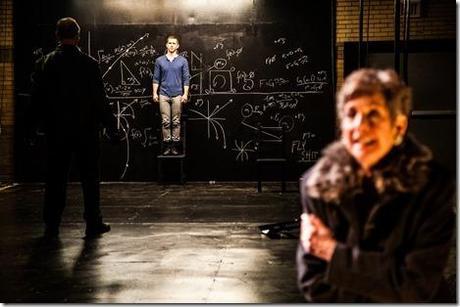 Photos by Austin D. Oie 
---
artists
cast
Amanda Drinkall (Dani), Sarah Grant (Bine), Lona Livingston (Caro), John Fenner Mays (Kurt), Blake Russell (Oli), Alex Stage (Mani), Brett Matthews (understudy: Mani, Oli), Ali Burch (understudy: Dani, Bine)
behind the scenes
Seth Bockley (director), Jesse Roth (asst. director), Neil Blackadder (translator), Izumi Inaba (costumes), Jarrod Bainter (technical director), Daniel D. Drake (stage manager), Shawn Ketchum Johnson (set design), Julie Mack (lighting design), Misha Fiksel (sound design), Austin D. Oie (photos), Don Markus (video)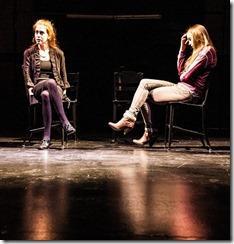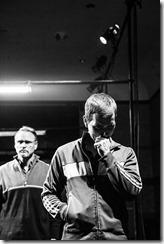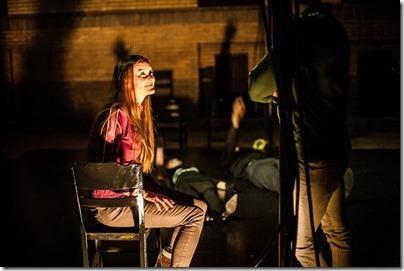 14-0150