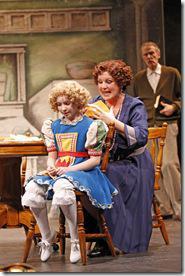 Gypsy 
Arthur Laurents (book), Jule Styne (music), 
and Stephen Sondheim (lyrics)
Directed by William Osetek
at Drury Lane Theatre, Oakbrook (map)
thru March 25th  |  tickets: $35-$46  |  more info
  
Check for half-price tickets 
  
  
   Read entire review
  
---
Everything's coming up 'Gypsy'!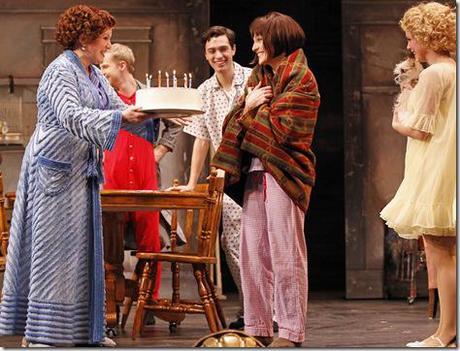 Drury Lane Oakbrook presents
Gypsy
Review by Lawrence Bommer
Some people say Gypsy is the greatest Broadway musical ever written. And "some people" are probably right. It's not just a stirring story of an ugly duckling turning into a swan or a stage mother from hell morphing into a humble fan (and admitting that for years she was living vicariously through her daughters and not for them).
It's not just because Gypsy is that rare musical where every song either carries its weight, earns its place in the plot, conjures up its context (the era of vaudeville and the world of burlesque), or stands on its own for fertile melody and brilliant lyrics. Or because the story pulls you along, as frantically as Rose does her fractious and all-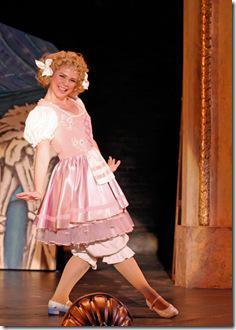 suffering thespian clan.
No, it's mainly because Gypsy captures why we make musicals and see them—the drive to exchange humdrum life for showbiz moxie, even if it's a trick of the light, smoke and mirrors, a one-trick pony. The love of the art, with all its appalling and appealing truth and tinsel, propels this unstoppable plot to its dynamite ending.
Gypsy is as much a celebration of the addictive insanity of show business as a chronicle of the checkered childhood of super-stripper Gypsy Rose Lee. Stephen Sondheim's crackling lyrics gave Jule Styne's tunes whiplash wit and psychological heft. This slice of showbiz conjures up drafty auditions, unheated dressing room, crowded boarding houses, stolen cutlery, a traveling menagerie—from Seattle to Wichita and across the yawning Depression. The detritus that Rose leaves behind as she ruins yet another marriage before its wedding defines theater as few shows can. The rest is legend.
However strong the story and diverse its travelogue, it's essentially a vehicle for whoever plays Mama Rose, the mother hen to end all eggs, who confuses fame with family as she accidentally kills vaudeville. Ethel Merman grew the role, Bette Midler cured it (as in ham), and now Klea Blackhurst rents, if not owns, it. A born belter when she sings but almost Betty Boop when she speaks in an adenoidal baby talk, Blackhurst nonetheless sinks her show-stoppers in a character as clear as hunger. "A pioneer woman without a frontier," Rose is every striver who's sick of second billing when she can taste the marquee.
Curiously, compared to Rosalind Russell (portraying Rose in the 1962 movie) or even Bernadette Peters, Blackhurst plays Rose with less friction and more eagerness to please. The real dynamo wouldn't give a damn. But in "Rose's Turn" she breaks down beautifully—all her motherly love suddenly congealing into burning rage over what SHE might have been, not Baby June or little Louise. Call it scream therapy, closure, an epiphany or catharsis—it works on more than Mama Rose.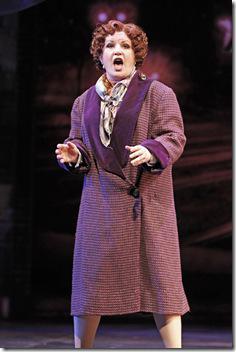 Framed by an old-style revolving proscenium with vaudeville signboard announcing the many locales,
William Osetek
's staging surrounds Mama Rose with tailor-made triumphs, namely
David Kortemeier
, down-to-earth as Rose's patient suitor Herbie,
Andrea Collier
as the temperamental ex-Baby June, and, above all,
Andrea Prestinario
, a self-effacing Louise until she blossoms into Gypsy Rose Lee. The most cunning contribution—and attempt to distance her role from the memory of
Natalie Wood
—comes when Prestinario does her first strip. Forgetting she's supposed to be a lady (what set Gypsy off from the bump and grinders), she's clearly angry at her mother and so much else. But slowly the joy of finally being seen and on her own terms overwhelms everything else and, yes, a star is born.
With all these set changes, the scenery necessarily really does look like scenery until it's hard to tell the real-life settings from Rose's improvised backdrops. That might be a problem is what's up front wasn't so special, like Matthew Crowle's awesome semi-solo as dance-happy Tulsa crooning how "All I Really Need Is The Girl" or the never-more-hilarious trio "You've Gotta Get a Gimmick." That too-brief song and dance–and yes, even the novelty number with a trumpet, lights and pasties–remind us exactly why we sit in our seats or, more importantly, don't: Everything's coming up "Gypsy!"
Rating: ★★★
Gypsy continues through March 25th at Drury Lane Theatre, Oakbrook (map), with performances Wednesdays at 1:30pm, Thursdays at 1:30 and 8pm, Fridays at 8:30pm, Saturdays at 5pm and 8:30pm, and Sundays at 2pm and 6pm. .  Tickets are $35-$46, and are available by phone (630-530-0111) or online here (check for half-price tickets at Goldstar.com). More information at DruryLaneOakbrook.com.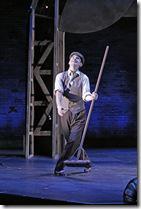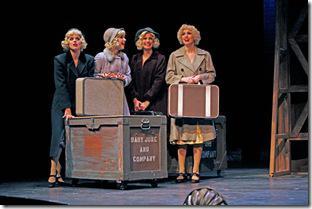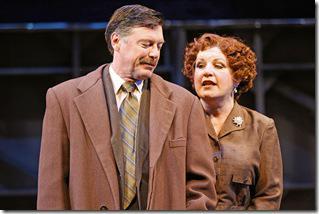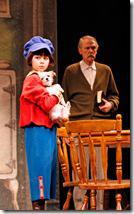 All photos by Brett Beiner 
---
artists
cast
Klea Blackhurst (Rose); Andrea Prestinario (Louise); David Kortemeier (Herbie); Andrea Collier (June); Emily Leahy (Baby June); Frances Asher (Electra); Cheryl Avery (Mazeppa); Matthew Crowle (Tulsa); Zach Gray (Angie); Peter Kevoian (Goldstone); Jonathan Kwock (Yonkers, Georgie); Susan Lubeck (Tessie Tura); Andrew Lupp (Weber, Kringelein, Phil); Alex McCrary (L.A.); John Reeger (Pop, Cigar); Holly Stauder (Miss Crachett); Hannah Whitlock (Baby Louise); Jarrod Zimmerman (Uncle Jocko, Pastey, Bougeron-Cochon); Jenny Guse, Katie Huff, Amanda Kroiss, Ingrid Lowery, Cara Salerno, Matt Rice (ensemble); Kayla Rea (Balloon Girl); John Babbo, Daniel Coonley, Kyle Halford (The Newsboys)
behind the scenes