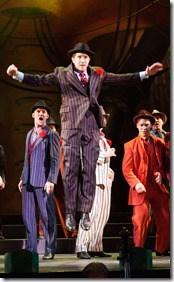 Guys and Dolls
  
Music, Lyrics by Frank Loesser 
Book by Jo Swerling, Abe Burrows
at Cahn Auditorium, Evanston (map)
thru Jan 3  |  tix: $34-$94  |  more info
  
Check for half-price tickets  
  
---
Funny, tuneful and touching as ever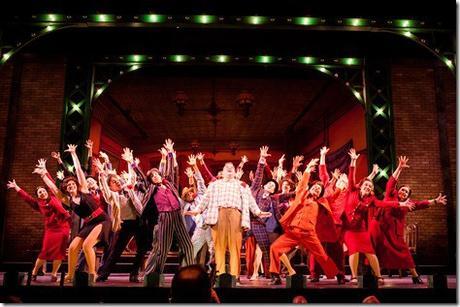 Light Opera Works presents
Guys and Dolls
Review by John Olson
It's easy to forget how many times Times Square has been transformed. Now the center of New York's tourism and home to Toys R' Us and a Disney Store as well as family-friendly shows like The Lion King and Aladdin, from at least the 1960's through the early 1990's it was considered sleazy and a little dangerous. In the world of Damon Runyon, the writer of the stories on which Guys and Dolls is based, the vice in this neighborhood was colorful, charming and victimless. His many stories written and set in the Times Square of the 1920's is a world of gamblers, strippers, hookers and the Salvation Army-type evangelists that sought to save them. In 1950, when this musical opened on Broadway, that world must have still seemed edgy at worst. It wouldn't be until the late 1990's when the darker, more dangerous Times Square of the 1980's would be the setting for a musical (Cy Coleman's The Life). In this musical by Abe Burrows, Jo Swerling and Frank Loesser, the saints and the sinners are both a little out there on the fringes and the writers found a winning commonality in the outsider-ness of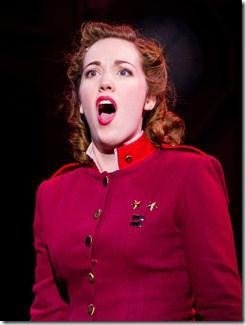 these two communities, creating one of the earliest and most enduring of the Golden Age musicals.
Light Opera Works
seems to have an unstated mission to remount these classics in close to their original form – accompanied by a large orchestra (by today's standards) and without any extraneous or show-offy directorial concept. Even the large, but apparently low-tech stage at Evanston's Cahn Auditorium seems to suit the purpose perfectly – with enough room for large casts, but sets that rely heavily on backdrops and flats – no computerized, motorized sets, thank you – nor indulgences in projections. It's a museum-like approach, to be sure, but then why would one want to re-imagine
Guys and Dolls
anyway?
Director Rudy Hogenmiller along with scenic designer Adam Veness and costume designer Brenda Winstead give us a colorful picture of the Times Square of the 1930's. Veness' set provides some lively backdrops that are composites of the sort of theater marquees and shops of the era, while Winstead drapes the Times Square denizens pastel zoot suits, chorus girl costumes and bright red uniforms for the crusaders of the "Save a Soul" mission. The cast does nicely with the double-talking humor of Burrows  and Swerling's book, but the main reason this musical lives on is its songs, and they're well-served here. In the key roles of Guys and Dolls' romantic couples are four strong singers. As Miss Adelaide, the ditzy night club singer unafraid to shed a few articles of clothing along with her act, Sarah Larson finds a sweet spot that pays homage to the character – a sort Betty Boop by way of Joan Blondell – without falling entirely into stereotype. She lands all the jokes in her dialog and her comedy numbers like "A Bushel and a Peck" and "Take Back Your Mink." As her paramour Nathan Detroit, a role that has been played by both Nathan Lane and Frank Sinatra, Steve Silver is relaxed and totally believable as the beleaguered crap game organizer. Both Justin Adair and Elizabeth Telford, as the less comic romantic couple – the gambler Sky Masterson and head "Save a Soul" Missionary Sarah Brown – have powerful voices that nail Loesser's love ballads "I've Never Been in Love Before" and "I'll Know." Acting-wise Telford's Brown has a certain toughness that suits the character, but Adair's Sky could lighten up a bit. He seems strong enough to command the respect of the other gamblers, for sure, but we don't see the sense of humor and charm that would win over the ladies. His "Luck be a Lady" is powerful, but almost too desperate – particularly in comparison to the Frank Sinatra covers we've heard recently on the occasion of the Sinatra Centennial.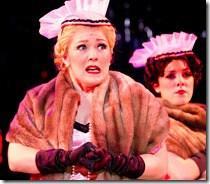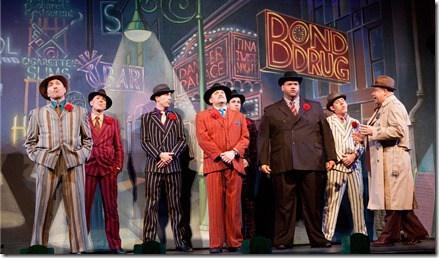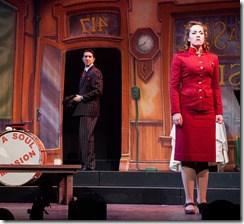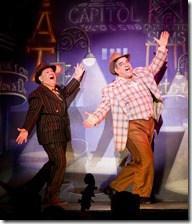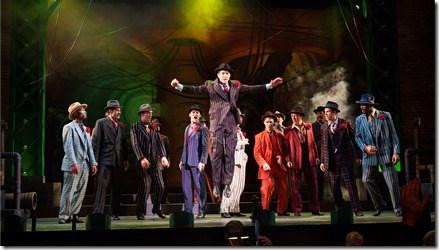 There's nice supporting work from Cary Lovett in the Stubby Kaye role of Nicely-Nicely (who leads "Sit Down You're Rockin' the Boat" and "Fugue for Tinhorns") along with Jim Heatherly's Benny Southstreet and Rick Rapp's Lt. Brannigan. The huge ensemble, though I didn't always buy them as Times Square lowlifes, is solid on the choral work and especially on the dancing, with Clayton Cross providing snappy choreography on the extended dance sequences of "Runyonland," "Havana," and "The Crapshooter's Dance" as well as Miss Adelaide's nightclub sequences.
Guys and Dolls, which opened on Broadway in 1950, is a true Golden Age musical in its use of song and dance to help tell a story – and the Burrows/Swerling/Runyon story of long shots paying off and men succumbing to the charms and demands of women is a good one. It keeps its feet in an earlier era of musicals, though, by providing lots of music and dance for pure entertainment. At two hours, forty-five minutes, it's a little long by today's standards, but if it's going to give you great music, impressive dancing, some classic 1950's-style comedy (even with a few groaners) – all performed by some sexy guys and dolls.  All in all, to quote one of the show's song titles – "More I Cannot Wish You." If you don't agree, well, "sit down, you're rockin' the boat."
Rating: ★★★
Guys and Dolls continues through January 3rd at Evanston's Cahn Auditorium, 600 Emerson, Evanston (map), with performances Wednesday at 2pm, Thursday-Saturday at 8pm, Sunday 2pm.  Tickets are $34-$94, and are available by phone (847-920-5360) or online through their website (check for half-price tickets at Goldstar.com). More information at LightOperaWorks.org.  (Running time: 2 hours 45 minutes, includes an intermission)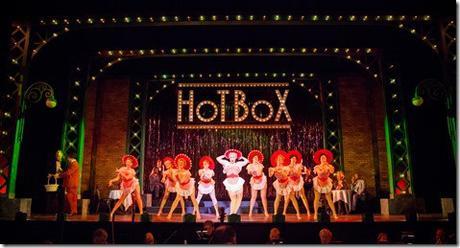 Photos by Mona Luan 
---
artists
cast
Elizabeth Telford (Sarah Brown), Justin Adair ISky Masterson), Sarah Larson (Miss Adelaide), Steve Silver (Nathan Detroit), Cary Lovett (Nicely-Nicely Johnson), Jim Heatherly (Benny Southstreet), John Cardone (Rusty Charlie), Kirk Swenk (Arvide Abernathy), Rick Rapp (Lt. Brannigan), Richard Salon (Harry the Horse), David Whitlock (Hot Box Master of Ceremonies and ensemble), Russell Hoke (Big Julie), Michelle McKenzie-Voigt (General Matilda B. Cartwright), Alexis Aker, Joe Capstick, Tony Carter, Dan Gold, Raymond Goodall, Erin Jorgenson, Joseph Kuchey, Christopher MacGregor, Kelly Maryanski, Molly McMillan, Jerry Miller, Allyssa O'Donnell, Elena Romanowski, Kara Schoenhofer, Laura Sportielo, Wade Tischhauser, Denzel Tsopnang, Missy Wise (ensemble)
behind the scenes
Rudy Hogenmiller (director), Clayton Cross (choreographer), Shawn Stengel (music director & conductor), Adam Veness (scenic design), Brenda Winstead (costume design), Alice Salazar (hair and make-up), Andrew H. Meyers (lighting design), Aaron Quick (sound design), Jenny Pinson (props design), Tom Campbell (stage manager), Katie Beeks (production manager), Mona Luan (photos)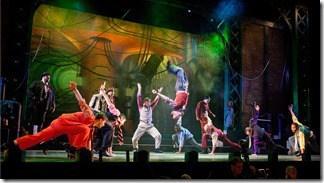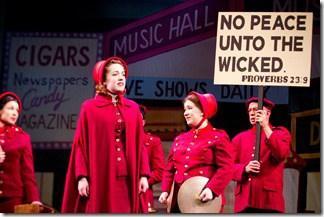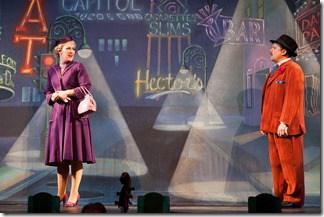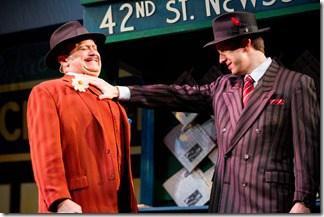 15-1234