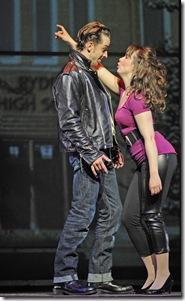 Grease
Written by Jim Jacobs and Warren Casey
Directed by Michael Unger  
at Paramount Theatre, Aurora (map)
thru Oct 7  |  tickets: $35-$47   |  more info
  
Check for half-price tickets 
  
  
   Read entire review
  
---
Dated to some, enjoyable for many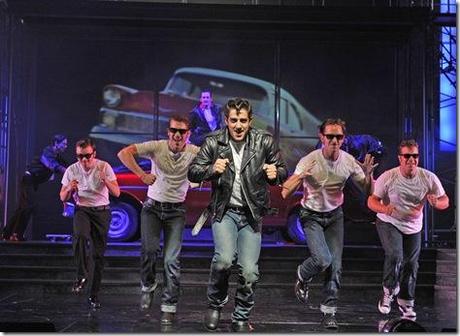 Paramount Theatre presents
Grease
Review by Leah Zeldes 
Over the years, the grit and raunch of the original Grease production at Chicago' s Kingston Mines Theater has been toned down and glitzed up, but this is still, essentially, a play about getting laid. (Most of the audience at Aurora's Paramount Theatre looked old enough to remember what the '70s – if not the late 1950s – were really like, so what were they thinking to be bringing the grandkids?)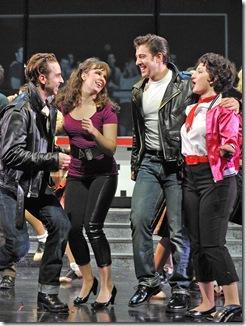 The musical celebrates youth culture and the working class. As such, it rings a bit hollow in these times.
People think of Grease as a saccharine-sweet nostalgia piece about the 1950s, a time of prosperity and what's now seen as harmless youthful hijinks. What they forget is that the musical premiered in 1971, in the wake of Hair and the sexual revolution, and became a hit in a painful era marked by the Vietnam War, the Kent State shootings and Watergate. The sexually charged, satirical look back at happier days, a spoof of '50s teen films, struck a chord, appealing on different levels to both flower children and their reminiscent parents.
In the 1970s, the country also underwent a recession. Yet conditions weren't so devastating as our current economic crisis. Despite high unemployment and "stagflation," U.S. Bureau of Economic Analysis statistics showed steady improvement in disposable income during the decade, in part because unions remained strong – it was not till Ronald Reagan's 1981 confrontation with the Professional Air Traffic Controllers Organization that business began the war on labor that's culminated in recent actions such as Wisconsin Republican Gov. Scott Walker's effort to strip public employees of collective bargaining rights.
In today's conservative, well-heeled Kane County, Paramount's happy-go-lucky Grease feels dated and distastefully contrived, like a blackface revue. Only the opening scene, in which sleek establishment types note complacently that the greasers central to the subsequent action have failed to make it to their high-school reunion, really resonates.
With a Lysol-sprayed, irony-cleansed version that incorporates songs from the disco-tinged 1978 film as well as the 1972 Broadway production, Director Michael Unger plays it straight and safe all the way through. That said, he's does a fine job with staging and pacing, and he and Music Director Michael Keefe coax very good, if tame, performances from their cast. Choreographer Dana Solimando inserts clever touches, such as rolling in the chorus on machanics' creepers during "Greased Lightnin'." Costume Designer Jeremy Floyd sticks pretty much to the expected but gets in a few surprises here and there.
Leading man Skyler Adams' tough-guy looks fit the role of Danny Zuko well, and Emma Ritchie brings fresh faced sweetness to good-girl Sandy Dumbrowski – so earnest that Sandy's ultimate transformation almost doesn't ring true. They don't exactly exude the sexual tension their roles call for, and neither is an especially melodious singer, but they manage well enough; Adams is at his best in his solo, "Alone at the Drive-In Movie."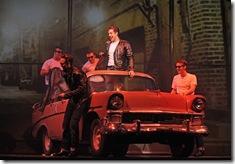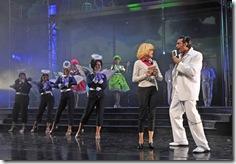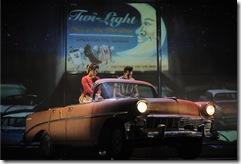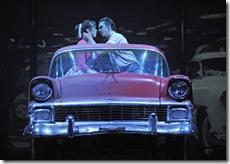 The voices really worth listening to belong to the boyishly cute Sean Effinger-Dean, who plays budding guitarist Doody, and J. Michael Finley and Lara Mainier, as Roger and Jan, whose duet, "Mooning," forms a highlight of the first act. Effinger-Dean and Finley's duet, "Rock n' Roll Party Queen," brightens Act II. Sexy Jessica Kingsdale, as the saucy, no-better-than-she-should-be Betty Rizzo, also excels with "Look at Me, I'm Sandra Dee." Unfortunately, overmiking and poor sound balance distract from the performances.
Fans of Grease should like this rendition, despite its dissonance. But don't look for relevance.
Rating: ★★★
Grease continues through October 7th at Paramount Theatre, 23 E. Galena Blvd., Aurora (map), with performances Wednesdays at 1:30pm and 7:30pm, Thursdays at 7:30pm, Fridays at 8pm, Saturdays at 4pm and 8pm, Sundays 1pm and 5pm.  Tickets are $35-$47, and are available by phone (630-896-6666) or online at Vendini.com (check for half-price tickets at Goldstar.com). More information at ParamountAurora.com.  (Running time: 2 hours, includes an intermission)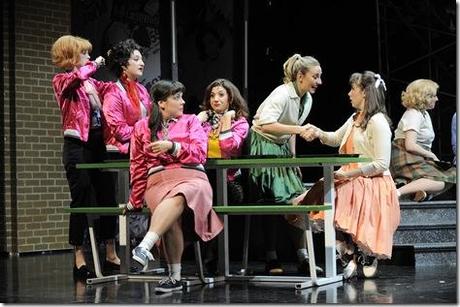 Photos by Liz Lauren
---
artists
cast
Skyler Adams (Danny Zuko); Adrian Aguilar (Kenickie); Jaclyn Burch (Cha Cha DiGregorio); Courtney Crouse (Johnny Casino); Sean Effinger-Dean (Doody); John Finley (Roger); Shanna Heverly (Patty Simcox); Jessica Kingsdale (Betty Rizzo); Glory Kissel (Miss Lynch); Lara Mainier (Jan); Jeffrey Max (Vince Fontaine, Teen Angel); Emma Ritchie (Sandy Dumbrowski); Creg Sclavi (Sonny La Tierri); Cory Stonebrook (Eugene Florczyk); Tiffany Trainer (Frenchy); Darcy Wood (Marty); James Lee Glatz, Amanda Kroiss, Glenn Snellgrose, Willie Mellina, Thomas Ortiz, Allie Parris, Carly Robinson; Katie Spelman (ensemble)
orchestra 
Michael Keefe (condutor, keyboards); Kevin Kizer, Peter Ballin (tenor sax); Scott Tipping, Scott Reed (guitar); Bob Lizak (bass); Tim Mulvenna (drums)
behind the scenes
Michael Unger (director); Michael Keefe (music director, conductor); Dana Solimando (choreographer); James Dardenne (scenic designer); Jeremy Floyd (costumes); Jared Moore (lighting); Adam Rosenthal (sound designer); Joel Lambie (props); Jason Pikscher (scene shop manager); Rose Marie Packer (stage manager); Liz Lauren (photos)
12-0932