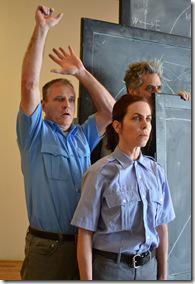 GRAPHOMANIA
Written and Directed by Plasticene  
at Chopin Theatre, 1543 W. Division (map)
thru April 1  |  tickets: $20   |  more info
  
Check for half-price tickets 
  
  
   Read entire review
  
---
A stirring curtain call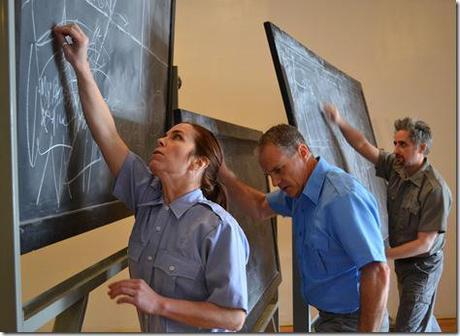 Plasticene presents
GRAPHOMANIA
Review by Lauren Whalen 
In a dark, dusty studio space, a collective says good-bye. GRAPHOMANIA is the final production of Plasticene, who have collaborated on experimental, avant-garde and physical theater in Chicago since 1995. The company, and its mission, will continue to exist, but will no longer create new performance work. As a farewell to the city, GRAPHOMANIA is short but sweet, odd but captivating, a testament to the powerful marriage of live theatre, multimedia and a healthy dose of paranoia.
In the not too distant future, three employees (Mark Comiskey, Julia Neary and Brian Shaw) are on a mission. Clad in mute tones and sworn to loyalty, they must put their heads together – shredding all relevant documents along the way – to trace the movements of one encounter involving three people on November 17, 2011. Through frantic but precise chalkboard scribbling, we learn this: a young man got off the subway and met a woman. They had an animated conversation at a café, during which a piece of paper changed hands. Later, a man joined them on a park bench. Movements were traced. Video footage exists. But what really happened? And why does it matter?
In its 50-minute running time, GRAPHOMANIA asks as many spectators rapid-fire questions as it answers. Not everything is resolved, and spectators are left wondering and worrying – which can be frustrating to audience members, but isn't necessarily a negative thing. Art is supposed to make people think, draw their own conclusions and apply tenets of the work to their own lives. Seeing a show shouldn't be a passive process but an interactive one, and GRAPHOMANIA illustrates that concept to the hilt.
In keeping with Plasticene's collaborative mission, GRAPHOMANIA doesn't have a director per se, and occasionally the production lacks focus. However, the collective effect mostly works – there are many well-executed ideas at play. The main set pieces are three rolling blackboards, which the characters motor around the stage, duck underneath and scratch upon with chalk to create magnificently precise diagrams and transcribe lovely words. Eric Leonardson's sound design is at once naturalistic and apocalyptically creepy, incorporating live voiceover of a mysterious man in charge. The impressively physical cast has fantastic chemistry, working as a three-headed, barely-human unit one moment and distinguishing their characters' unique personalities – with something as small as a piece of gum – the next. Comiskey is all angles and sharp words, deeply committed to his mission and trying his best to conceal any lingering doubt or worse, exposed evidence. Shaw stumbles through his tasks, hoping -to earn an A for effort but always coming up short. And in the seconds between, Neary attempts awkward banter with her colleagues in a way that's very endearing and just barely masks a need for human connection.
GRAPHOMANIA represents the best possible results of performers at play: an intriguingly ambiguous story that experiments with shadow, light, sound and movement both figurative and literal. If there's a way to brightly portray a bleak theatre, Plasticene pulls it off. Fare the well, experimental company. We will miss your imagination.
Rating: ★★★½
Graphomania continues through April 1st at Chopin Theatre (downstairs space), 1543 W. Division (map), with performances Thursdays-Saturdays at 7:30pm, Sundays at 3pm.  Tickets are $20, $12 student rush half-hour before curtain, and are available online at eventbrite.com (check for half-price tickets at Goldstar.com). More information at Plasticene.com.  (Running time: 50 minutes with no intermission)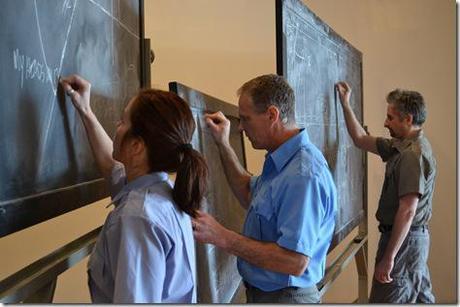 All photos by Dexter Bullard 
---