Goodnight Moon 
Book/Music/Lyrics by Chad Henry  
Directed by David Kersnar
VG Biograph Theater, 2433 N. Lincoln (map)
thru Dec 23  |  tickets: $26-$36   |  more info
Check for half-price tickets 
  
  
   Read entire review
  
---
CCT over the 'Moon' with musical children's story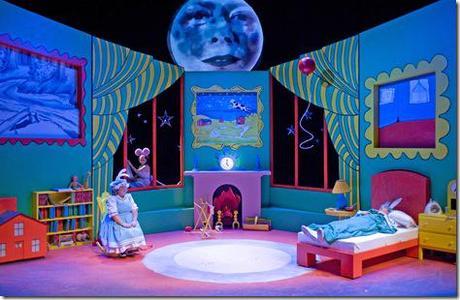 Chicago Children's Theatre presents
Goodnight Moon: The Musical
Review by Lauren Whalen 
"Goodnight Moon" is perhaps one of the most beloved children's books of all time. I remember my youngest sibling, now 21, "reading" it out loud to himself when he was a towheaded toddler. Clement Hurd's illustrations are chock full of bright colors and Margaret Wise Brown's text so simple and spare, it's easy for children to memorize. Which begs the question: how does one turn a book with minimal words into an hour-long musical? Chicago Children's Theatre's production of Goodnight Moon: The Musical stays faithful to the book's core themes of security and comfort in the moments before sleep, using lively music, choreography and performance to engage an audience of little people who know what they like.
Bunny (Alex Goodrich) does not want to go to sleep. Despite the best efforts of the old lady whispering "hush" (Sara Sevigny), Bunny's room offers too many fun distractions, from paintings that come alive to a talking fire (Aaron Holland) to Bunny's best friend Mouse (Becky Poole). When a shy cow enlists Bunny's help in her attempts to jump over the moon, three bears entice him into a game of musical chairs, and a runaway bunny needs his story told, Bunny inches closer toward sleep, fighting it all the way before he finally succumbs.
Chad Henry's adaptation fleshes out the book's text by incorporating "The Runaway Bunny", "The Three Bears" and "Hey Diddle Diddle" (the latter with puppetry and a vaudeville-esque twist), as well as references to lounge singing and "Lassie" for the parents and stray theater critics in the crowd. Enhanced by a curtain dotted with stars, Jacqueline and Richard Penrod's set takes the form of a larger-than-life book, complete with "pages" at the edges and it's a complete delight when pictures and props start to move and interact with the characters. Sarah Hughey's lighting design has some extraordinary moments, particularly when black lights are incorporated in the last third of the show. And choreographer Tommy Rapley keeps the musical numbers moving with cheerful eye-catching sequences.
Goodnight Moon's four actors – three of whom play multiple characters, the fourth onstage for the entire show – are impish and endearing, interacting with tiny audience members without annoying the older set. As Bunny, Alex Goodrich makes a near-constant stream of dialogue, song and dance look easy, and Becky Poole's Mouse has a squeaky but sweet quality reminiscent of Baby Bop in the "Barney" series. Sevigny seamlessly alternates grandmotherly authority and stubborn hesitation as the Old Lady and the Cow, respectively. Holland's turns as the wisecracking fire, a singing bear and a vaudeville emcee joyfully convey an impressive range.
One of the biggest challenges of children's entertainment is getting down to their level without cloying. Goodnight Moon: The Musical manages this well, through the ensemble's total commitment and the production team's keen attention to detail. As the show progressed, I looked around the darkened auditorium to gauge the reaction of the play's target demographic, and found myself surrounded by giggling children and contented grown-ups. There are worse ways to spend a Sunday.
Rating: ★★★½
Goodnight Moon: The Musical continues through December 23 at Victory Gardens Biograph Theater, 2433 N. Lincoln (map), with performances Tuesday through Friday at 10:15am, Saturday and Sunday at 11am and 3pm. Tickets are $36 for adults, $26 for children, and can be purchased through the company's website. More information at chicagochildrenstheatre.org. (Running time: 1 hour 5 minutes with no intermission)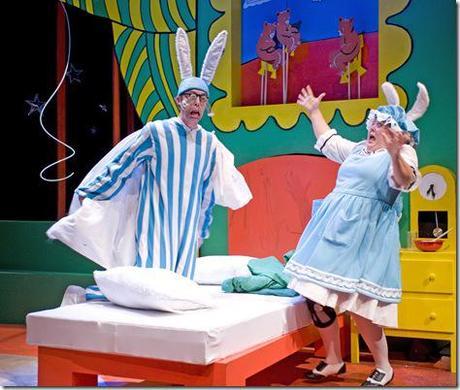 ---
artists